Beyond excited to be invited for Lunch at The Jones Family Affair Covent Garden. The Jones Family Affair is a Bistro-style independent restaurant and cocktail bar nestled in Covent Garden and a stone's throw from the famous Trafalgar Square. Keeping up with the Joneses excuse the pun! The entrance to the restaurant sets the scene for a truly outstanding dining experience. Walking into the restaurant my first impression is glamour yet understated, with vibrant colors and eclectic pop art. A large marble fully stocked bar and open space set across two floors, with a huge atrium-style skylight beaming natural light throughout. The Jones Family Affair offers a dining experience with a relaxed and chilled ambiance. The perfect restaurant for an intimate date for lunch or dinner, food with friends and family or business meal, and even a separate room upstairs to host an event. The Jones Family Affair is sister to The Jones Family Kitchen in Belgravia.
We were greeted by the non-intrusive host and given recommendations for food and wine. The Jones Family Affair offers an extensive wine list by country perfect for the wine connoisseurs and a themed cocktail list.
Ready to order we decided on our food choices. We chose our nibbles and starters: Flatbread & dips Basil pesto, shrimp cocktail, roasted cherry tomato, me and my guest were fighting to dip first, Succulent pan-fried scallop, Pickled cucumber, lime mayo, croutons, melt in your mouth. Heritage Beetroot Salad, Lamb's leaf, goat's cheese mousse, honey & orange dressing, tasty. The mains: Whole Poussin Green Tabasco & coriander butter marinade, mixed leaf & vegetable salad, seasoned and tender, Meatless Burger, Plant-based patty, vegan 'brioche' bun, sriracha mayonnaise, tomato, iceberg, sesame pickle, fries, vegan and vegetarian friendly yummy. Sides: True Macaroni Cheese, True Fries, food heaven.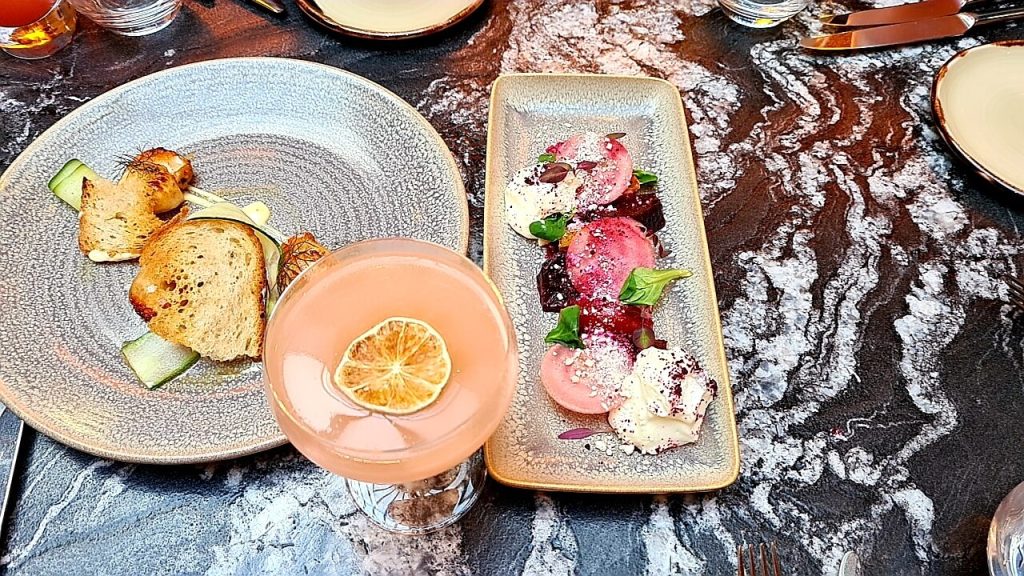 Sunday Roast
Hot Menu Tip! Jones Family Affair offers a special Sunday Roast with Aperitifs such as Bloody Mary, Mimosa and Aperol Spritz. The Roast includes poultry, beef, pork belly, and a vegetarian option.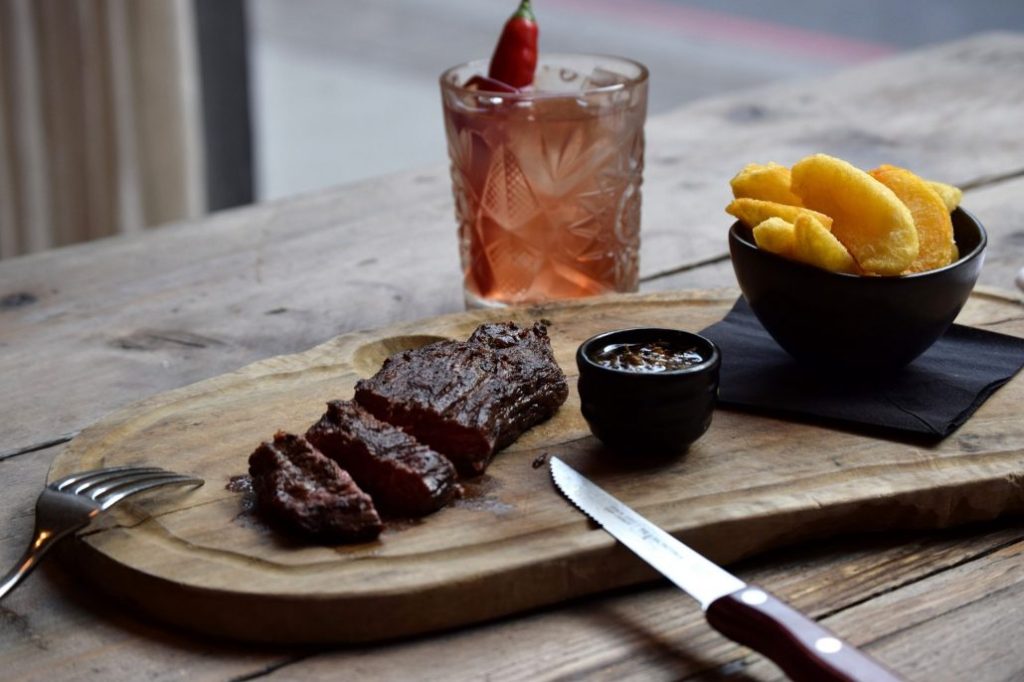 Cocktails
We were so excited to try the themed cocktails and they did not disappoint; for the Lo or No alcohol we tried Pink Garden; Ceder's Crisp non-alc spirit, strawberry, lime, basil, ginger ale, and sugar; Bubble & Squeak Absolut Vanilla Vodka, Passion fruit liqueur, orgeat, lime, and Prosecco; Apple Bellini, Prosecco, homemade apple puree, apple juice, Briottet apple liqueur and lastly a Pear and Lavender silent pool. The cocktails were beautiful in design and delicious.
Jones Family Affair Covent Garden restaurant and Bar is a relaxing, fun and vibrant location perfect for all types of dining to impress a client for business, a special treat with family and friends, or a last stop after a packed schedule taking in the capital's sights.