Summer is here and the kids are out, summer holidays booked and despite quarantine we are moving in the right direction. I would like to share with you some amazing brands for the summer whether you are heading away to top up your suntan or a staycation these brands and tips will help you with your, beauty routines, wellbeing, sunbathing and lots more.
Beauty Routines
Olverum Body Polish by Olverum
The creamy formula uses natural papaya enzyme to help gently dissolve dead skin, purifying clay to lift and rid impurities, and mechanical exfoliants such as bamboo and pumice to polish the skin to an irresistible satin finish. The Olverum Body Polish primes the skin so that it is ready for further treatments such as Olverum Firming Body Oil, helping to leave the skin looking visibly smoother.
W: Olverum Body Polish by Olverum.
Olverum Firming Body Oil
A ground-breaking addition to the OLVERUM range, OLVERUM Firming Body Oil is an intensive body sculpting treatment oil, exactingly formulated to improve skin's elasticity making it appear tighter and more toned.

Applying OLVERUM's nine decades of expertise with essential oils, we have created a unique and efficacious formulation of active botanical oils and extracts which have been shown to tone skin, enhance collagen levels, and help protect against future loss of elasticity.

Massaged well into target areas, specialised contouring botanicals Grapefruit and Black Pepper, which are known to stimulate the sympathetic nervous system, rapidly provide a more sculpted appearance. Meanwhile, gently exfoliating Papaya Enzyme removes dull, dry areas to reveal smoothed, dewy skin for instant toning benefits.

OLVERUM Firming Body Oil is designed to slow down the loss of firmness caused by the aging process, and the body's gradual decline in its production. Paracress Extract, proven to slow collagen degradation, works synergistically with collagen-boosting Alaria Esculenta extract for amplified effects in maintaining the skin's natural plumpness. Finally, an antioxidant-abundant combination of Clary Sage, Thyme, Rosemary, and Patchouli oils prevents the formation of free radicals.

Suitable for all skin types, its non-greasy formula absorbs rapidly, providing a smooth, cushioned texture for massage, while its lightly energising scent also gives a lift to your mood. I have been using the Olverum Firming Body Oil as part of my fitness journey and have seen a remarkable improvement.

OLVERUM Firming Body Oil provides an instant sensation of rejuvenation making skin visibly firmer, healthier, and revitalised.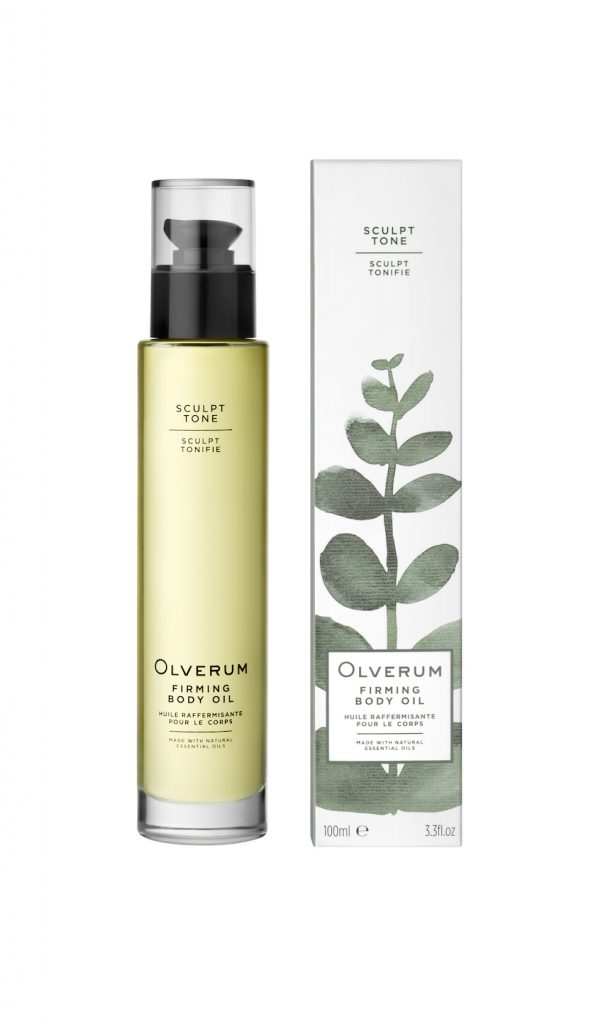 Angela Langford Spice of Life Body Wash
Suitable for all skins, this natural body wash was inspired by travels around Thailand. This recipe of spicy ginger, lemongrass, coriander, grapefruit & lime which helps to awaken your senses. This highly effective, affordable, natural range harnesses the finest ingredients from natures larder to feed your skin – with no chemical nasties. Suitable for even the most temperamental of complexions, Angela Langford Skincare offers a tailor-made solution to each unique skincare concern. This is the perfect body wash which is reminiscent of exotic holidays and will get you in the mood to book that escape which is the spice we all need in our life's.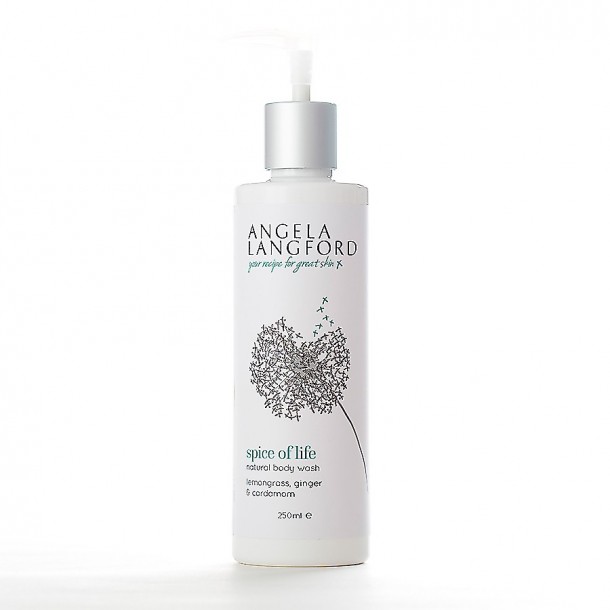 Sens8ate Skincare Botanicals
Introducing a sustainable skincare product made from natural ingredients and packaging made from glass with bamboo and ash wood lids. All our boxes are uniquely made from 100% birch wood. Sens8ate have two ranges Vitamin A, C and E infused, Cannabidiol & hemp infused. I am currently using the full range and have seen a remarkable change in my skin.
Radiance Facial Scrub
Pumice stones & natural essential oils will keep your skin looking fresh and glowing. The scrub will help to boost your collagen to tighten skin and give you that youthful appearance. It will help boost the appearance of hyperpigmentation and aid the skins healing process. Removes impurities and dead cells from skin surface by exfoliation. Anti-inflammatory to soothe and calm skin. Lightens blemishes, decreases pimples and blackheads. Protects skin from sun and UV damage. Sustainable and biodegradable packaging.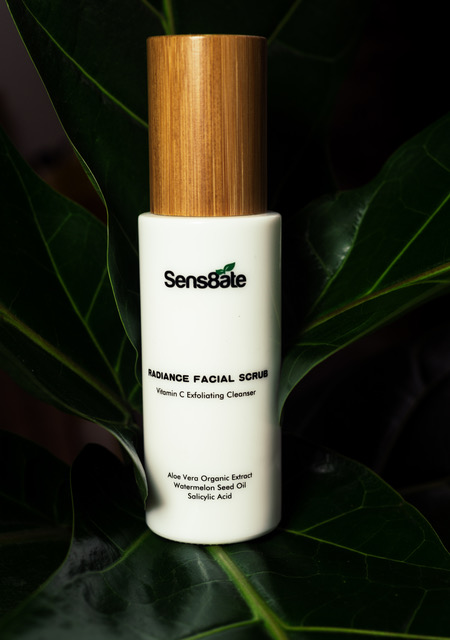 Morning Dew CBD Day Cream
It is a natural CBD infused moisturiser that is packed with vitamins and extracts to deeply hydrate the skin. It will help boost the appearance of hyperpigmentation and aid the skins healing process. 98% natural from plant extracts, ideal for normal, combination, mature & dry skin types. Thick consistency fragranced from natural essential oils.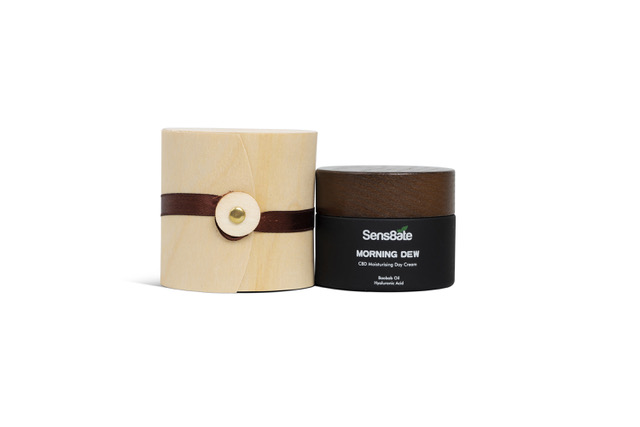 Flawless CBD Miracle Face Oil
This 100% natural facial oil serum contains a blend of hemp, marula, broccoli, flaxseed, apricot and opuntia oils that combine to provide compelling enhancement to skin.
Regular use can see results that appear to be a miracle in terms of renewal of cells and the repair and rejuvenation of the skin. The combination of oils keeps the skin hydrated for longer giving the skin a healthy radiant glow.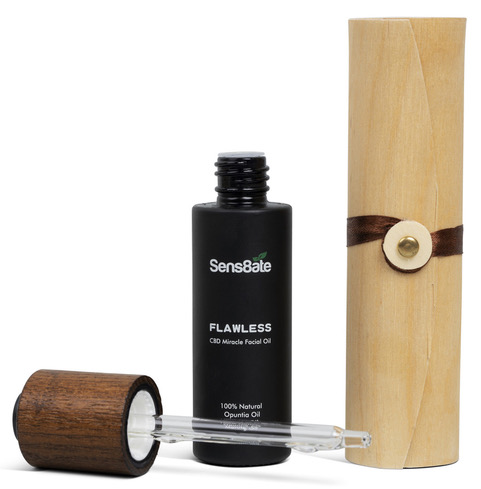 W: Flawless CBD Miracle Face Oil.
Glow Face Serum
If you want your skin to glow this product is for you! It is a powerful anti-ageing serum to boost and tone the skin structure through all three layers.
The Glow Serum will help increase collagen production which is vital to smooth out your complexion and reduce hyperpigmentation.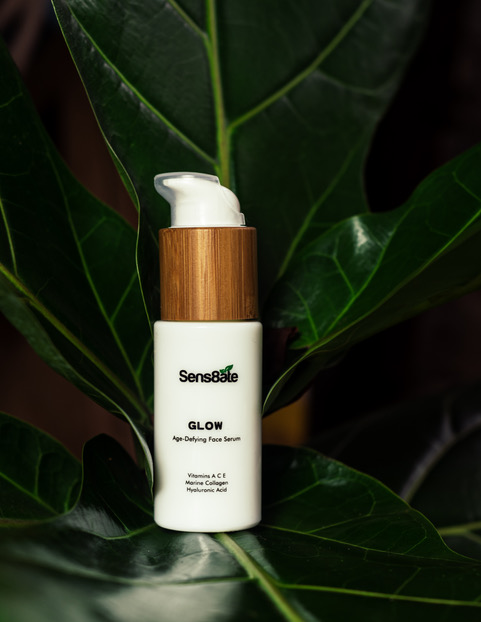 W: Glow Face Serum.
Ermana Natural Skincare
Revive Face Oil
Award winning natural face oil for sensitive skin. Packed with natural vitamins, minerals, antioxidants and omega oils essential to keep skin hydrated and younger looking. Light and easily absorbed by the skin. Balances both dry and oil skin. Infused with pure essential oils frankincense and lavender which helps slow the appearance of wrinkles and balance the skin. Vitamin E has been added to aid cell regeneration and to boost collagen. Vegan friendly. Suitable for all skin types and particularly beneficial to dehydrated. Revive is the go-to face oil for sensitive skin. Try it and you will be left with baby soft skin.
W: Revive Face Oil.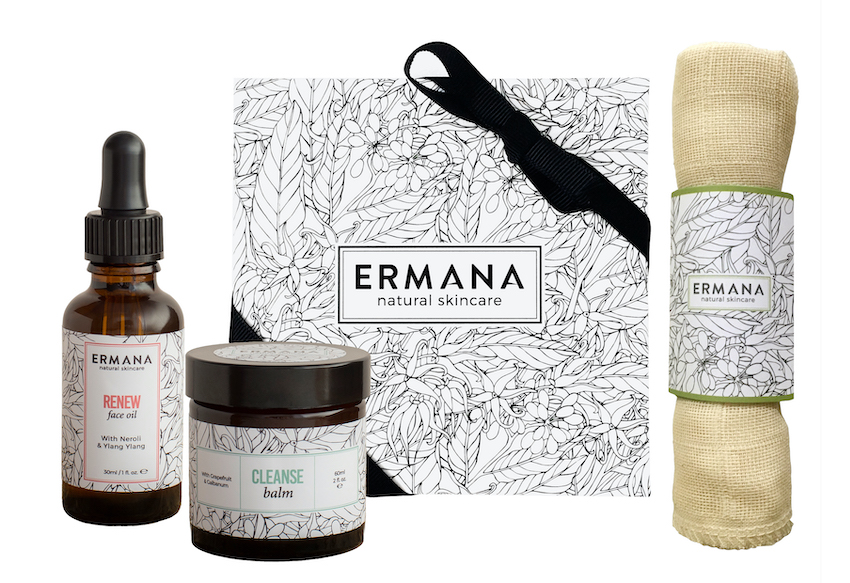 Cleanse Balm
Our cleanse balm is a natural skincare cleanser and deep cleansing balm which naturally cleans the skin.
Oil based natural skincare cleanser made from natural butters and plant oils. Packed with minerals, vitamins, and essential fatty acids to rejuvenate the skin. Cleans skin and gently removes make-up without drying. Warm a small amount of cleanse balm in the palm of your hands until it melts. Massage into the skin including around the eyes and wipe off with warm muslin cloth or face cloth for a deep cleanse.
W: Cleanse Balm.
Foamie
Cherry Blossom & Rice Milk Body Bar
Moisturizing with rice milk and the seductive smell of cherry blossoms – with massage function – Our soap-free formulation is pH optimized for gentle cleansing. Your skin will be super smooth, and you will smell AMAZING!
W: Cherry Blossom & Rice Milk Body Bar.
Mango & Orange Body Bar
Get the tropical shower experience no matter what the weather! This fruity shower bar with Mango and Orange will leave you with soft, tropical smelling. skin – with massage function – Our soap-free formulation is pH optimized for gentle cleansing.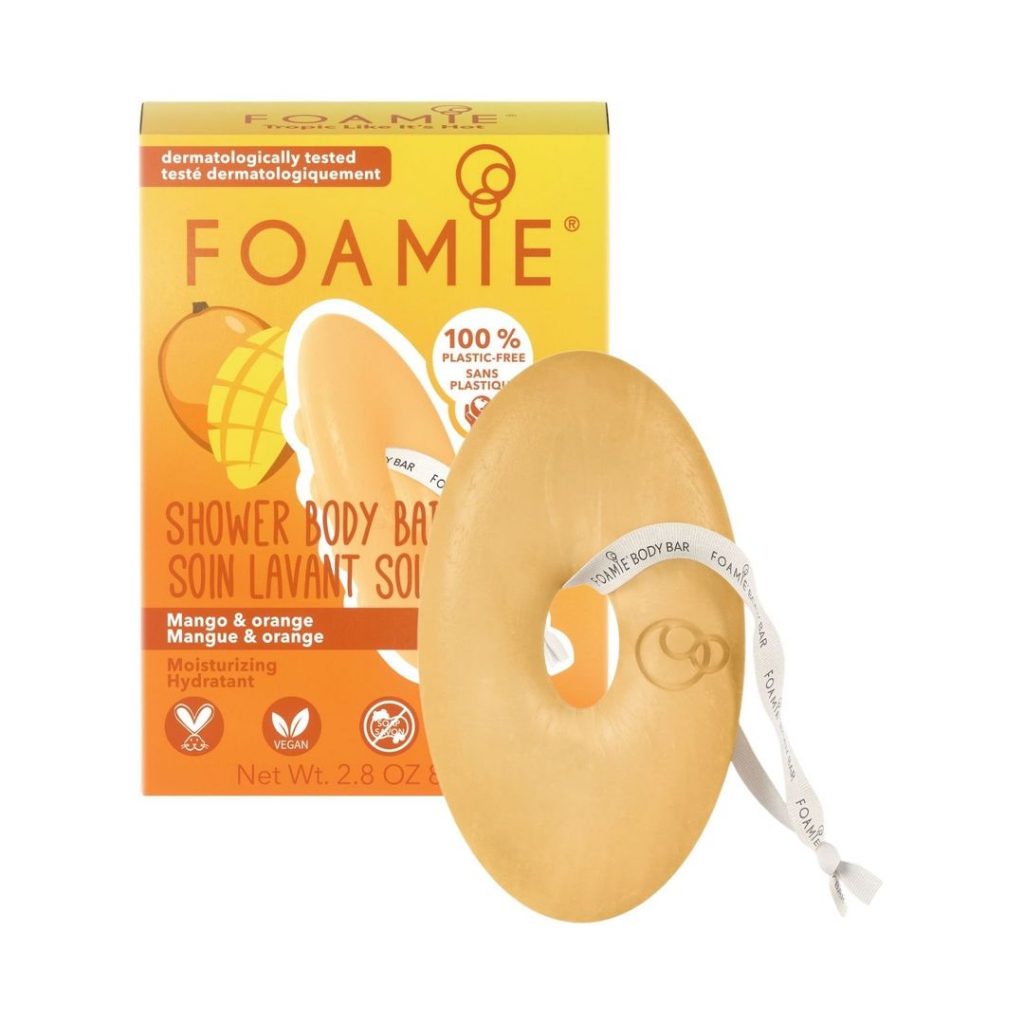 L'ABU Skin
Hydra Gel Mask
Instantly quenching this Gel Mask is like no other. Its water/dewy consistency brings an intense burst of hydration. Hibiscus Flower provides antioxidant properties, maintaining the skin's elastin. The skin is left feeling refreshed and radiant.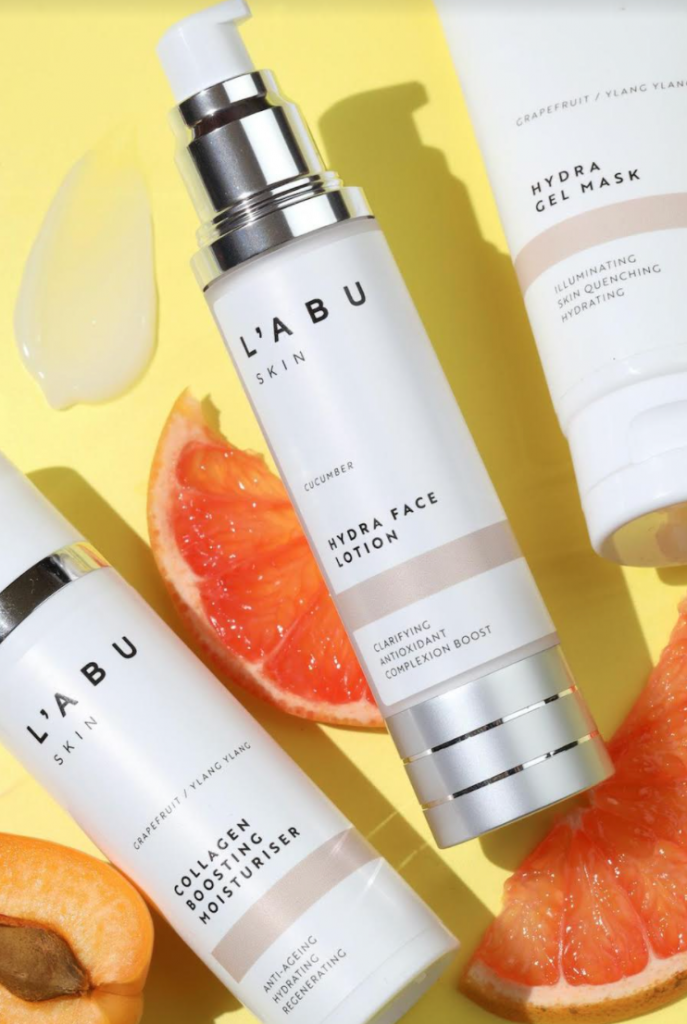 W: Hydra Gel Mask.
Hydra Face Lotion
This light hybrid lotion sinks into the skin effortlessly. A mix between a serum and moisturiser the ingredients infuse together with its invigorating cucumber and melon scent. Camelia Sinensis extract helps to even out the skin tone, whilst Rosehip Oil promotes cell regeneration.
Collagen Boosting Moisturiser
Infuse the skin with moisture from Shea butter and carrier oils providing wonderful hydration and nourishment. The many layers of ingredients target and encourage new skin cells, which helps with ageing of the skin.
W: Collagen Boosting Moisturiser.
Age-Defying Trio
STEP 1 SKIN BRIGHTENING SERUM
Infused with Cucumber
Light and gel-like, this brightening serum immediately sinks into the skin, leaving it beautifully smooth like silk. The 25 active ingredients work in synergy to bring a multitude of benefits, making it our number one go to product.
STEP 2 RETINOL COMPLEX OIL
Infused with Orange & Bergamot
Light and non-greasy, the complex mix of oils absorbs into the layers of the skin instantly moisturising and hydrating. Retinol produces ingredients which help treat wrinkles, encourage the growth of new cells, and promote an even skin tone.
STEP 3 COLLAGEN BOOSTING MOISTURISER
Infused Grapefruit & Ylang Ylang
Infuse the skin with moisture from Shea butter and carrier oils providing wonderful hydration and nourishment. The many layers of ingredients target and encourage new skin cells, which helps with ageing of the skin.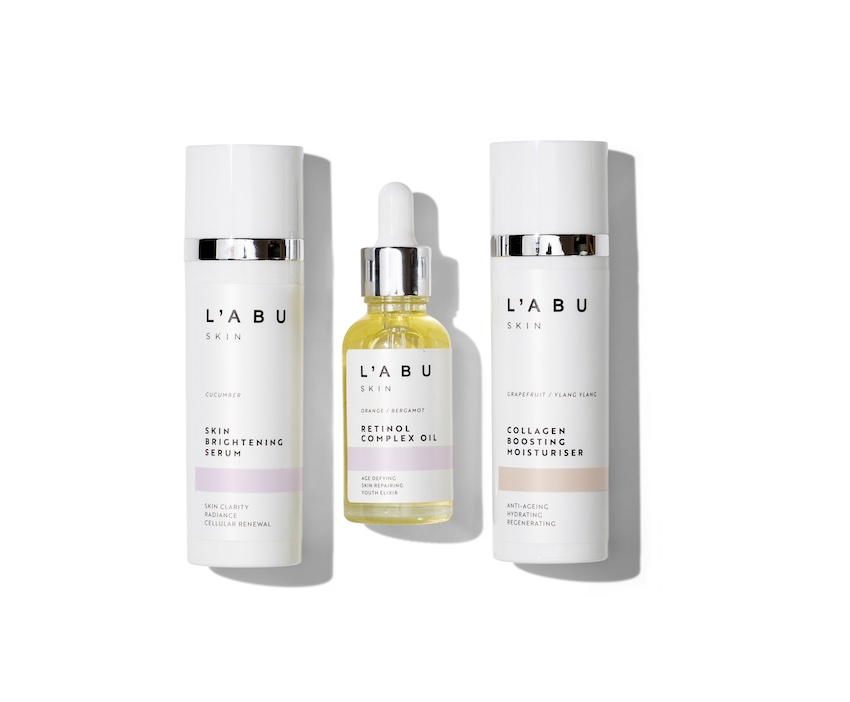 W: Age-Defying Trio.
Oat Milk Face Cleanser
Truly luxurious and indulgent, the carrier oils and cream base to this cleanser lightly wipe away daily grime and excess makeup. Whilst gently cleansing the skin, it does so without stripping it of its natural PH balance, leaving it luminous and fresh.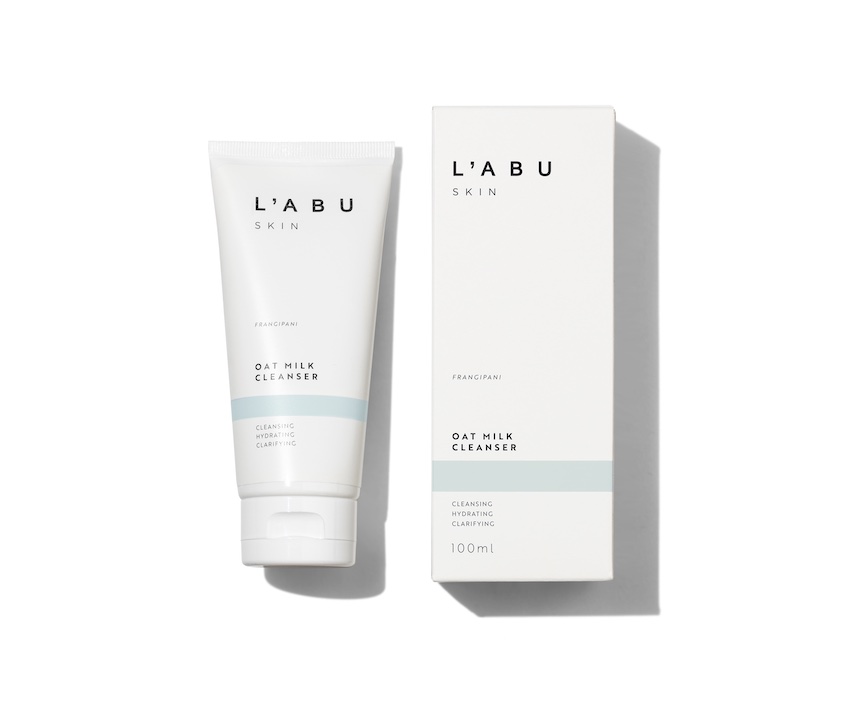 Skin Educator for Millie.ie
Read this to understand the importance of applying sunscreen to our face and other exposed parts of our bodies, according to Cancer Research UK, the risk of developing melanoma is around three times higher in people who have had sunburn just once every two years. They also found that a staggering nine out of 10 cases of skin cancer can be prevented by using a high factor sunscreen. Therefore, should we be wearing sunscreen all year round?
Pamela Hamilton, Skin Educator for Millie.ie says, "Yes! It is so important we wear SPF all year round. Your face and body are exposed to UV radiation every day through clouds, rain, glass, sun or snow. Everyone, men, women and children over the age of six months should wear it every day all year round. Not only is SPF the most important part of our skincare regime, but it also reduces the risk of melanoma by 50%! Going unprotected on an overcast day can lead to as much damage as to a sunny day. "
The experts over at Millie.ie have put together this fantastic piece on wearing sunscreen daily and their skin educator has also given some great advice on what's best to do.
Luxury Niche Summer Fragrance
Fragrance Du Bois
This summer and beyond treat yourself, family and friends to pure luxury Santal Complet's delicious coconut opening makes you close your eyes and dream of sunny days in paradise. Bright, lemony notes cede to an unfettered heart of violet and black pepper, before creamy base notes of sandalwood, amber, musk and vanilla provide the crowning glory in what is a soft, sensual and meditative fragrance.
Wellbeing
Mineral London
The hype is true the new superfood, sea moss has been consumed for centuries due to its precious vitamin and mineral content. seamoss + is an elevated version of this ancient alga, which combines organic Irish sea moss with a formula derived from the key nutrients found naturally within itself. What is sea moss it's a type of red algae that grows on the Atlantic coastlines of Europe, North America, and the Caribbean Islands. Sea moss has so many benefits great for your skin, immunity, and performance. I am so excited about this new superfood to join the sea moss movement click on the link below.
W: Mineral London.
CB.Do
It's the end of CBD oil as you know it! From the new Daily range at CB.Do, the HEX is the world's 1st multi-function CBD tablet cleverly formulated with natures best line up and made with our patented water-soluble CBD powder! This cutting-edge technology is the first of its kind. Precisely dosed, more absorbable and faster acting than any CBD oil on the market. It may surprise you to learn that it is in fact, still oil (just really, really small!)
The CB.Do come in four types Rest, Energise, Boost and Protect.
Rest
Your daily dose of CBD combined with Magnesium, contributing to normal psychological function, muscle function and normal functioning of the nervous system.
Energise
Your daily dose of CBD with the bonus of Vitamin C, Caffeine and B Vitamins to help fight tiredness and fatigue while aiding the normal function of immune system and nervous system.
Boost
Your daily dose of CBD with added Niacin, Riboflavin and Vitamins B6 and B12. These contribute to the reduction of tiredness and fatigue, to normal mental performance and to psychological function.
Protect
Your daily dose of CBD with Vitamin C and Ginger to help improve the normal function of the immune system and reduction of tiredness and fatigue as well as contributing to the protection of cells against oxidative stress.
W: CB.Do Collection.
Sun Chlorella
What does the brand Sun Chlorella have in common with some of the world's top models? Miranda Kerr, Rosie Huntington-Whitley and Kelly Gale have all mentioned they chlorella in their diets. Chlorella a green alga which grows in freshwater, chlorella can be dried into a powdered supplement, which can be added to smoothies, shakes or sprinkled on food.
Science suggests it may help with both our waistlines and looks and even more exciting chlorella could well be a powerful anti-aging remedy that targets collagen. There have also been a number of studies showing chlorella could help with our waistlines. Chorella's appears to be able to help the body perform more effectively when exercising and aids recovery afterward.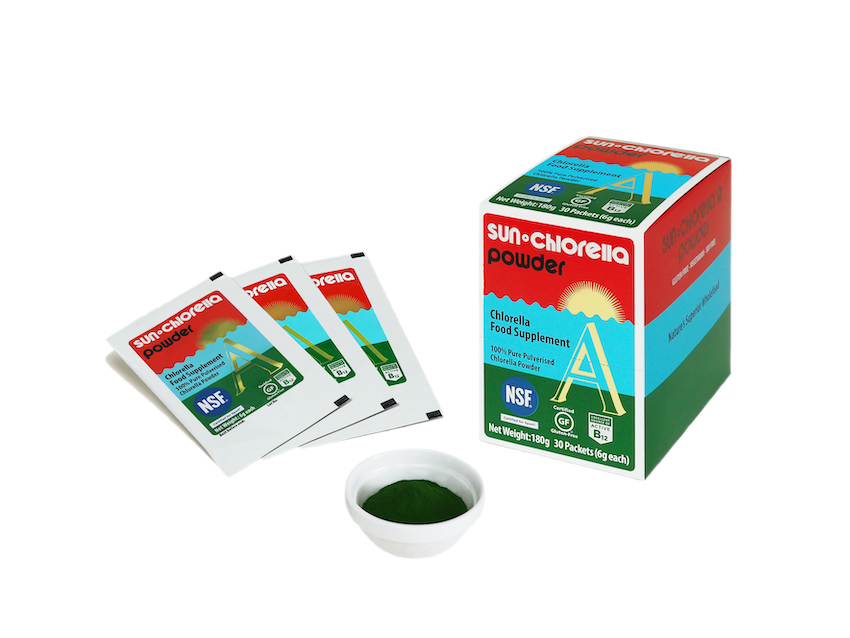 Chlorella is a single-celled green, algae that grows on fresh water. Chlorella has been
on the earth for over 2 billion years ago. Sun Chlorella is the most praised chlorella product on the market. Sun Chlorella powder is Gluten Free, Soy Free and NSF Certified for Sport. Sun Chlorella has a number of benefits to support athletes, chlorophyll, helps to reduce inflammation and supports energy production, vitamin D, supports immune function and muscle health, fibre, supports healthy weight and gut health, protein, a source of fuel for cells, supports muscle recovery and repair, iron, helps to carry oxygen to muscles and magnesium helps prevent muscle fatigue and cramping. Sun Chlorella is available in tablet, powder and granule form. It can be mixed into drinks and smoothies.
I use the powder for my smoothies to help with my weight loss goals and I have much more energy, a great result.
Stockists
W: Sun Chlorella.
Turmeric Curcumin with Black Pepper
Turmeric is packed full of bioactive compounds, including a substance called curcumin, which is thought to have a number of beneficial properties that may underpin the spice's physiological effects.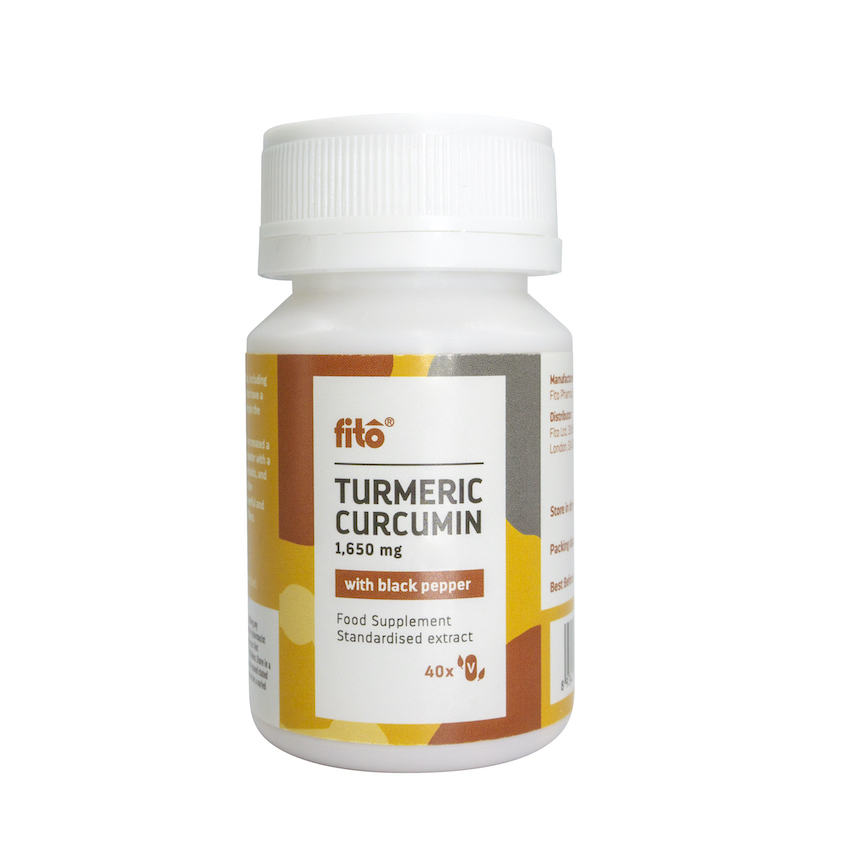 To ensure you get the most from turmeric, we've created a special mix which combines whole turmeric powder with a concentrated extract, containing 95% curcuminoids, and black pepper, which is thought to help increase the bio-availability of curcumin. The result is a powerful and effective supplement, free from additives and fillers. It helps to consume it with black pepper which helps the absorption of curcumin.
Benefits of turmeric
It may help with the weight loss
Anti-inflammatory properties
It may aid with digestion
It may help to improve skin health
W: Turmeric Curcumin with Black Pepper.
Fighter Shots
Ginger – 27g organic cold pressed
100% natural cold-pressed ginger shots
100% natural
Fresh, fiery, cold pressed
27g of raw organic ginger in every bottle
No preservatives
Glass packaging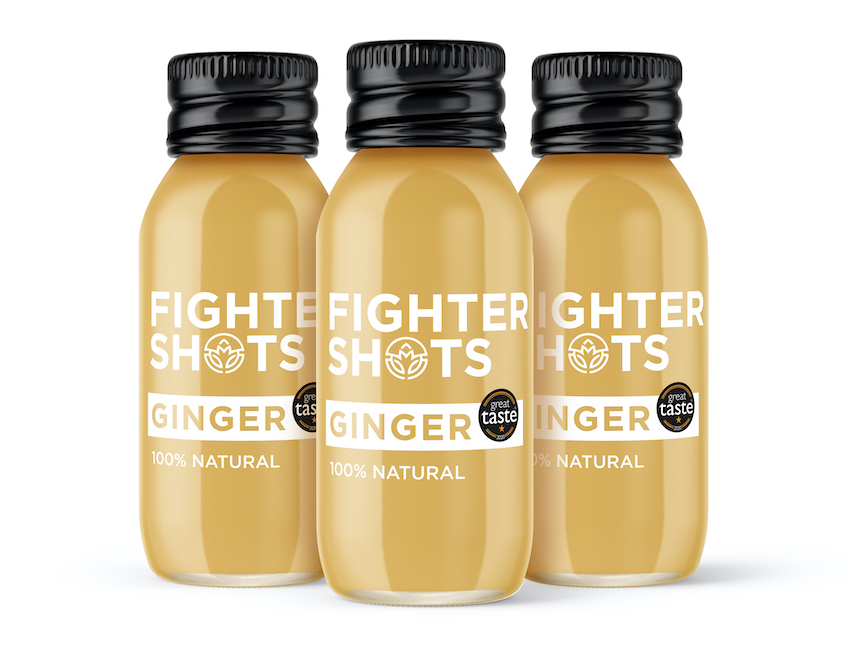 Whenever the time is right for you – in the morning, after a workout, after a meal – Fighter Shots provide you with the highest quality ingredients when you need them most. Our ginger shot has been awarded a 1-star Great Taste Award of 2020.
W: Ginger – 27g organic cold-pressed.
Fighter Shots Ginger and Turmeric
Their Ginger + Turmeric shots are a powerful combination designed for your daily dose of 100% natural goodness!

Packed into every bottle is a powerhouse of natural ingredients. Each bottle contains 13g of raw organic ginger, their core ingredient. Used for thousands of years, ginger can be associated with boosting immunity, reducing inflammation, and treating digestive issues.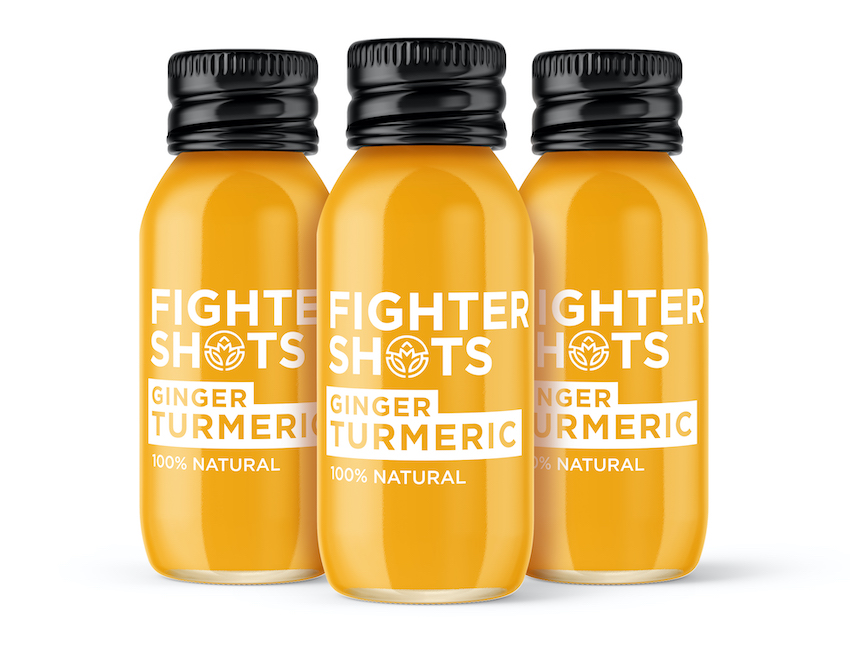 The ginger content is combined with 8g of raw organic turmeric, cold-pressed to extract 5g of turmeric juice, producing 150mg of turmeric's active ingredient, curcumin – which is your recommended daily dose! Taking turmeric as part of a daily healthy and balanced diet can be associated with reducing inflammation of the joints, accelerating workout recovery and increasing antioxidant capacity in the body.
W: Fighter Shots Ginger and Turmeric.
Ginger and Marine Collagen
100% natural ginger + marine collagen shot
Collagen has been associated with skin health improvement
13g of raw ginger + 3,000mg of marine collagen in each bottle
No preservatives, no artificial colours, no refined sugar added
Glass packaging
Collagen is the protein responsible for skin elasticity and a major component of connective tissues that make up several body parts, including tendons, ligaments and muscles.
Consuming collagen has been associated with a variety of health benefits, from relieving joint pain to improving skin health.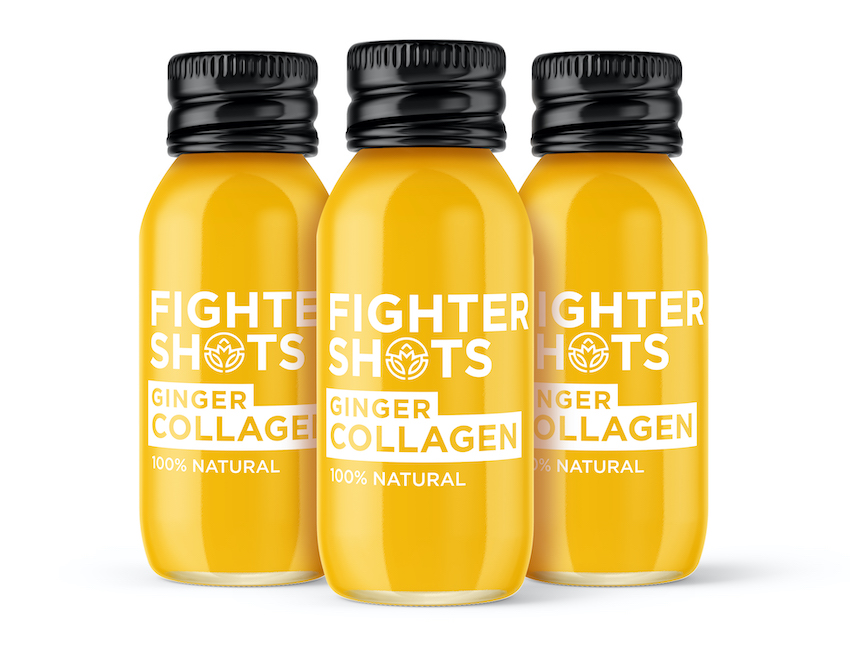 Ginger is a spicy root that warms you up from within!
Possible health benefits include relieving nausea, loss of appetite, motion sickness, and pain.
W: Ginger and Marine Collagen.
Fighter Shots 100% VEGAN Ginger and Beetroot
Ginger & Beetroot is packed with essential nutrients, beetroot is a great source of fiber, folate (vitamin B9), manganese, potassium, iron, and vitamin C.

Beetroot has been associated with numerous health benefits, including improved blood flow, lower blood pressure, and increased exercise performance.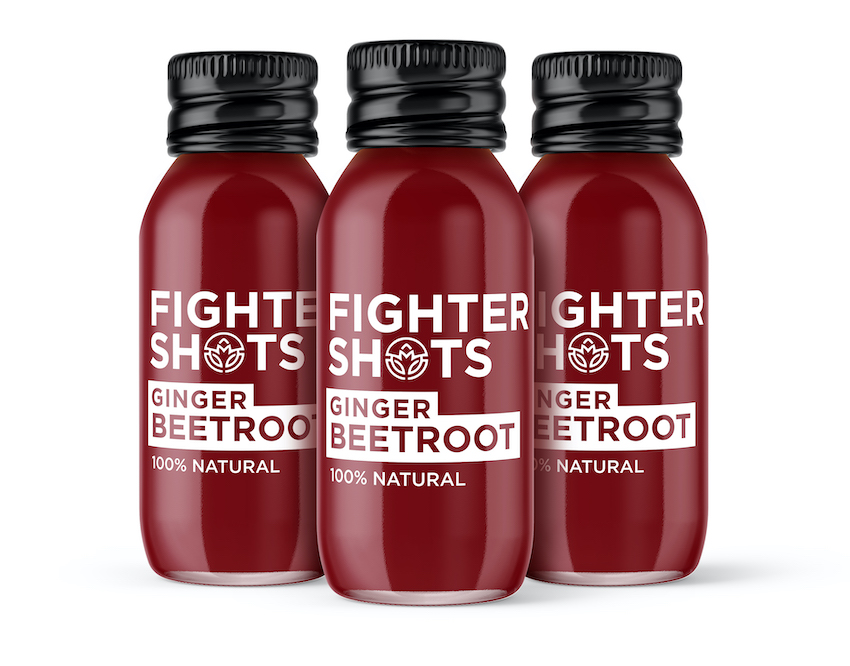 Choosing a more plant-based diet and cutting out meat is the single best way individuals can tackle the climate and wildlife crises.
W: Fighter Shots 100% VEGAN Ginger and Beetroot.
GMIX Juice
GMIX is a ginger juice drink made with fresh ingredients that also tastes great! It's made up of four distinct ingredients, Ginger, Lime, Honey and Water. It is blended together in a specifically refined and traditional way, making this drink stand out from the rest.
Some of the benefits of Gmix, immune system boost, fresh ingredients, drink hot or cold, tastes great, no added sugar and no preservatives.
The back story Remember Aunty G's magical 'mix up' drink that she swore would keep sickness at bay? The one you always had to drink before bed: a truckload of lemon, ginger, honey, and crushed garlic for good measure. The one you gulped down as fast as you could.
Aunty G promised you'd feel as right as rain in the morning. Miraculously, she was spot on. Cold? What cold? Gone. Immune system properly boosted.

Well – in these times, we all need a boost. So the full Aunty G experience is back – but better. All refined but with a twist – the lime-zesting, ginger-popping, honey-soothing magic in a bottle.

It's Aunty G's mix, brilliantly bottled up. Call it – GMIX! See what we did there? You're so welcome.
Ginger traditionally reduces inflammation and destroys bacteria, two relevant healing agents for the body. It works as the perfect remedy for nausea during cancer treatment and also decreasing inflammation, and the risk of colon cancer.
Ginger is rich in various minerals and vitamins such as Manganese, Phosphor, Magnesium, High in Vitamin C, which are all good for boosting the immune system, fighting against cancerous cells and promoting a very healthy digestive system.
Many studies have suggested that increasing consumption of plant foods like ginger decreases the risk of obesity, diabetes, heart disease and overall mortality while promoting a healthy complexion and hair, increased energy and overall lower weight.
Citrus fruits are known for their beneficial effects and lime is no exception. Being rich in powerful antioxidants like vitamin C, citric acid and flavonoids, lime is good for treating arthritis, possesses natural fever reducing qualities and also fights against cancerous cells. The high amount of vitamin C in limes not only treats the common cold but also increases the resistance of the body towards common cold. Lime also provides quick hydration and rejuvenation and also helps to cure fatigue.
Honey is believed to help with seasonal allergies due to repeated exposure to the pollen in the area. It also possesses antiseptic and antibacterial properties, which effectively reduces the bacterial infection in the body. It is believed to be as effective as the common cough suppressant ingredient dextromethorphan and can be used in treating upper respiratory tract infections.
Water works much like oil in a car, to protect the body and helping you think, focus and concentrate better and be more alert. Drinking enough water is one of the easiest and best ways to keep healthy. A regular water intake help relieve and prevent headaches (migraines & back pains) which are commonly caused by dehydration.
W: GMIX Juice.
Maison Lejaby Paris Swimwear
Maison Le JABY is a French fashion house. Maison Lejaby Paris offers a lingerie wardrobe perfect for every occasion with Parisian allure, sensual elegance and a bold classic look. With the utmost attention paid to fit and craftsmanship, our collections are a combination of high-end materials, precision cuts and masterful construction.
Our designers select beautiful materials from European suppliers who work with the most prestigious fashion houses. MAISONLEJABY isn't a fashion brand or a luxury brand. It's a House of Craftsmanship. Our expertise distinguishes us from fashion brands, and our look and craftsmanship reinvent traditional lingerie. Maison LeJaby Paris has a beautiful swimwear range perfect for the summer months for your beach bliss or staycation.