Let's talk about silk, silk is one of the most luxurious, fabrics in the world. Silk is a highly sought-after fabric for thousands of years. Luxury elegance, glamour and sophistication, nothing quite compares to silk – but its properties actually extend far beyond its looks. I have put together the ultimate silk round-up for your beauty, hair, skin, wellbeing and even your little baby.
Holistic Silk
Chi Gemstone Facial Rollers
Perfect portable beauty tool which you can carry in your handbag, leave this by your bed or your desk. Simply massage away tensions whilst at the same time stimulating circulation and acupressure points, to help tone facial muscles. This roller can be a great stress reliever for cancer patients as for some the roller can help drain lymph.
Use this pure Gemstone classic facial massage tool to stimulate circulation and acupressure points, leaving skin and facial muscles toned and puff-free. Chi Rollers also relieve tension and promote relaxation.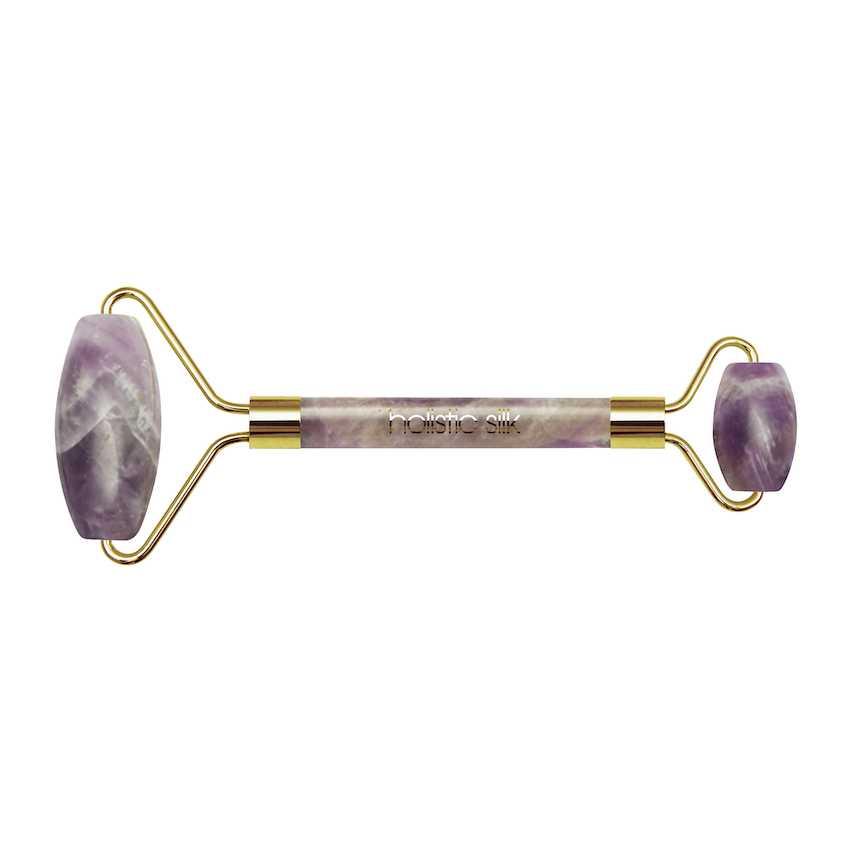 Simply incorporate it into your daily beauty routine or use it at your desk or at the end of the day to help soothe your mind.
W: Holistic Silk Chi Gemstone Facial Rollers.
Pure Silk Eye Mask
Our award-winning ergonomic Eye Mask delivers deep, restorative sleep. Lightweight, luxurious and made to last with a unique no-padded design to give a perfect, light-blocking fit. Filled with natural dried Lavender flowers to add a subtle sleep-inducing aroma and featuring two soft Velvet ties, this mask rests on your forehead and cheekbones to eliminate any pressure on the delicate eye area.
Sleeping in total darkness makes it easier to achieve deeper, more restorative sleep. Even ambient light from gadgets can affect sleep quality. Our light-blocking Eye Masks are recommended by sleep experts as a natural way to help you fall asleep faster and to sleep better for longer. And unlike others, we guarantee that all of our masks totally block out the light so that you receive the full benefit. This is, quite simply, the very best Eye Mask available.
This is Silk
This is Silk Hair Wrap
Treat yourself to 3 times winners of "Indy best Buy" wake up to smoother, shinier hair, which is frizz-free and tangle-free with the This Is Silk hair wrap. This one thing will completely change the health and appearance of your hair. The pure, mulberry Silk works hard to condition your hair with its own amino acids, whilst protecting it from all friction. It is the friction, which causes damage and frizz.
A difference will be seen both overnight, resulting in smoother hair in the morning, and with sustained use, as the hair oils nourish the hair from its shafts to its ends. Comes in our signature, beautiful box.
W: This Silk This is Silk Hair Wrap.
Pure Silk Satin Face Masks
Our reusable pure Mulberry Silk Face Masks with a filter pocket are made of pure 22 momme Silk Charmeuse, the same material as our award-winning pillowcases, ensuring both comfort and breathability.
Having tried every mask out there, Silk is the easiest and most comfortable to wear against the mouth and nose. It will also prevent irritation and breakouts, due to Silk's incredible, natural (yet highly technical) qualities.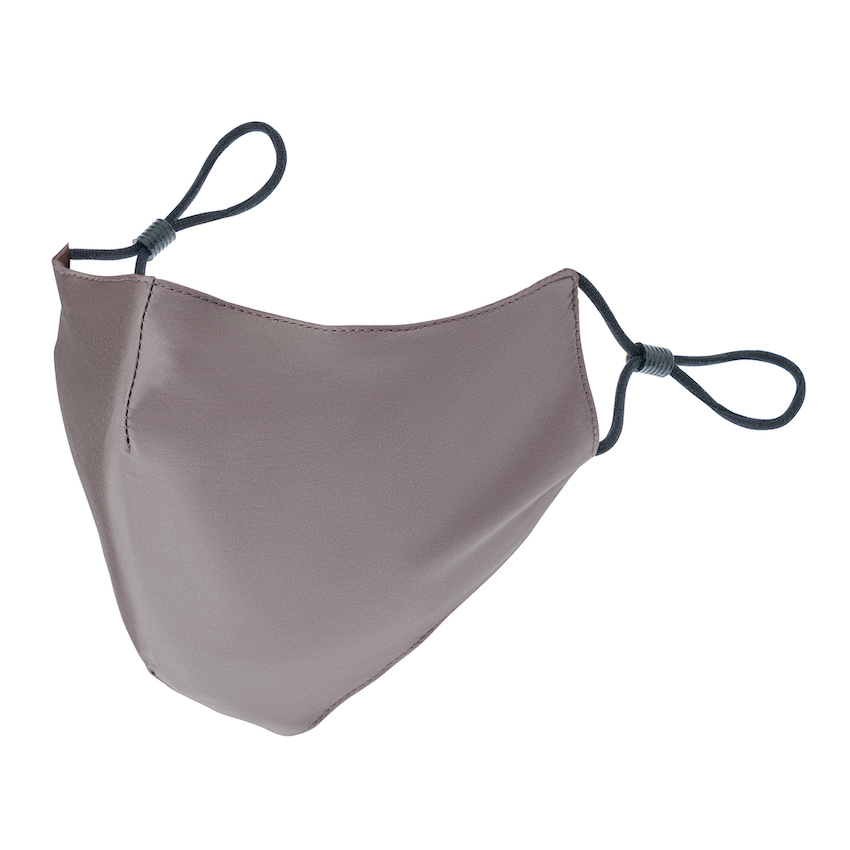 Each mask is made of 3 layers, with one layer containing a pocket for a filter insert if required. The loops are fully adjustable with a toggle, which stays in place so you can get the perfect fit for you.
These also contain a concealed wire to mould around the bridge of the nose.
W: Pure Silk Satin Face Masks.
Silkbebe Fitted Cot Sheet
The innovative SILKBEBE fitted cot sheet uses the science of silk to bring the benefits of silk pillowcases to babies, safely. The top half of the cot sheet is made from pure silk to banish the classic 'baby bald spot', nourish skin and regulate temperature. The bottom half is made from 100% cotton to keep baby warm. The result is a better sleep (for everyone).
The 'baby bald spot' is caused by the constant friction of cotton sheets against the back of babies' heads as they lay on their backs for long periods of time. While cotton feels smooth, on a cellular level it is actually very abrasive and snags at delicate skin and hair. SILKBEBE's award-winning 100% 22 momme, Grade 6A mulberry silk prevents friction and breakage of tiny new hairs and soothes their sensitive skin.
Silk is recommended by dermatologists and trichologists as being best for babies' skin and hair. The amino acids in silk actively soothe and nourish skin, greatly improving sensitive skin, allergies and eczema. Silk is also anti-microbial, hypoallergenic, repels dust mites and regulates body temperature; keeping babies warn in the winter and cool in the summer.
Hayo'u
Since identifying the unmet need for self-care tools and introducing the Hayo'u brand to the world, Katie has quickly gained global recognition as an expert in her field from journalists, influencers, celebrities and, of course, a rapidly expanding community as excited by the transformative power of Chinese self-care as she is. Since then, Katie has had a huge amount of national press coverage in the UK and has become well known as an expert in her field.
This acclaim is now moving further afield. Most recently she was featured in The Cut, Vogue International and the Huffington Post. Her range launched globally with Net-a-Porter in June 2019. October 2020 saw the launch of Hayo'ufit, the first online Qigong fitness platform, sparked from Katie's free lockdown classes on Instagram. With hundreds (including wellbeing experts and tastemakers such as Jasmine Hemsley, Trinny Woodall and Yasmin Sewell) finding life-changing benefits from Katie's daily Qigong sessions, Hayou'Fit was born Hayo'u is the leader of the self-care revolution. Founded by Katie Brindle, the brand is on a mission to empower people to take ownership of their own wellness. Grounded in the practices of Chinese medicine, Hayo'u distills the remarkable holistic philosophy into straightforward but effective self-care techniques, practices and products.
Hayo'u facial and body massage tools are inspired by ancient Chinese techniques such as Gua Sha (facial massage) and Pai sha (body tapping). Tools come in a range of crystals including jade, rose quartz, clear quartz as well as a limited-edition nephrite Jade. Hayo'u's most popular products include the Beauty Restorer, Beauty Restorer Precision, Body Comb and Beauty Restorer Crystal Compress and the Bamboo Tapper.
Daily use of the multi-sculpting tools brings about strengthened and rejuvenated skin which is visibly lifted, plumped and contoured, as well as the diminished appearance of fine lines. Each tool comes with an easy to follow one minute ritual allowing users to relax and take time to connect with oneself. The tools can be used with a favourite oil or in the shower as a part of a self-care routine and at any time of the day.
Jade Beauty Restorer
Restore your skin with this luxurious jade gua sha tool
Nourish your skin with our original and multi-award winning gua sha tool, the Jade Beauty Restorer. Use this restorative crystal everyday for instant results. Improve energy flow, support circulation and lymphatic drainage, lift, plump and sculpt, and reduce the appearance of fine lines and wrinkles. The perfect daily skincare choice.
The Silk Collection
The Silk Collection is a London-based lifestyle and wellbeing brand combining simple, timeless luxuries with everyday self-care. Our collection has been created to improve overall wellbeing – whether that's by giving you better quality sleep, improving your daily skincare and haircare routine, or by creating an easy way to send a unique care package to loved ones and give them a boost of positivity.
The Pure Silk Sleep Set
Experience everyday luxury with our best-selling luxury silk Sleep Set. This set contains 1 x pure silk pillowcase and 1 x pure silk eye mask.
Our 100% pure silk pillowcase and 100% silk eye mask make the perfect pair to give you the ultimate luxury sleep experience.
Our silk products made from the highest grade (6A) long fibre mulberry silk with a luxury 22 momme thickness.
Prevents hair breakage and damage
Hypoallergenic suitable for all skin types including sensitive skin
Naturally heat regulating, keeping you cool during the night
Eco-friendly non-toxic dyes (Oeko-tek standard 100 certified)
Luxury comfort the feeling of silk is soft and luxurious on your skin
The Pure Silk Pillowcase
Enjoy a luxury sleep experience every night with our best-selling 100% mulberry silk pillowcase. This is made from the highest grade (6A) long fibre mulberry silk with a luxury 22 momme thickness.
Experience the benefits of sleeping on a silk pillowcase for an enhanced daily skincare routine, effortless natural haircare, and ultimate comfort to improve the quality of your sleep each night.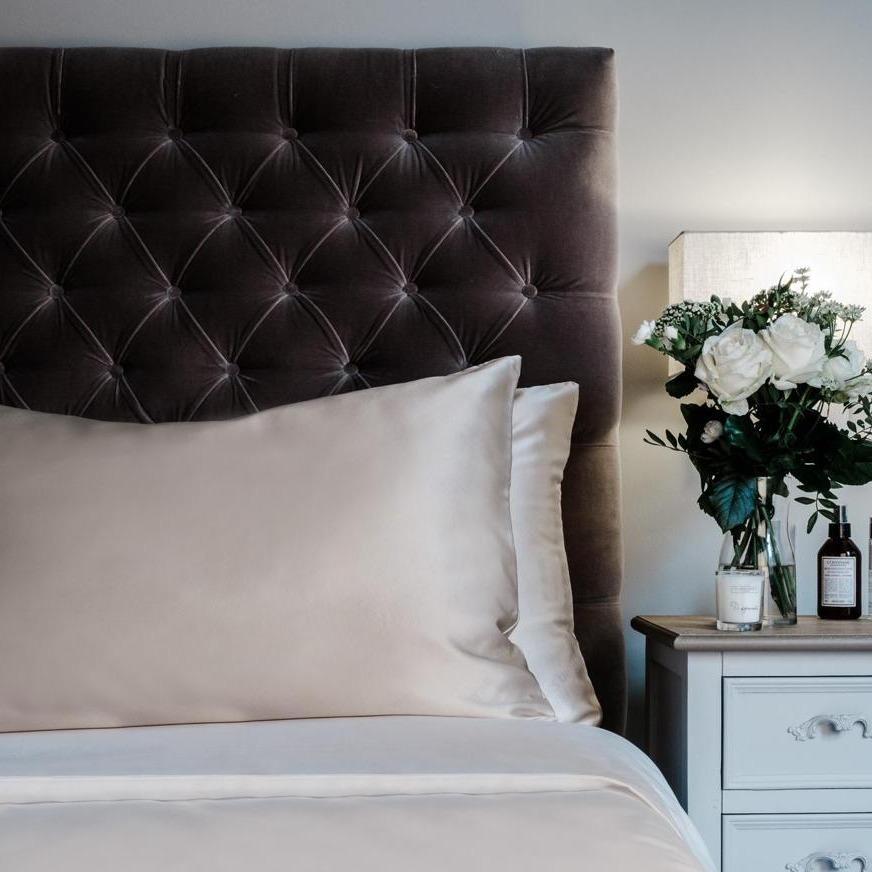 The Bride to be Gift Box -Special Edition
Experience the ultimate luxury Bridal sleep with this special edition Bridal gift box, containing a hand-picked collection of 100% mulberry silk pieces to make the perfect wedding gift for Brides. This Bride to Be Gift Box has been created by a Bride to Be, for Bride to Bes.
This luxury Bridal gift box will help you to relax and enjoy your beauty sleep leading up to your wedding day. Whether you are treating yourself, or you know a Bride to Be who would love a luxury sleep experience, this special edition gift set makes the perfect engagement gift or wedding gift for Brides.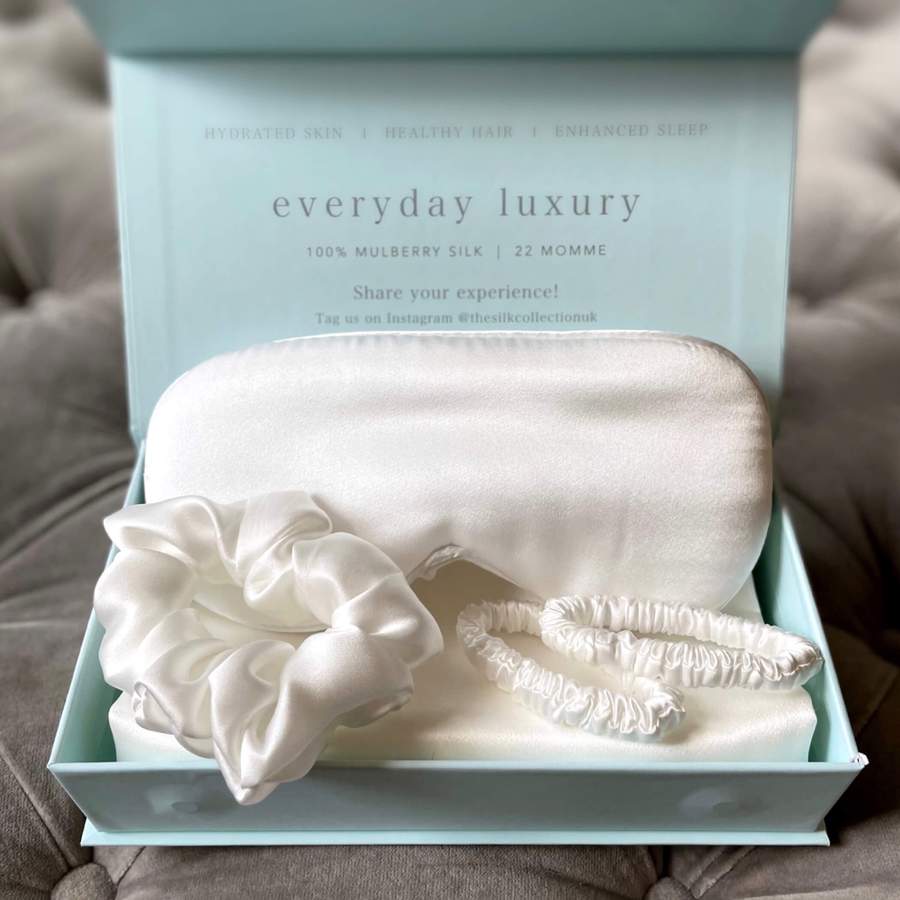 This gift set includes a collection of silk pieces from our Pearl White and Champagne Collection
1x 100% mulberry silk pillowcase
1x 100% mulberry silk eye mask with 100% silk filling
1 x100% mulberry silk Classic Scrunchie
2 x100% mulberry silk Mini Scrunchies
W: The Bride to be Gift Box -Special Edition.
The Pure Silk Collection Luxury 100% Mulberry Silk Eye Mask Gift Box
Our pure silk eye mask is the ultimate luxury accessory to accompany your silk pillowcase and give you a better-quality sleep.
Block out light and enjoy a peaceful, undisturbed sleep with our luxury silk eye mask, crafted from the highest grade (6A) long fibre mulberry silk with 22 momme thickness. It is soft and padded with a luxurious 100% silk filling for extra comfort. Perfect for everyday use at home or for travel.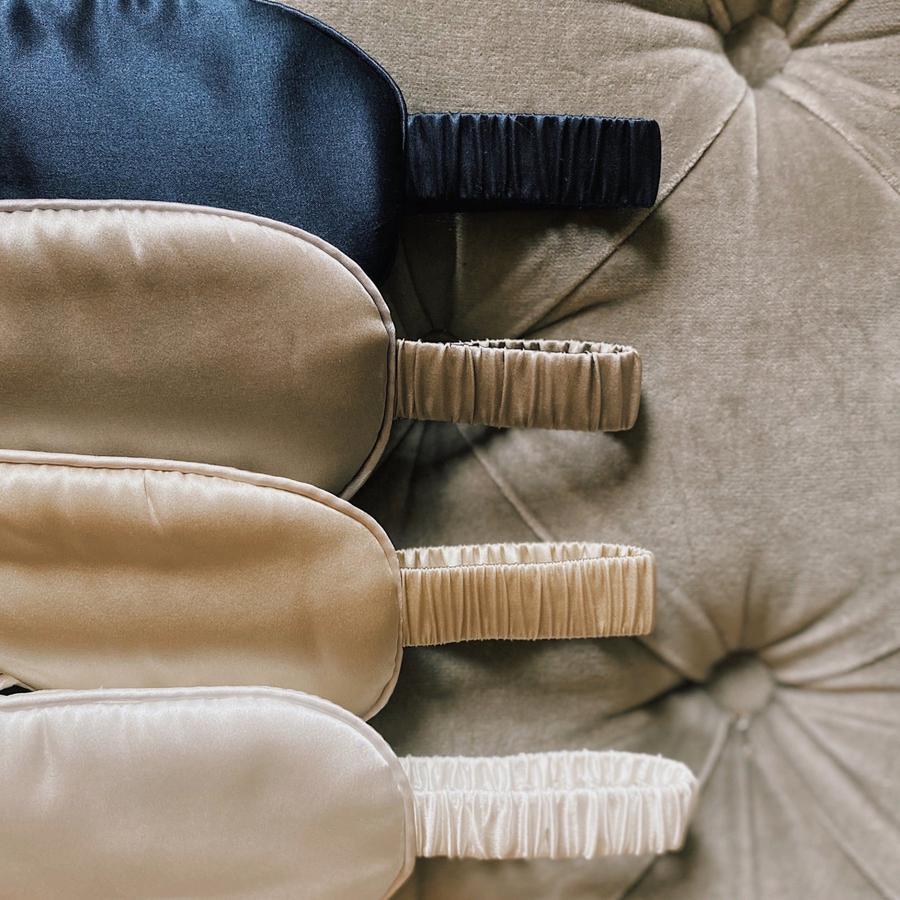 All orders containing our pure silk eye mask are hand packaged into The Silk Collection signature gift box, making this the perfect gift for your friends and family (or if you just want to treat yourself!).
W: The Pure Silk Collection Luxury 100% Mulberry Silk Eye Mask Gift Box.
Beauty Pro
Since lockdown many were doing Spa's at home, wellbeing is an ongoing thing so although Freedom Day has happened, we can still continue the beauty journey at home. Introducing BeautyPro they offer a full range of masks for the face, eyes, hands, feet and hair. The skincare masks provide powerful benefits to skin, deeply hydrating the cells and promoting skin nourishment. They offer the full range: anti-ageing, treatment for hands, deeply conditioning hair mask and refreshing foot peel.
Pink Clay
The BeautyPro Pink Clay Sheet Mask comes in two parts to wrap around the natural contours of the face and provide a deep lifting treatment. The mess free mask with Calamine helps to cleanse and tighten pores to improve skin tone and clarity.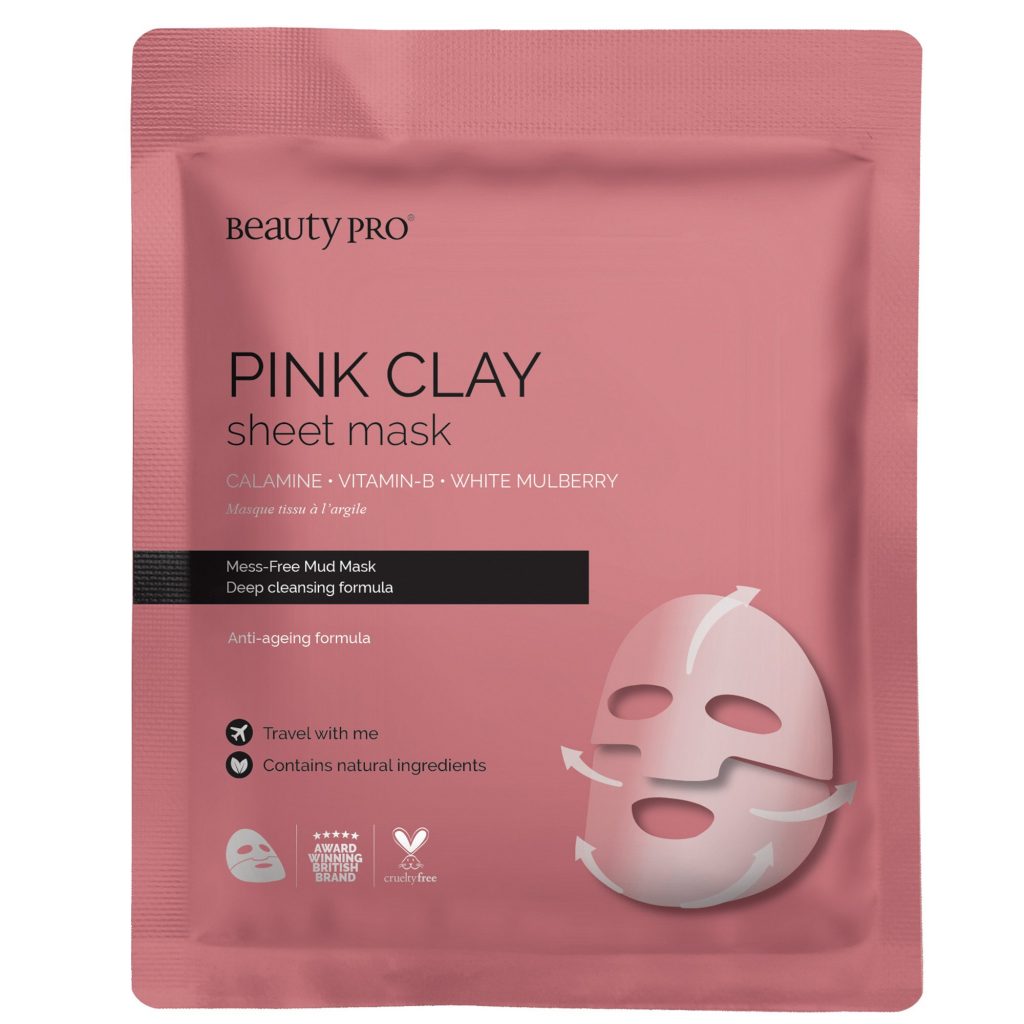 W: Beauty Pro Pink Clay.
Hair Therapy Deep Conditioning Hair Mask with Argan Oil
The BeautyPro Hair Therapy Deep Conditioning Hair Mask is the perfect remedy for dry, damaged or dehydrated hair. The formula deeply nourishes and hydrates your locks using Argan Oil and Jojoba Seed Oil. The end result? Soft, shiny and silky hair! The treatment provides deep conditioning: reducing frizz, improving smoothness.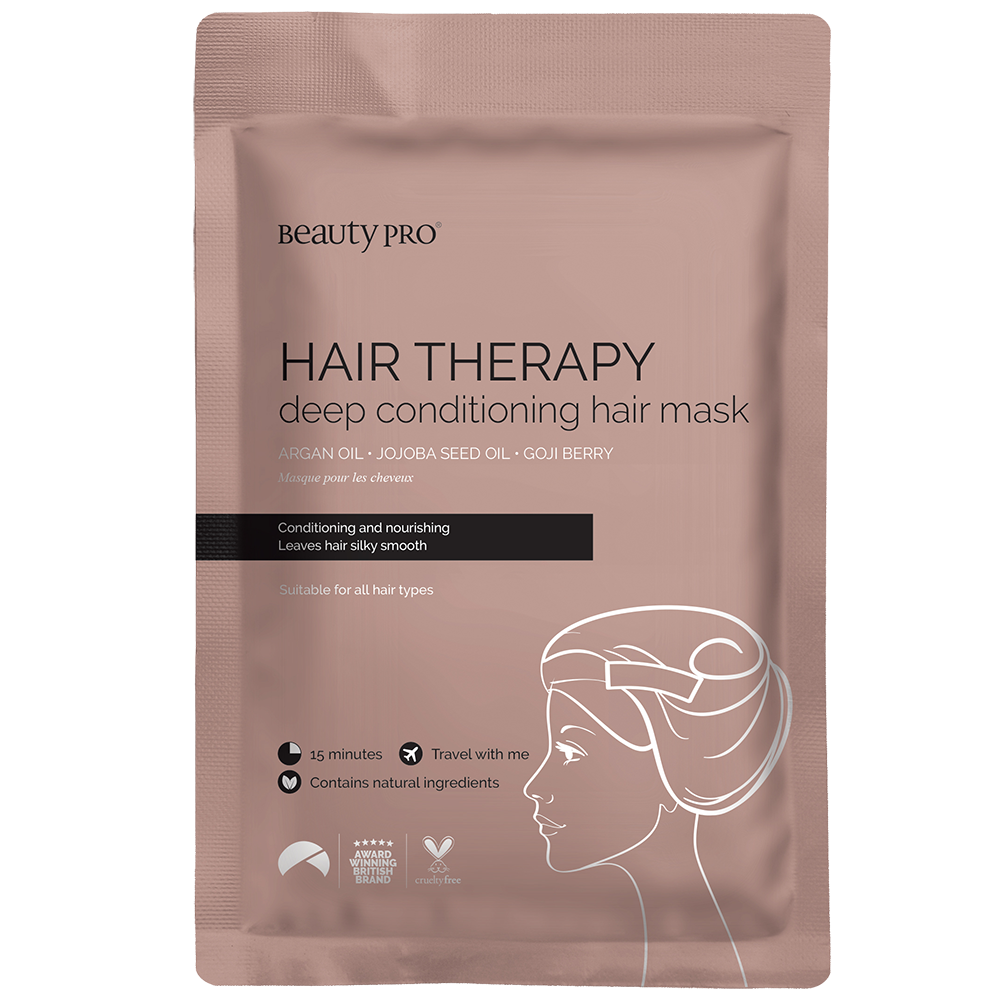 W: Hair Therapy Deep Conditioning Hair Mask with Argan Oil.
Eye Therapy
The BeautyPro Eye Therapy Under Eye Mask contains 3 pairs and is packed full of natural ingredients to relieve the effects of tired, swollen and puffy eyes. It diminishes fine lines, wrinkles and under eye shadow to leave skin feeling refreshed and full. The patches are enriched with anti-ageing collagen.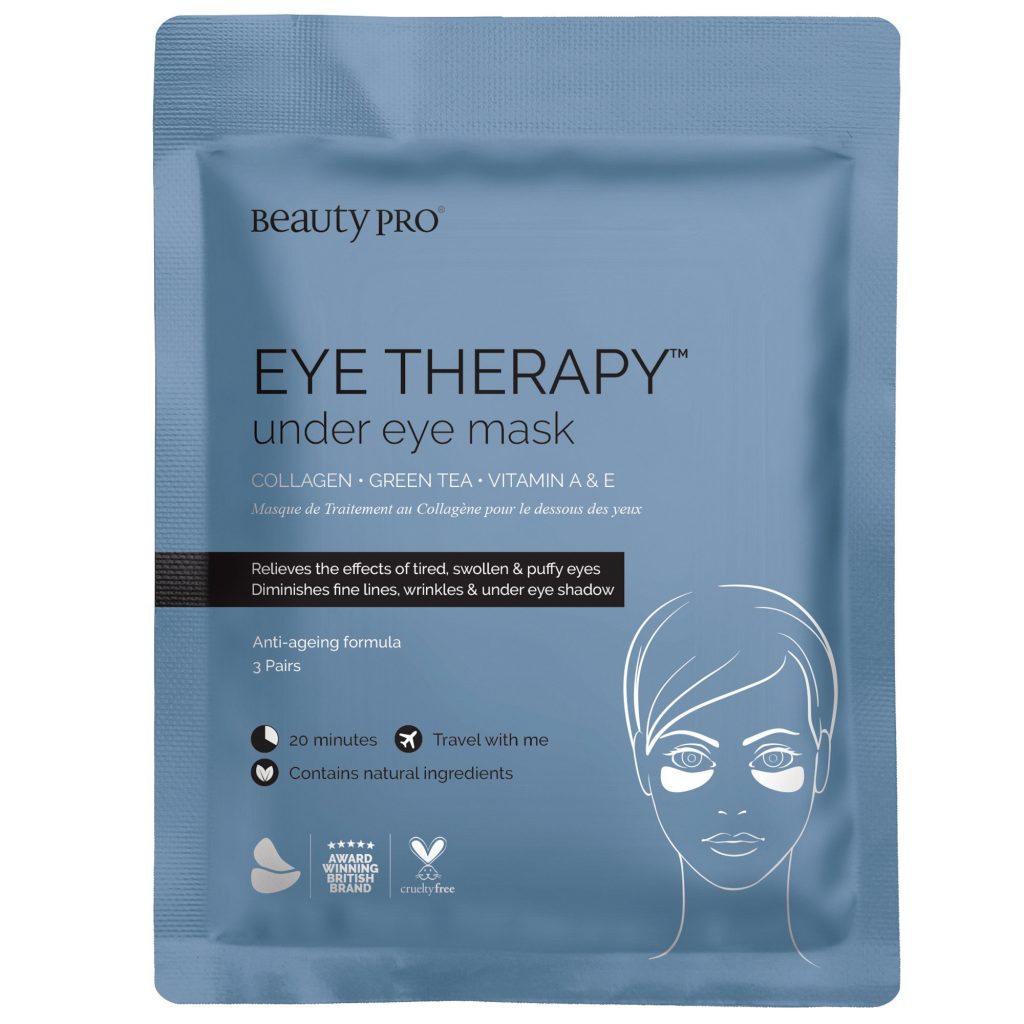 W: Eye Therapy.
Foot & Callus Peel
The BeautyPro Foot & Callus Peel is full of powerful ingredients including an advanced complex of 16 natural plant botanicals which work to gradually remove dead and rough skin over 7 days. The booties are perfect for prepping your feet for summer.