We are celebrating the flowers in our life. Mother's Day should be everyday as they are so very special. A mother is the most precious person in our lives, they are worth more weight than gold! Maybe you have more than one 'mum' to buy for, and want to treat your stepparent, grandmother, guardian or a 1st-time mum friend. I have put together the ultimate luxury gift guide.
Mother's Day, Beauty, Pamper, Luxury and Fragrance Guide
Sens8ate Skincare botanicals
HYDRATE & GLOW VITAMIN A,C E SET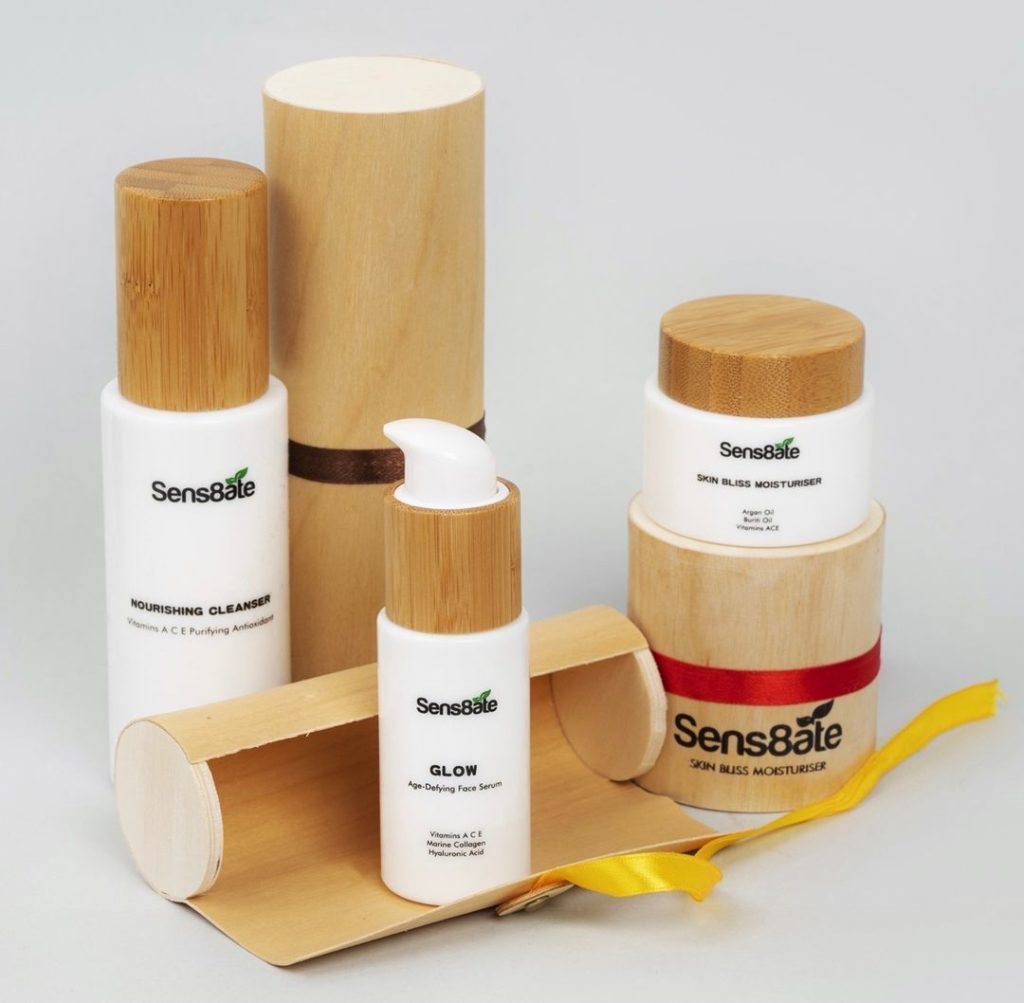 Skin Bliss Moisturizer – The cream will strengthen the skin's lipid barrier immediately below surface and will restore proper moisture and balance.
Nourishing Cleanser – Our 2-in-1 cleanser and face wash delivers maximum purification by removing germs and impurities resulting in a cleaner, calmer and soother skin.
Radiance Facial Scrub – Our scrub will help to boost your collagen to tighten skin and give you that youthful appearance.
Glow Face Serum – Will help increase collagen production which is vital to smooth out your complexion and reduce hyperpigmentation.
Ambiance London
Colonia Fragrance Travel Set (Limited Edition)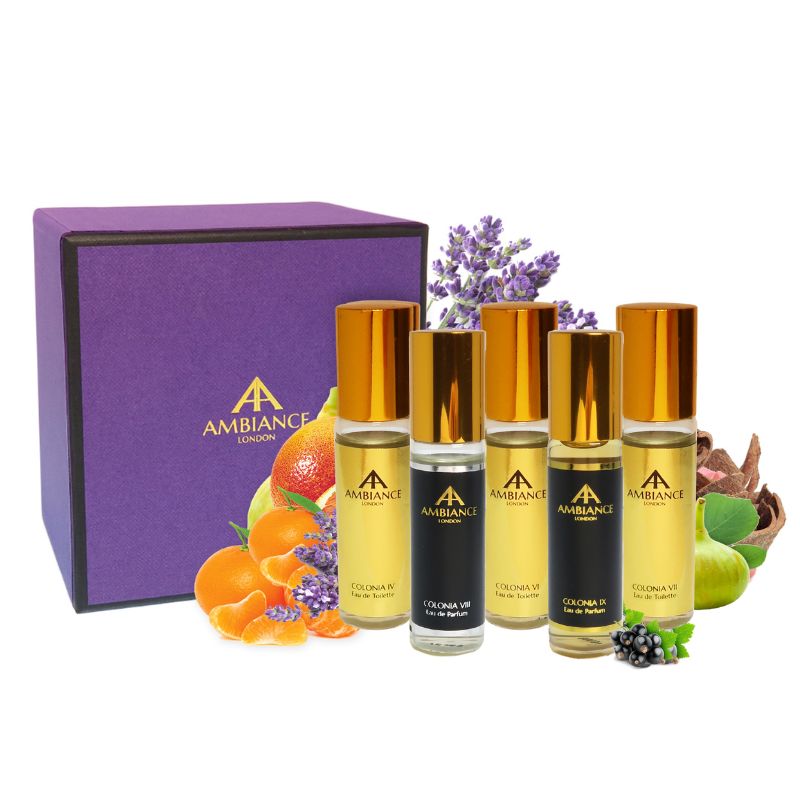 The gift of exquisite fragrance, this limited-edition discovery set includes five Colonia Collection scents in refillable 15ml rollerball travel sizes to fragrance on the move. Create a signature scent by layering favorites together or let them shine on their own. Perfectly presented in a signature luxury gift box that is crafted by hand in the UK.

W: Colonia Fragrance Travel Set (Limited Edition)
Little Butterfly London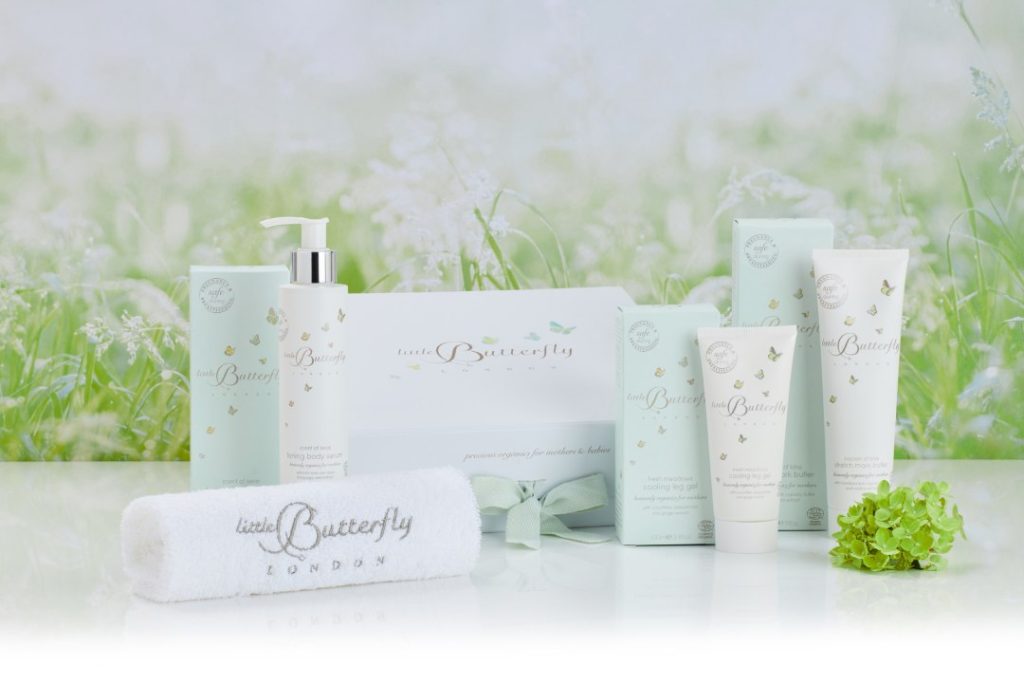 Treat a mother and mothers-to-be in your life to a touch of luxury this Mother's Day.
Three mother skincare products are delicately presented in a stunning keep-sake gift box that features a grass print inside and glossy butterflies on the outside, then tied with a beautifully designed cotton ribbon. For further style, the box comes with a luxury branded carrier bag.
1 x 150ml cocoon of bliss – stretch mark butter
1 x 150ml scent of seas – toning body serum
1 x 100ml fresh meadows – cooling leg gel
1 x luxuriously soft washcloth made of 100 % cotton
DockATot
If you are looking for the ultimate luxury gifts for mums! DockATot is modern, luxurious, and functional. Your family and friends will believe they are home décor! Created with love in Sweden.
La Maman Wedge Carrara Marble Nursing Pillow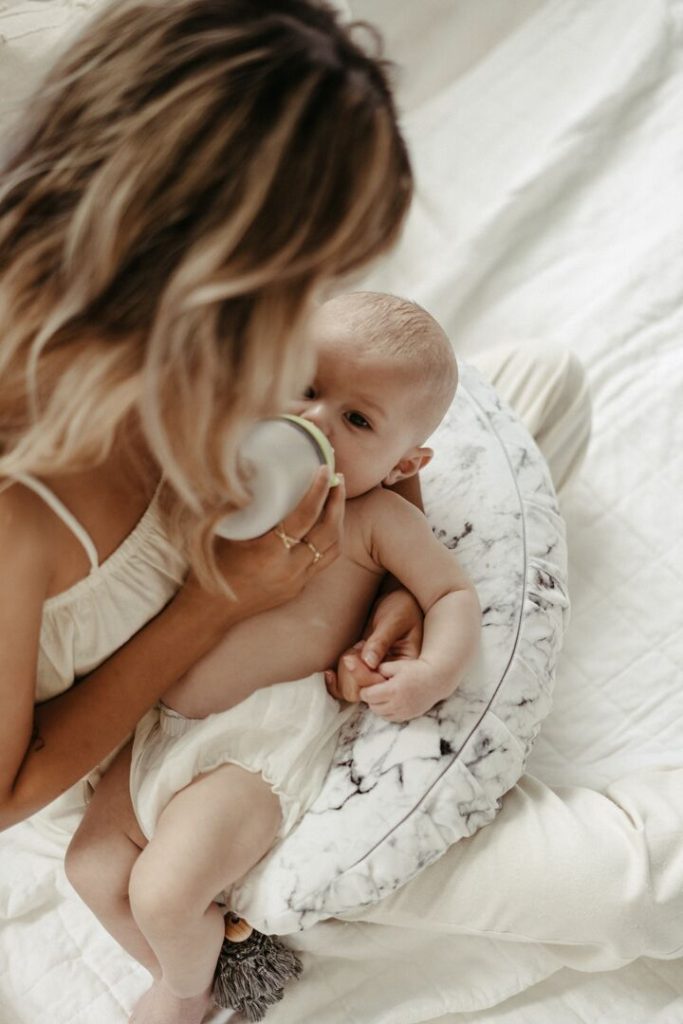 This stylish accent cushion is a smartly designed nursing pillow in disguise. Baby bonding time gets taken to new heights with this cradling pillow that curves around the body to support the baby or mom's arms during nursing sessions. You won't mind leaving this chic nursing pillow out on the couch when company stops by.
W: La Maman Wedge – Carrara Marble
Deluxe+ Dock-Cloud Grey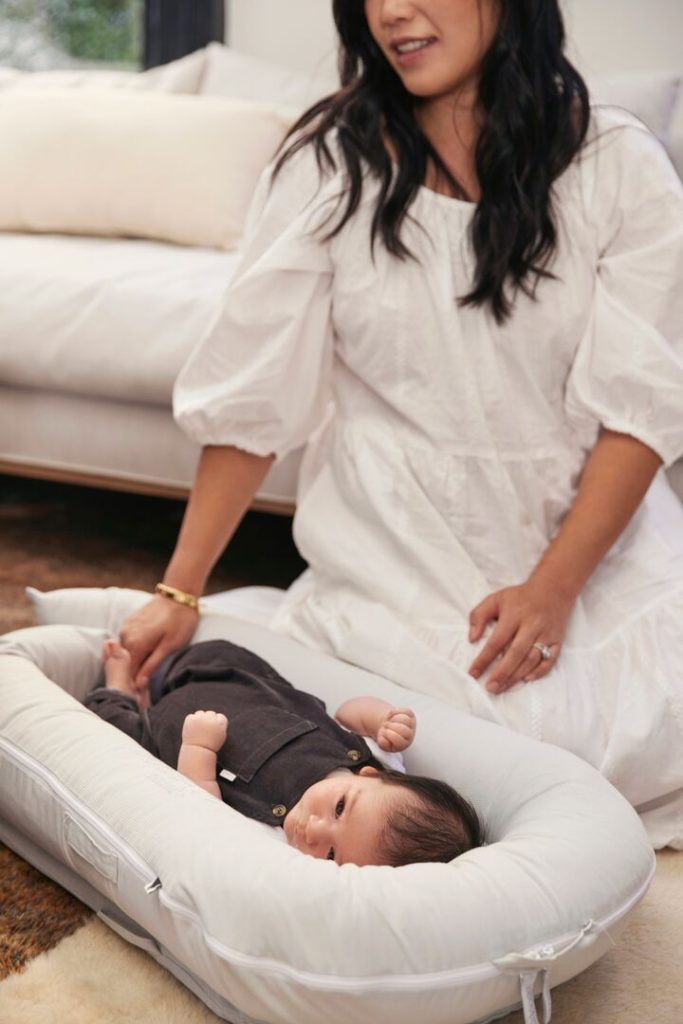 The DockATot Deluxe+ dock is an award-winning multifunctional docking station for babies 0-8 months old. The Deluxe+ dock is the ideal spot for babies for supervised lounging, playing, cuddling, diaper changes, and tummy time.

W: Deluxe+ Dock-Cloud Grey
FFØR
Treat your mother to a 100 % Vegan and Cruelty-Free haircare brand. Free from Sulphates and Parabens.
Pre: Curl Crème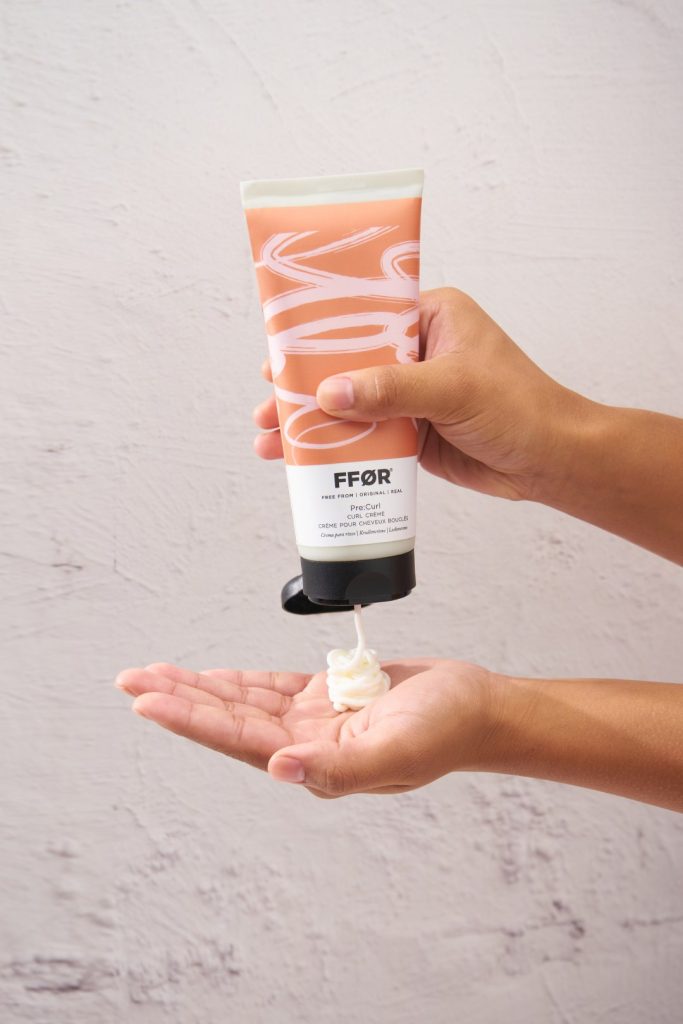 Create frizz-free, defined curls with this vegan-friendly crème, infused with Orange and Cinnamon. Enriched with coconut, marula, and baobab oils which help condition the hair, and glycerine which adds moisture, this crème is part of our new FFØR: Curl regime that will help you create perfect, natural curls with a bouncy finish without being weighed down.
Super: Shine Gloss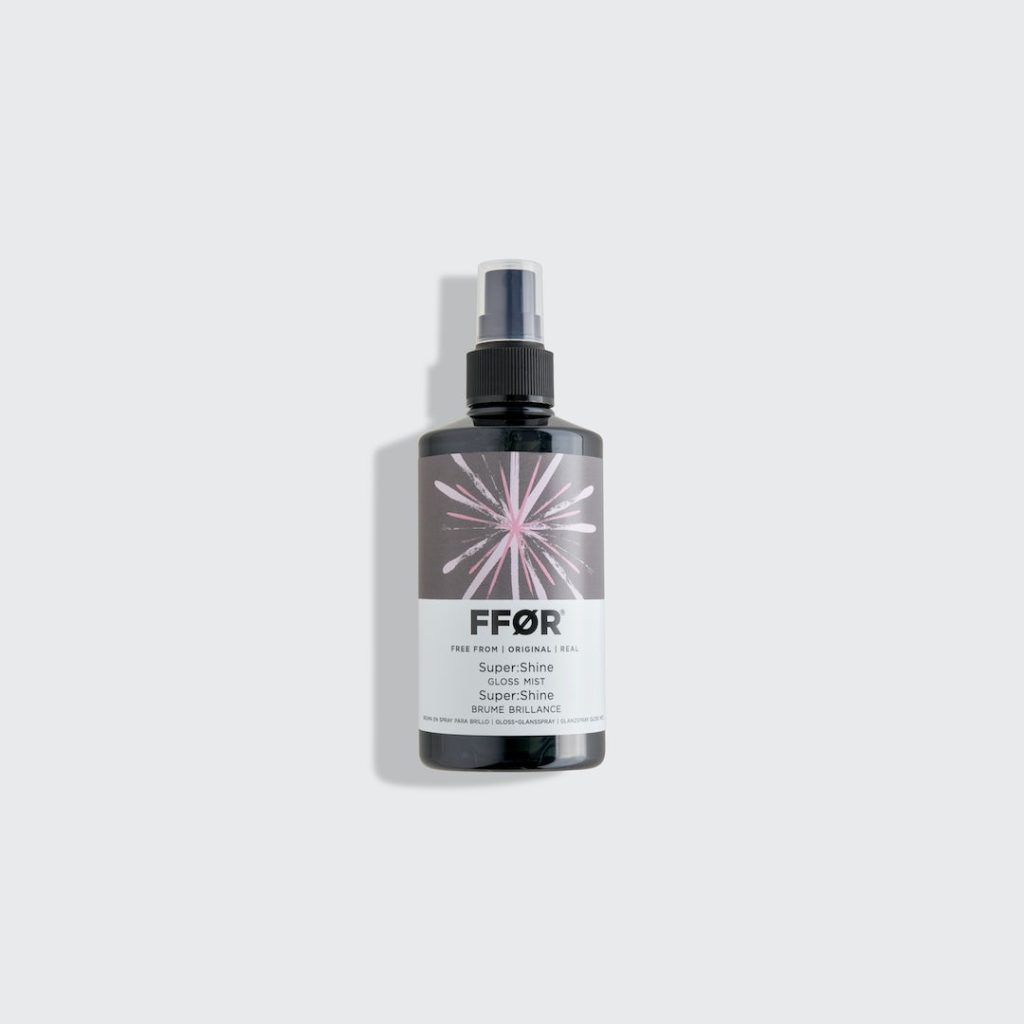 Get that salon-fresh shine every day with this gloss mist. Infused with a powerhouse of natural, ethically sourced ingredients including Bergamot, Vetivert, and Bertholletia Excelsa Seed Oil (Brazil Nut Oil), the mist will not only create that coveted shine, but it will also add a softness that is the key to achieving flow and movement for a healthy, natural look.
RE: Vamp Spray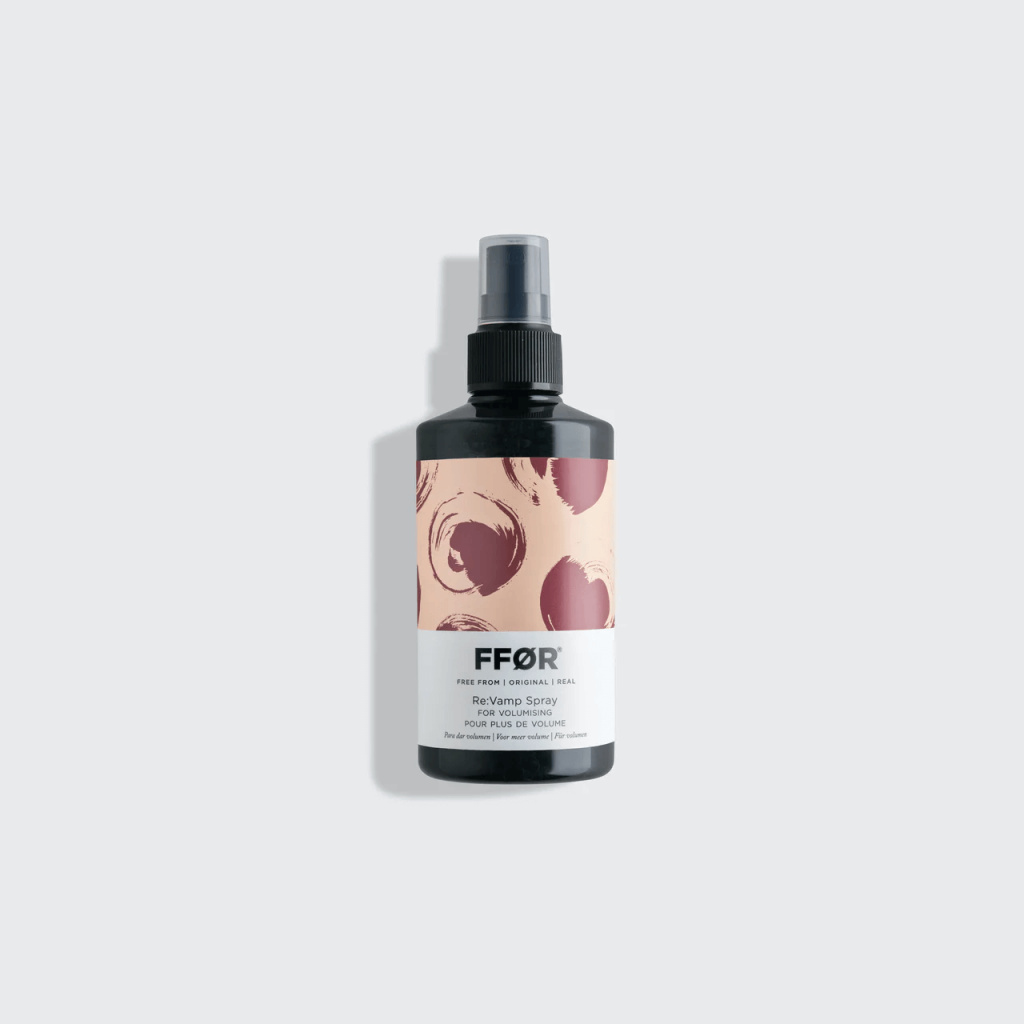 The latest addition to FFØR's award-winning range of vegan, naturally derived haircare has arrived. Perfect for flat or thinning hair, Re: Vamp Spray injects volume and body, giving enviable fullness and movement. Alike to all of FFØR's range, it is formulated without parabens, is 100% vegan, cruelty-free, and gluten free. Care for the planet, and your hair, with FFØR's latest innovation in vegan haircare.
Brightest Shine Treatment Drops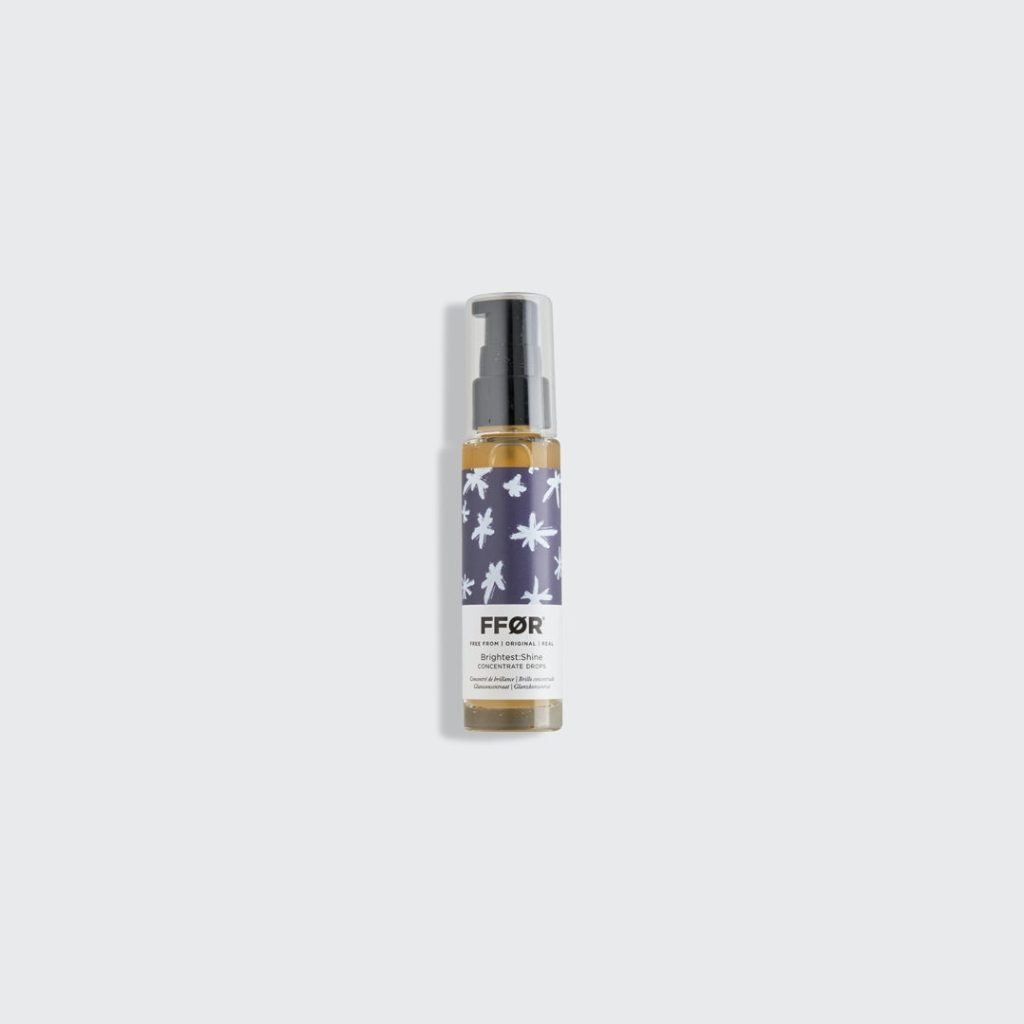 This powerful vegan-friendly treatment concentrate is designed to deliver the ultimate shine and help rebuild hair from the inside out. Strengthening and regenerating the hair, this concentrate helps it recover natural vitality while providing protection from heat-activated styling and helping hair recover its natural shine for added vitality.
Sinclair London
Multi Print Guipire Tote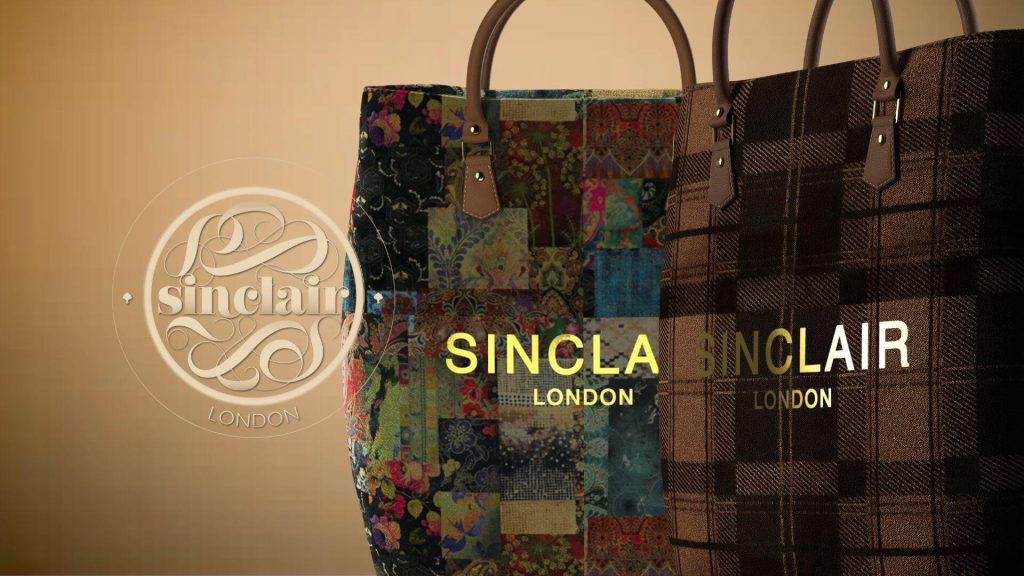 Treat mum to the ultimate luxury item. Chic and stylish. Our Guipire Tote bag is crafted in a velvet multi-patterned velvet cloth. Leather handles elevate this design.
Scarf- Winter Sunset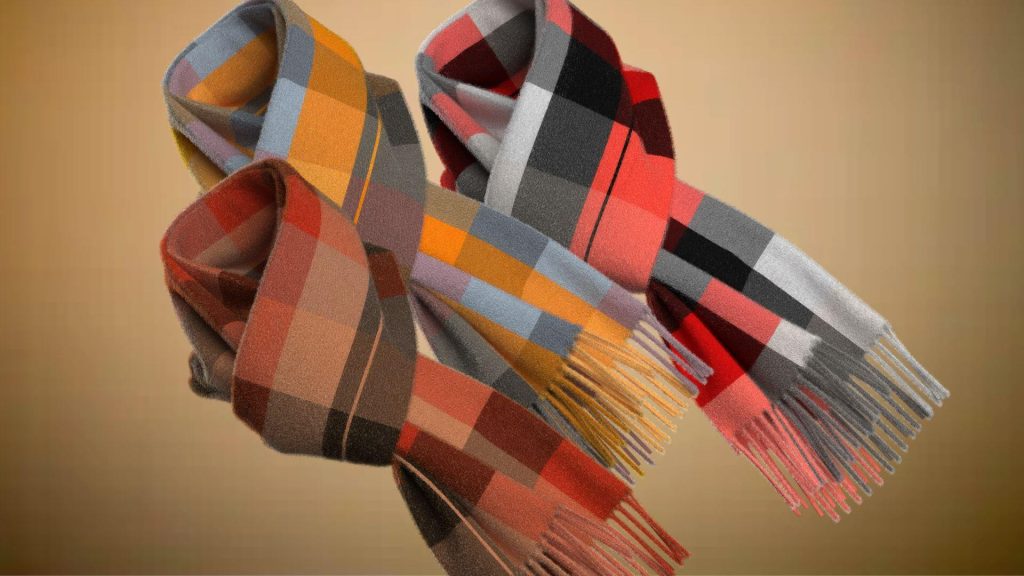 The love we have for our mums is priceless. Nothing says sophistication quite like a beautiful tartan wool mix scarf. Incorporating soft warm winter hues to highlight and compliment any skin tone.
Mother's Day foodie gift guide
Crosstown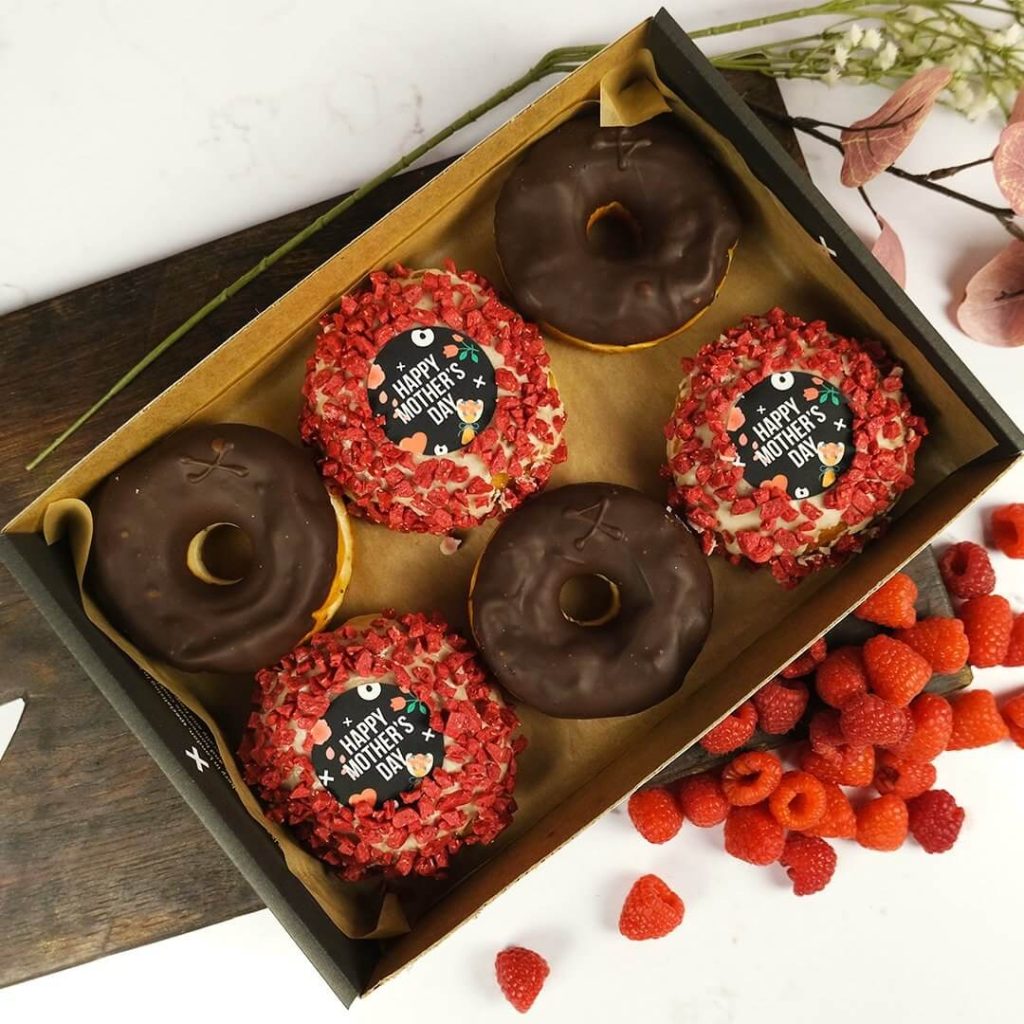 Crosstown has launched its Mother's Day gift range for 2023 with delicious, limited-edition doughnuts complete with edible messages and curated gift boxes with treats including doughnuts, candles, and chocolate, and the option to add specialty drinks to make Mum's Day. The perfect delicious gift that can be delivered across the UK (England, Wales, and lowland Scotland) and is great for sharing at friends and family get-togethers.

For Mum Gift Box – The Mother's Day six-pack + OHROS Sunday Morning candle + the option of adding specialty drinks

Mother's Day Gift Box – The Mother's Day six-pack + three or a six-pack of Crosstown chocolate + the option of adding specialty drinks
W: Crosstown Mother's Day Gift Boxes
Sponge
This Mother's Day spoil your mum with a sweet treat from Sponge. There are lots of options to choose from this year including gluten-free and vegan. Our cakes are the perfect finishing touch to your Mother's Day spread (Especially our Spring Pinata Cake!) or treat her to one of our gift boxes or hampers with our personalised concertina photo cards to show her just how much you care. You can even send her a sweet treat right through the letterbox with one of our newly designed Cake Cards. There is something for everyone!
Mother's Day Hamper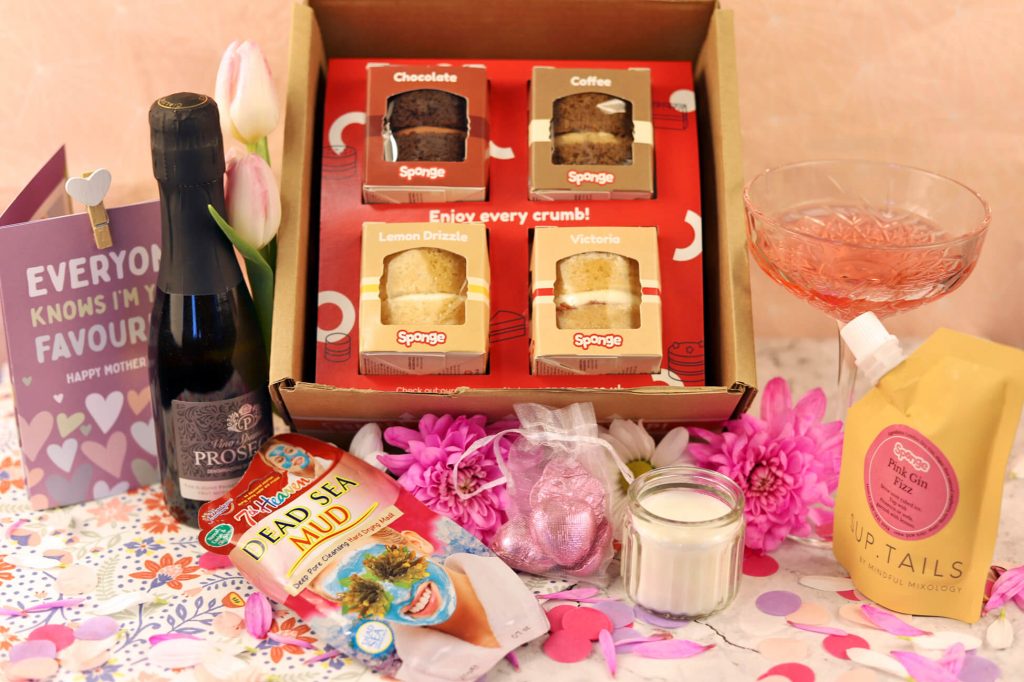 The Mother's Day Hamper comes with Baby Sponges and your choice of cocktail (Pink Gin Fizz or Victoria Sponge Martini) or loose-leaf tea & infuser, a personalised Concertina Card, a candle, face mud mask, and 6 chocolate hearts.
Mother's Day Gift Box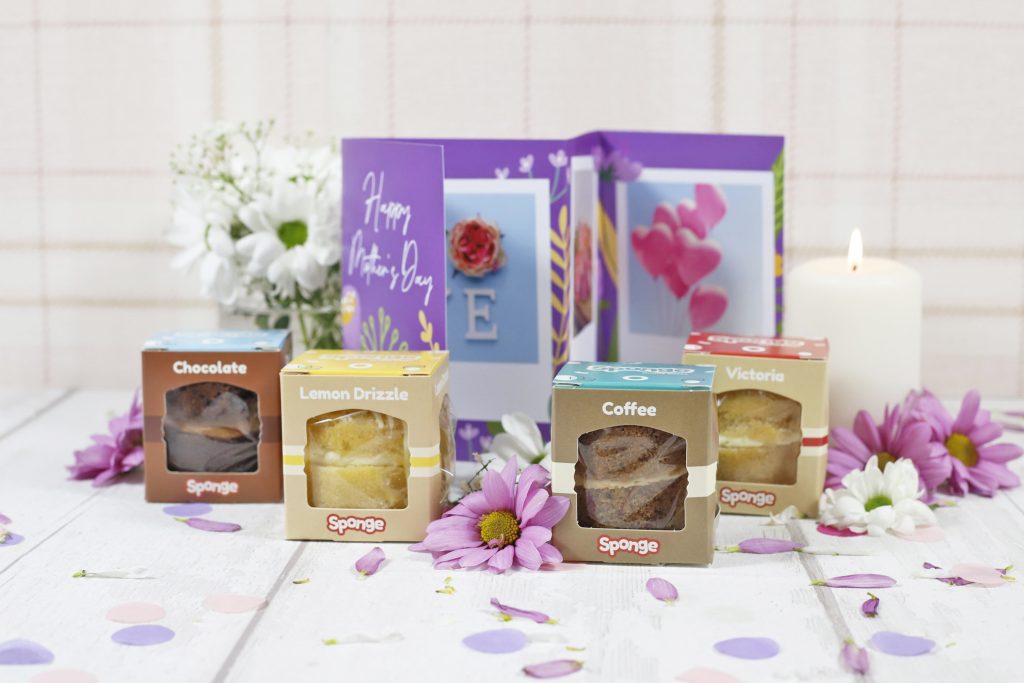 A sweet Mother's Day treat! Four Baby Sponges (standard, gluten-free, or vegan) paired with one of our concertina cards, personalised with your own photos.
Mother's Day Cake Cards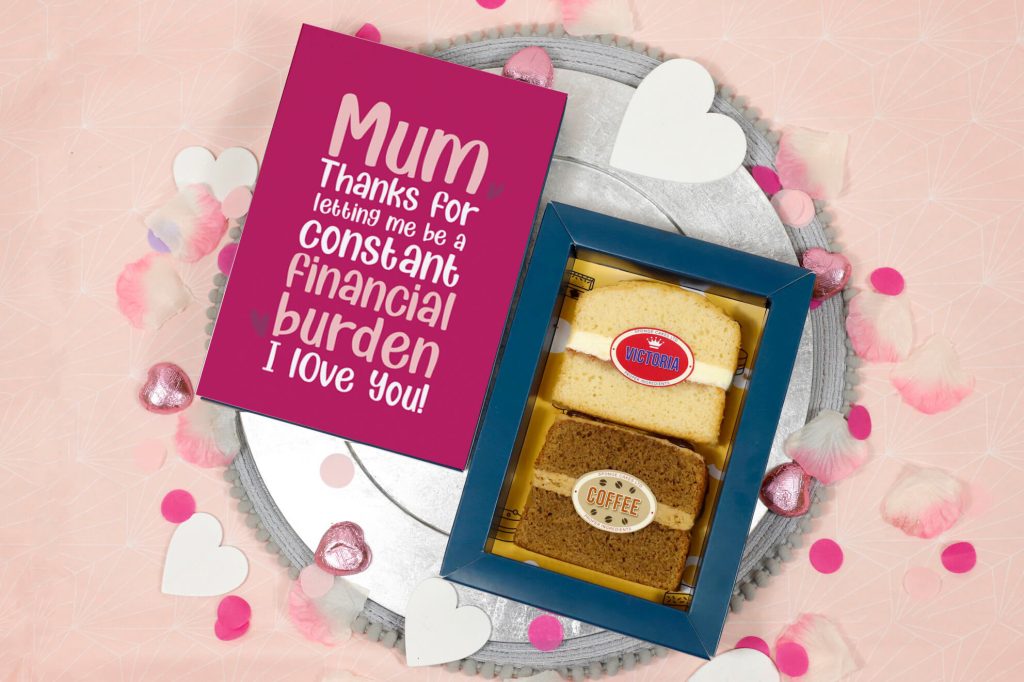 Send your Mum or loved one a sweet treat right through their letterbox and put a big smile on their face. A great twist on the traditional Mother's Day card!
Mother's Day Colouring Cakes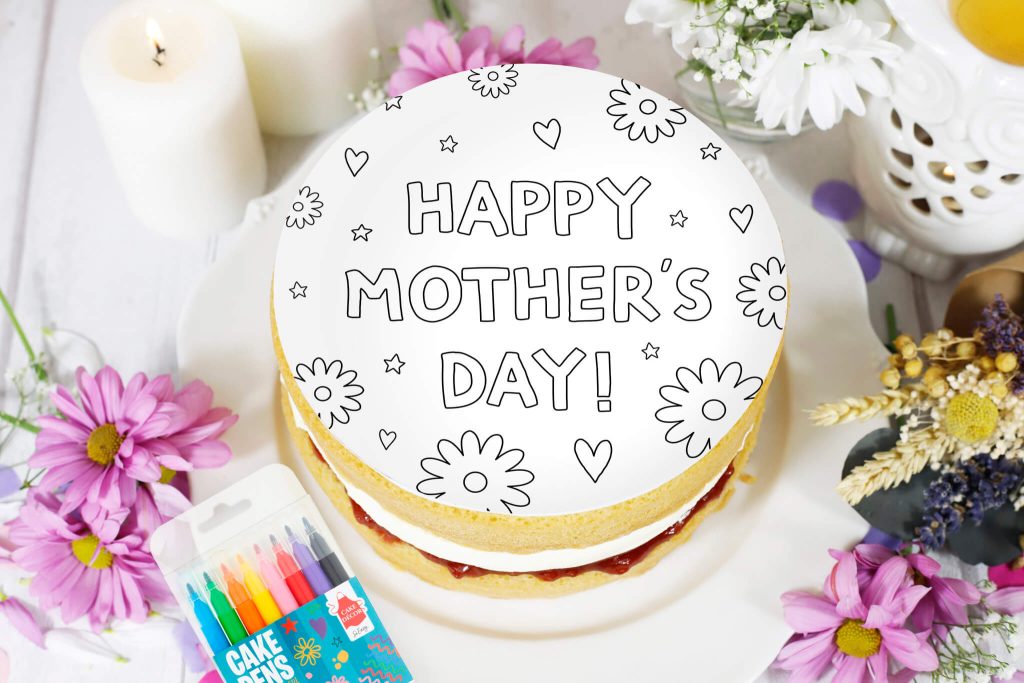 Why not get your little one to design their very own cake to give to mummy with our coloring cakes and edible ink pens. The perfect personal gift!