Red Letter Days are the first to offer the concept of giving unforgettable experiences as gifts, since 1989. Red Letter Days are all about making memories and providing their customers the chance to 'live their best life' they offer an array of incredible experiences for every taste, occasion, and budget. From drinks and dining, pampering, attractions and tours, short breaks, wellbeing, pampering, flying and adventure and luxurious afternoon tea experiences, they offer memorable and imaginative, indulgent and adventurous ideas – perfect for partners, friends, and family. Red Letter Days will create memories that will leave a permanent mark to treasure for a lifetime.

How many times have you just been stuck wondering what to get for your friend and family year on year? Red Letter Days will help put a smile on the faces of the ones you love. Gone are the novelty presents like socks, jumper the same perfume you even forgot you bought last year! How about gifting experiences that will help them shed a tear of joy-priceless! Red Letter Days are the perfect one-stop-shop where you can purchase gift boxes filled with thousands of incredible options.
Red Letter Days Christmas Ideas; Romantic Short Breaks treat the special person you love or a special couple who deserves some time together, what a great way to start the New Year. Spa Days always go down a treat, New Year new me! Purchase a Spa Day who can resist a day of heavenly pampering something to look forward too in the New Year. There is so much to do and see, why not treat someone to a day out in London, take in a musical theatre show, a cruise down the River Thames or take his or her breath away with the view from the shard. Do you know someone who is a supercar enthusiast who can't get enough of Formula 1 then a supercar driving experience will be just the ticket! We all have a bucket list of things we would love to do, some of us get total thrills out of living on the edge. Skydiving could be a perfect unique Christmas present. Red Letter Days even offer gifts for the little people in your life; from Junior Driving, Indoor Skydiving, Theme Parks, Harry Potter and Animal experiences, no experience is too big or small for Red Letter Days to create lasting memories.
Red Letter Days offer so much choice but you can never go wrong with afternoon tea- introducing champagne afternoon tea at the West End Luxury Hotel, The Langham.
Champagne Afternoon Tea at the Opulent Langham Hotel
The Langham Hotel is no stranger to the finest afternoon tea in London. The Langham has over 150 years of history. Afternoon tea at The Langham, is a special experience they received an award as 'Best Afternoon Tea Service 2018.' The Langham afternoon tea serves tasty savouries, scones and patisserie all created with the very best ingredients. The 5 Star afternoon Tea is served on Vintage Wedgewood. The elegant setting of Palm Court complemented by classic and contemporary melodies from a grand piano completes this quintessentially British experience.
A stone throw from Marylebone in the heart of exquisite central London sits the 5-star iconic hotel, The Langham. The Langham is in a perfect location to relax after exploring all that Oxford Street has on offer. Stepping into The Langham hotel you can instantly feel a sense of British quintessential luxury. The Palm Court is a stylish and elegant space marble flooring, 1950's glamour throughout, leather padded chairs, elegantly displayed flowers, high ceilings, luxurious décor creating the perfect backdrop for the most elegant afternoon tea experience.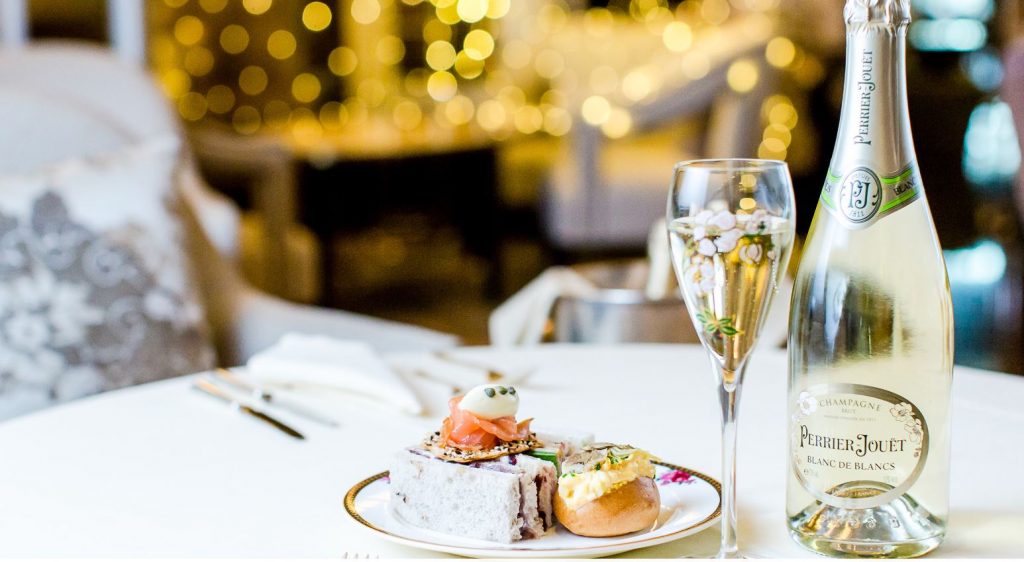 We were greeted by a friendly and welcoming host who explained the afternoon tea menu options in detail the mood was just right. The host brought out two perfectly chilled glasses of Perrier-Jouet. The afternoon tea was served on the finest Wedgwood china; the exquisite pastries inspired by the Wedgwood collections Wow! The background music was beautiful melodies from a Grand Piano playing both classic and contemporary pieces a great touch and helped to create total nostalgia.
The tea options; The Langham Blend, a sophisticated blend of Second Flush Indian Assam for a malty flavour, first flush Indian Darjeeling; the 'Champagne' of teas with delicate muscatel charm and seasonal Uva High Grown Sri Lankan for a light, citrus character. Vanilla Rooibos, South African infusions, caffeine-free and full of flavour.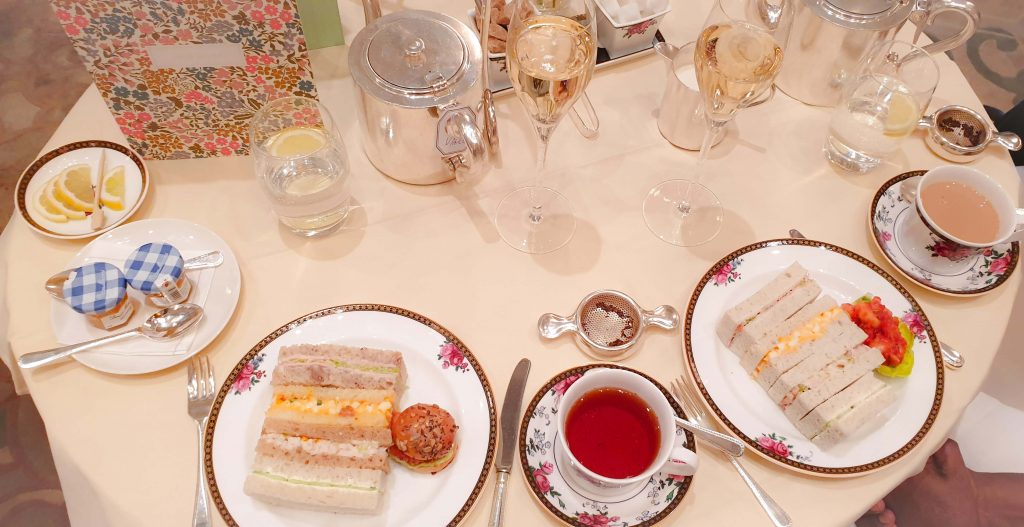 The savoury selection; A selection of the most indulgent finger sandwiches, Burford brown egg, preserved tomato, mustard cress in brioche, peppered roast ham, hispi cabbage coleslaw, pickled walnut on walnut bread, Atlantic prawn 'Bois boudran' hass avocado on a seeded bun, smoked chicken and Mimolette 'Caesar,' on granary bread, classic cucumber and cream cheese on white bread-simply heavenly. The Sweet selection was so delicious; light raspberry sponge rolled with raspberry confit and jasmine cream, caramelised puff pastry, coffee, pecan and chocolate, blackcurrant sorbet, green apple compote, skyr and maple and almond sable, sollies figs and star anise all sections are available in gluten-free options. An afternoon tea experience of pure class and refinery!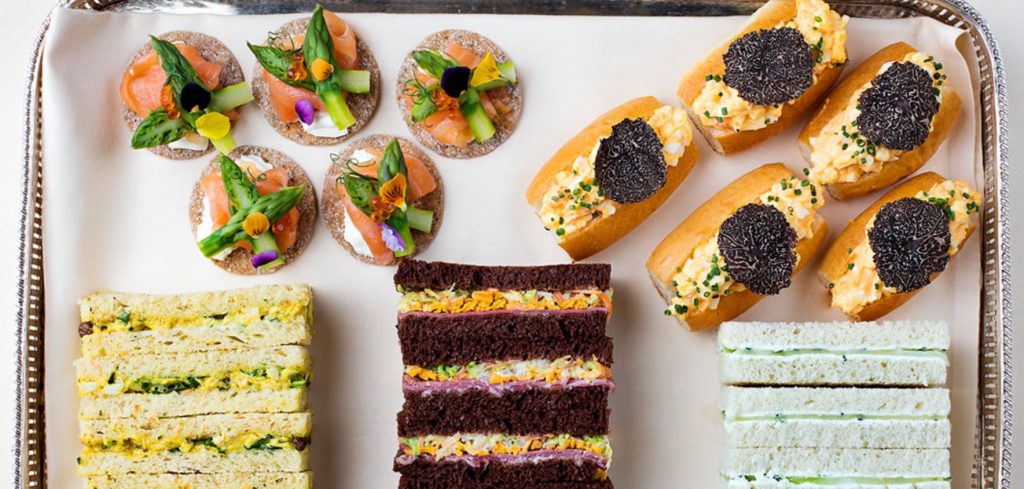 Afternoon Tea highlights
The 150th Anniversary Langham Blend, the most complex tea blends in the world! A truly unique combination of 150 ingredients, blended to give homage to 150 years of The Langham. A blend of white, green, oolong and black tea combined with herbs, spices, fruits and flowers from around the world.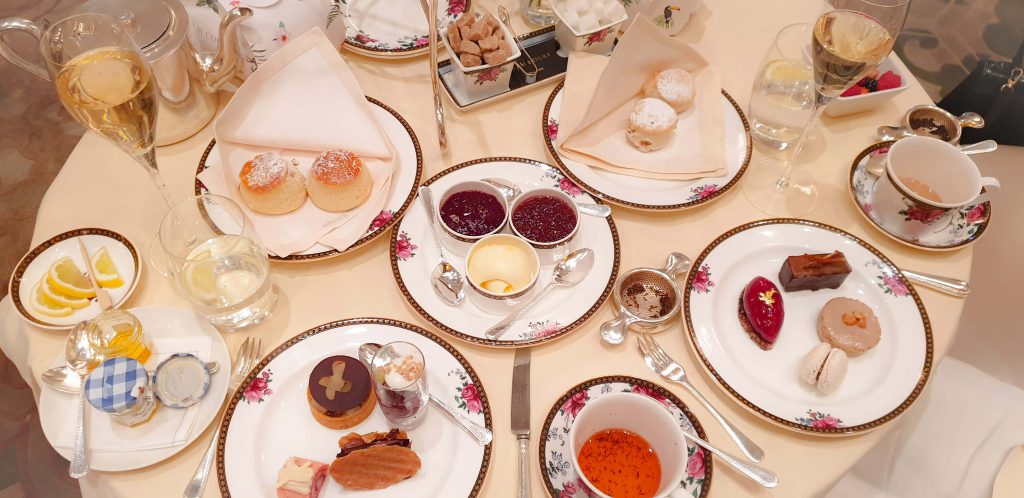 The conclusion
The Red Letter Days Champagne Afternoon Tea experience at The Langham was elegant and unique. A truly quintessential afternoon tea experience, perfect for a gift for a friend, a gift to impress a business associate or that special person in your life. The Red Letter Days gift experiences will leave a memory that money can't buy! You will be spoilt for choice you will find a gift to suit all and your Christmas shopping experience will never be the same.