January the first month of the year the month when we make New Year's resolutions…we start a new job, new diet, health checks, detox-we start to think about our mental and physical wellbeing. Rene has put together a few exciting brands to help you along the way.
Nim's Edible Tea (Drink and Snack in One)
It's dry January so I was so excited to be introduced to, Nim's Edible Teas. It's such a struggle to find a tasty, nutritious, naturally vegan tea. Nim's teas are packed with a combination of air-dried fruit and vegetables. When the tea meets hot water the room is instantly filled with the most beautiful aroma. Nim's teas count towards one of your five a day, delivering such a recognizable flavor. 100% natural and safe for children and even toddlers can join in, making them the perfect drink to introduce your children to fruit and vegetables.
Once the tea has been enjoyed, the fruit is fully rehydrated and can be the perfect snack-Result! Nim's teas are available in pineapple and kiwi bursting with flavor, high in fiber and packed with Vitamin C, or why not try pineapple, beetroot and parsnip delicious. The loose-leaf tea infusions are presented in beautiful boxes making them a fantastic gift, and healthy snack option for January and the months ahead.
Olverum (Bath Oil)
I love learning about new beauty products…I get very excited when these products have therapeutic qualities. Introducing Olverum a new word in aroma therapeutic luxury. Since 1931, the rejuvenating effects of Olverum oil have acquired an almost mystical reputation among its users. They don't believe in magic, but they do know that Olverum's unique formulation of carefully selected plant extracts, each with their traditional therapeutic properties, is a truly relaxing and uplifting experience for body and mind.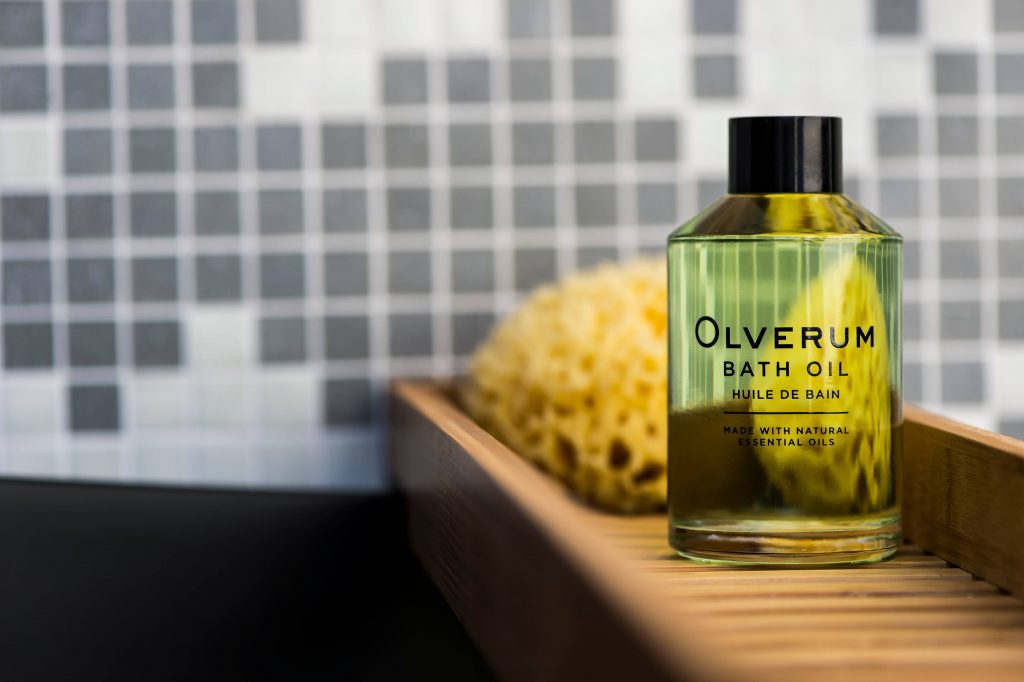 A highly concentrated, therapeutic bath oil which contains 10 pure essential oils, carefully blended to work synergistically, and a very effective way to naturally relieve stress is the ultimate post-workout session – perfect for relaxing in a sunken bath.
I have so much trouble relaxing, I have found Olverum bath oil to be the perfect remedy. This oil has been a godsend, I use a small cup in my bath after a long day and sleep like a baby.
Is it your year to start a new fitness routine, Olverum bath oil will help ease those joints after exercise. Olverum is unisex so both men and women can indulge, whilst they relax in an oasis of calm. Olverum bath oil is a treasured gift to display in your bathroom with pride.
Olverum Bath Oil – Winner of Tatler Magazine Beauty Awards 2018 – Best Bath Oil, try it and see you will not be disappointed.
Ho Karan
Laure Bouguen is coming from a background in cannabis! And interested in Clitorus stimulation (I will talk about that later)-Now that I have your undivided attention! Her keen interest in cannabis came from her grandparents, who were farmers. Ok, you must be shocked by now! It's not what you think. They were hemp farmers for paper production, who cultivated the legal plant, known as cannabis Sativa-Phew! I hear you sigh.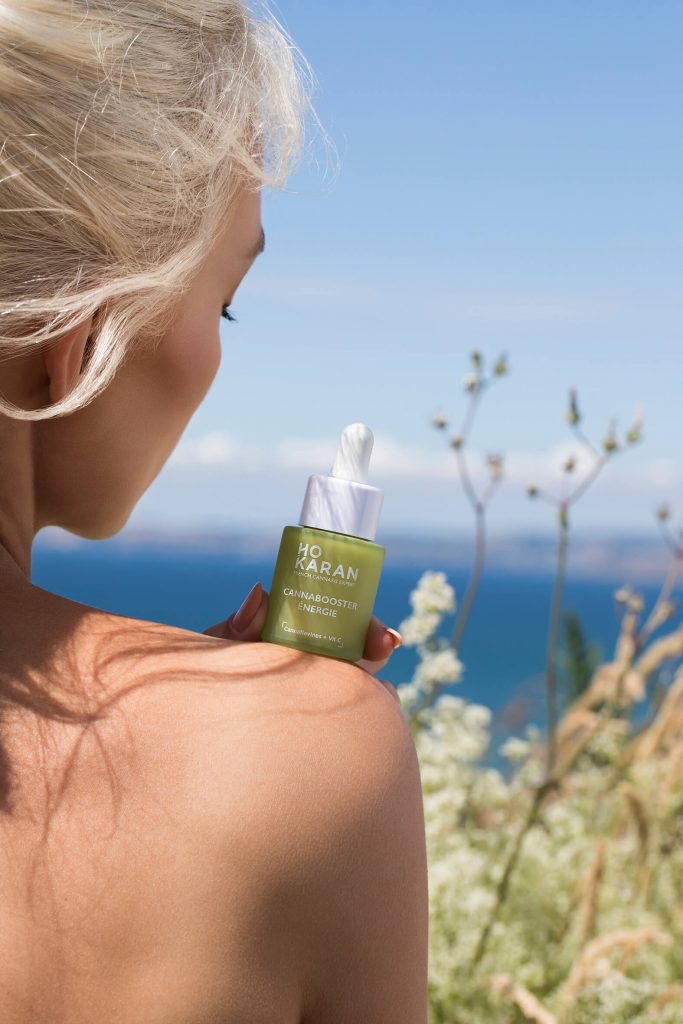 French native Laure Bouguen is the founder of an exciting brand called HO KARAN, the first cannabis beauty brand in France. Hemp is without question the new "buzz" word and has amazing qualities. Laure launched HO KARAN highlighting a new era of alternative, ethical and natural beauty and self-care. The best detox routine for a stress-free lifestyle holiday. I couldn't wait to try, my verdict is my skin is radiant and nourished perfectly as the season changes.
Ho Karan's Box Set
Detoxifying serum (CANNABOOSTER DETOX)
Rich in potent terpenes, this booster serum helps detoxify, tighten pores and create a formidable shield against the harmful effects of pollution.
Made up of seaweed from the Breton island of Ushant, enriched with Cannabis sativa and an astringent zinc complex, say goodbye to unwelcome shine!
Apply this serum shield in the morning before facing the world and in the evening on a clean face to deeply purify the skin.
Moisturising (STUPEFIANTE CREAM)
This cream moisturizes, plumps up, protects and relieves the effects of stress.
Made up of two highly effective active ingredients:
Essential oil and Cannabis sativa butter and a pro-hyaluronic complex hydrate the lower and upper layers of the epidermis.
Massage on to a clean, dry face in the morning and evening, using as much as you desire.
Perfect for all skin types:
Before I forget about the clitoral stimulation and its connection to Laure Bouguen!! Laure is currently promoting cannabinoids as a great way to enhance sexual pleasure through clitoral stimulation and to relieve menstrual pain. Laure is a true champion for women empowerment.
W: Hokaran
Weleda
Starting in 1921 as a pharmaceutical laboratory with its own plant garden Weleda has come a long way. Weleda is represented in over 50 countries on all five continents so this is a staple brand. Weleda makes the wellbeing of their consumer's priority nourishing them for head to toe. Weleda takes pride in ensuring ingredients in the products are natural, sustainable and organic.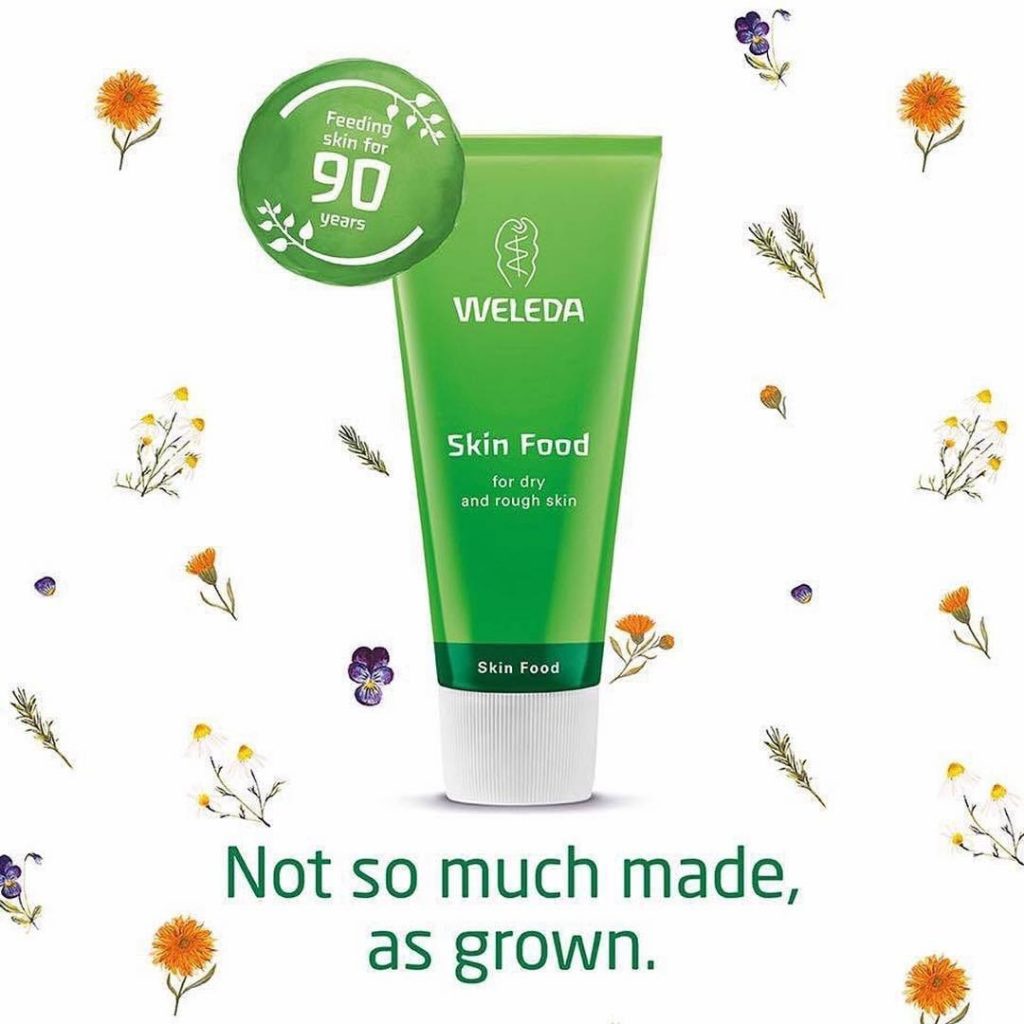 The iconic moisturizer has steadily become known as a 'best-kept beauty secret.' a tube now sells every 23 seconds, attracting a loyal following including many high profile fans such as Victoria Beckham and Adele so you are joining a great family.
Skin Food Light has a lighter texture, leaving the skin, feeling soft, smooth and instantly hydrated. Skin Food fragrance. Suitable for use on hands, face or body. I got the chance to try the Skin Food Light it has been amazing for keeping my skin hydrated, soft and silky.
The full Skin Food collection is available from Weleda all products are nature certified genuinely natural.
W: Weleda
Water for Health
We all know the amazing benefits of water, often taking for granted how precious it is! Biocera Hydrogen Water Mist is a refreshing yet moisturizing face spray, which uses ceramic balls to produce mineral-rich, natural anti-oxidant water.
The Biocera Hydrogen Water Mist is a natural moisturizer. The bioceramic minerals contained within the tube help to generate abundant hydrogen and far-infrared energy and, because they make water clusters smaller and more easily absorbed by the skin, the device helps to provide an appreciable moisturizing effect. Biocera is the perfect antidote to rejuvenate your skin without the use of chemicals.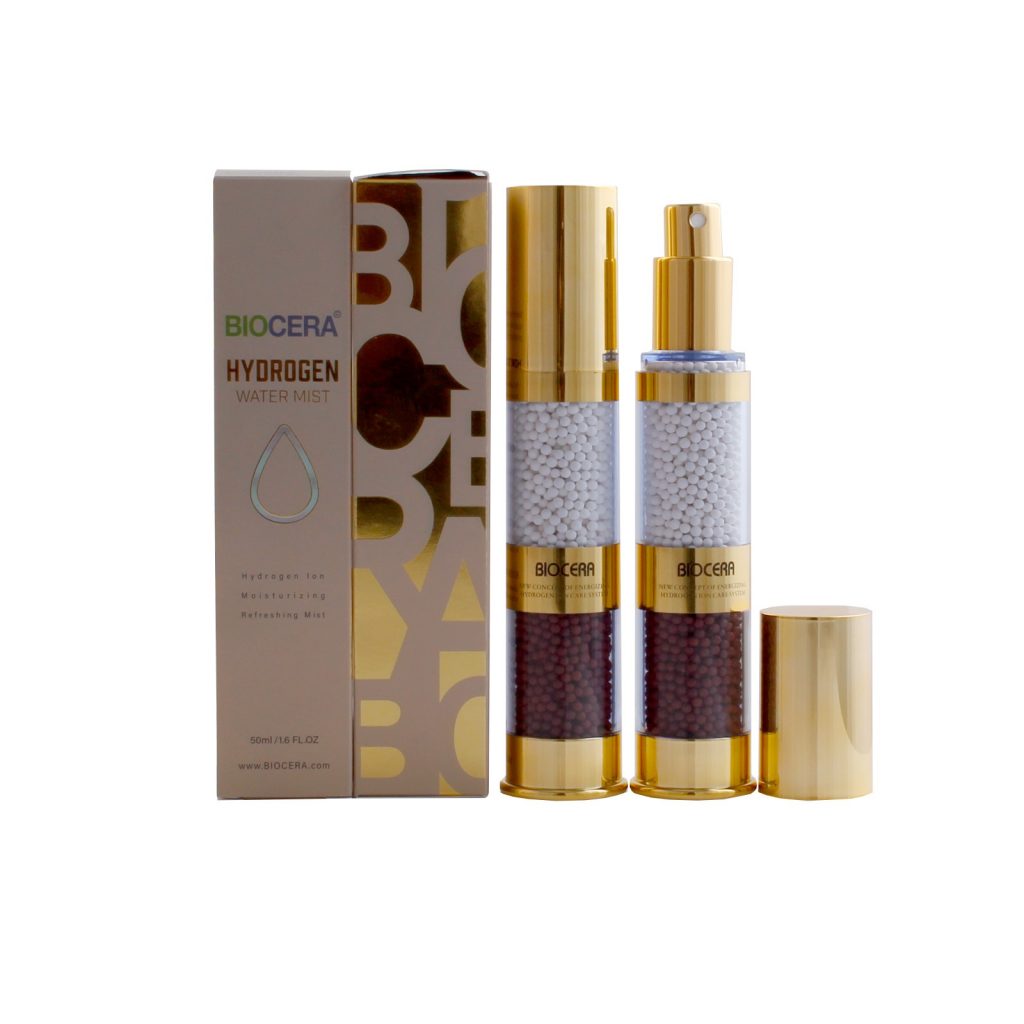 I spend a lot of time traveling, the plane journey and the air conditioning is bad for my skin. Biocera Hydrogen mist has made the harsh effects of the atmosphere much more bearable. I wish I had found it sooner! Planning a trip abroad make sure you pack this as a must-have travel beauty product.
W: Biocera Hydrogen Water Mist
Alkaline water is highly beneficial to the body. Good hydration is vitally important if we are to enjoy optimum health. At Water for Health, we believe that drinking alkaline ionized water is beneficial for everyone.
Biocera Alkaline Jug Filters
We are living in a world that we are seeing the effects of climate change the Biocera Jug transforms ordinary tap into alkaline water which is rich in hydrogen. Do your part for the environment make that switch to filtered water I'm glad I did!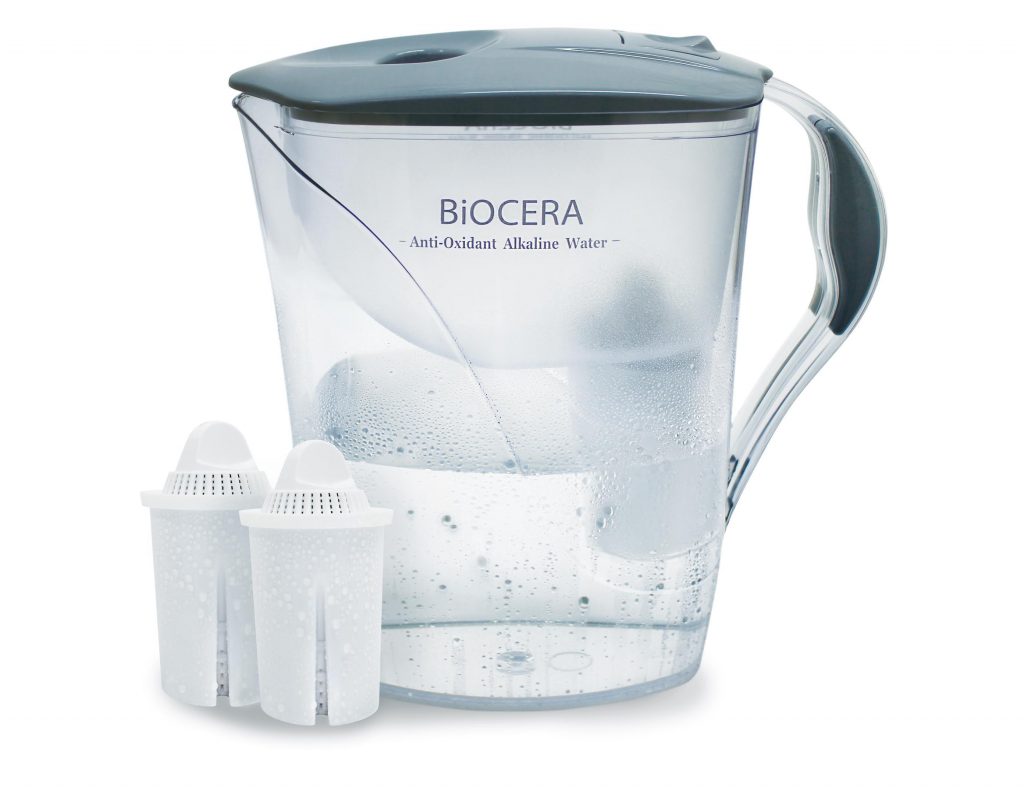 Alkalises water, typically elevating the pH from 7.5 to 9.5
Stimulates the release of active molecular hydrogen
Filters chlorine and reduces heavy metals and dissolved organic residues (benzene, pesticides)
Uses natural bioceramic minerals to emit low levels of natural energy and improve water structure
Alters the water's ORP (Oxidation Reduction Potential), typically to between -100mV and -250mV
Made from BPA-free plastic and NSF certified
1.5 litre capacity, easily fits in the fridge door
W: Biocera Alkaline Jug Filters
Forever Living Products
Single bible, the plant of life, are some of the names given to this wonderful plant called aloe vera. The properties are endless and benefit an individual both inside and outside their bodies, food for life. Aloe Vera is a fantastic healthy and nourishing option during dry January it boasts 99.7 inner leaf aloe gel, is great for skin, the immune system and is an ideal digestive aid, which also contains vitamin C.
Founded in 1978, Forever Living Products, through its group of global companies is the largest grower, manufacturer and distributor of aloe Vera products in the world.
Forever Bio-Cellulose Mask
Forever's Aloe Bio-cellulose Mask provides potent hydration thanks to forward-thinking technology and natural ingredients. Its bio-cellulose fibers fit the contours of your face to deeply moisturize and to ensure every impressive botanical penetrates the fine lines and wrinkles traditional sheet masks fail to reach. Through a process unique to Forever, Aloe Bio-cellulose Mask's formula fuses pure aloe and sea-grass with the bio-cellulose fabric to soothe, soften and condition the skin. This environmentally-friendly mask has also been enriched by a moisturizing serum of green tea and a horse chestnut that rejuvenates dull skin by combatting the signs of aging and reducing the appearance of redness.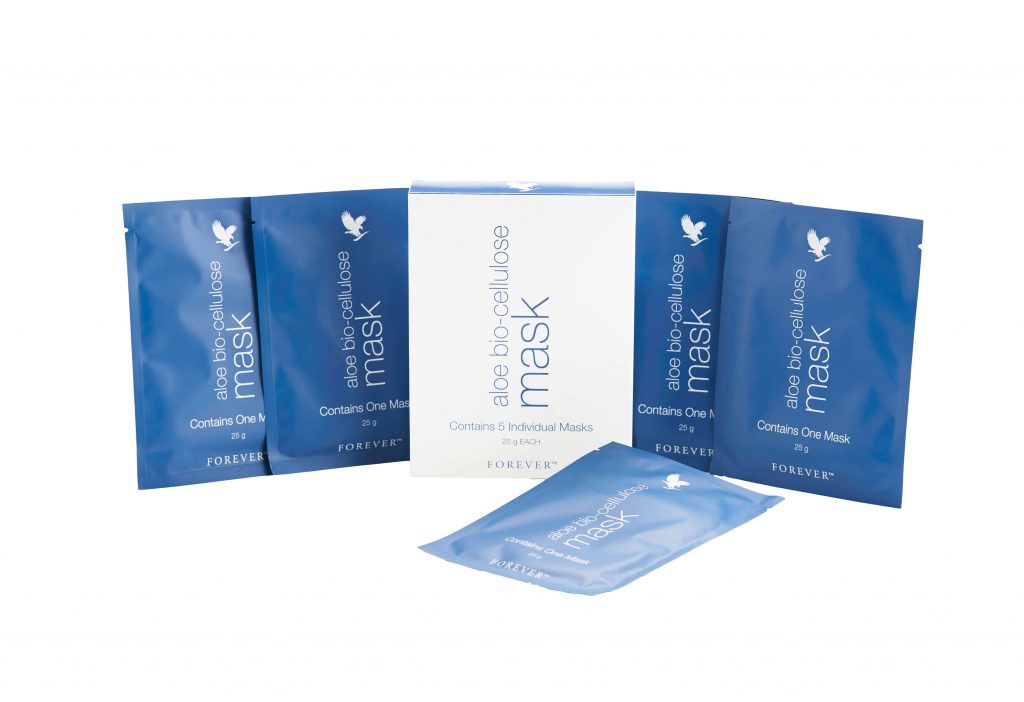 Verdict: I tried the mask and my face feels like velvet and looks incredibly clear.
Dry January switch to Aloe Vera Gel
The Tri-Pack contains the following three drinks:
Forever Aloe Vera Gel
Forever's classically pure aloe vera gel. This is the standard by which all others are judged. The Forever Aloe Vera Gel is made of 99.7% pure inner leaf aloe vera gel to help support your digestive system.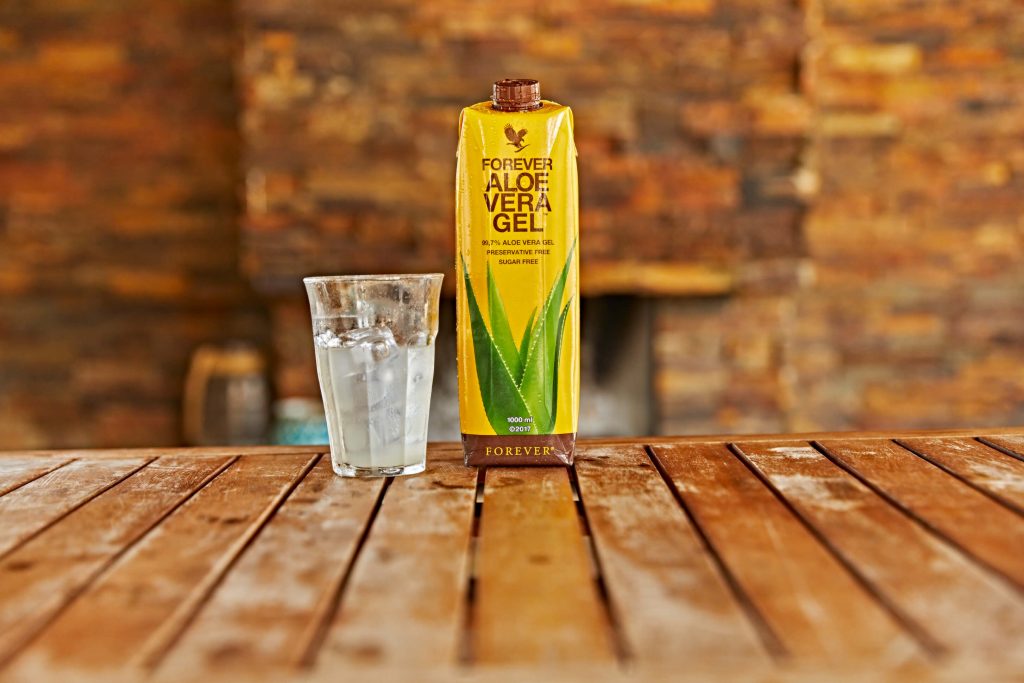 Stabilized Aloe vera gel [Aloe vera gel (99,7%), vitamin C (ascorbic acid), antioxidant (ascorbic acid), acidity regulator (citric acid)].
Forever Aloe Berry Nectar
All the nutritional benefits of their flagship aloe vera gel with the addition of cranberry and sweet apples. Incredibly delicious and rich in vitamin C, Forever Aloe Berry Nectar is a drink you'll find yourself reaching for again and again.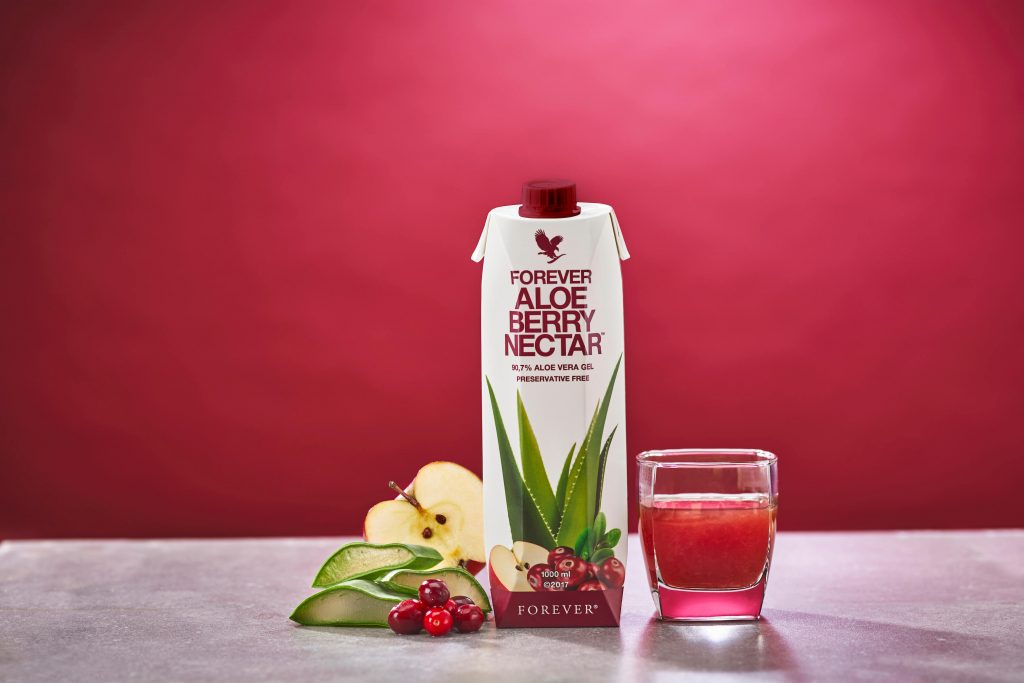 Stabilized Aloe vera gel [Aloe vera gel (90,7%), vitamin C (ascorbic acid), antioxidant (ascorbic acid), acidity regulator (citric acid)], natural apple juice concentrate (4%), fructose, natural cranberry concentrate (2%).
Forever Aloe Peaches
Nothing is more refreshing than the sweet taste of peaches combined with the powerful health support of aloe vera gel. This distinctive and wildly popular variety rounds out the new. Forever Aloe Peaches is enhanced with natural peach flavor and peach purée.
Stabilized Aloe vera gel [Aloe vera gel (84,3%), vitamin C (ascorbic acid), antioxidant (ascorbic acid), acidity regulator (citric acid)], natural peach puree (8%), fructose, natural white grape juice concentrate, peach flavor.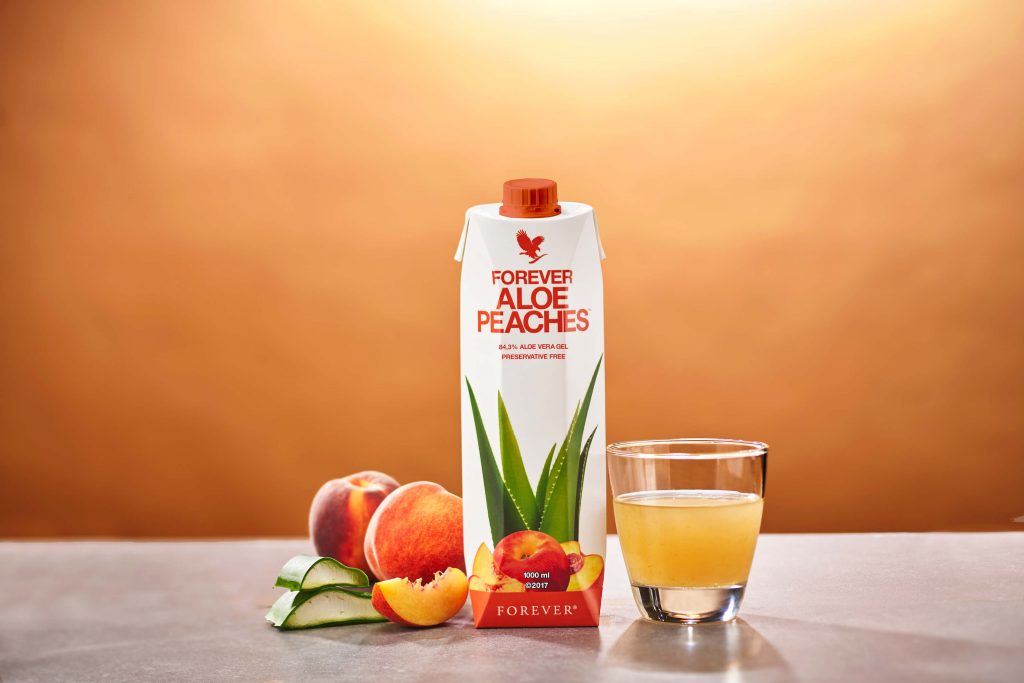 Verdict: I have drinking these religiously in the morning and the last thing at night, I feel full of energy. I have noticed that this is causing a detox affect so perfect to remove all the guilty pleasures and indulgent over the festive season.
Forever Bee Honey
Not all honey is made equal and Forever Bee Honey remains one of their most popular products thanks to a pure taste that captures nutrition direct from the hive. This all-natural, delicious sweetener is naturally nutritious and perfect for replacing processed sugar in your diet. Thanks to its easy-pour bottle, this honey leaves no sticky mess and can easily be poured into porridge, stirred into Aloe Blossom Herbal Tea or used in cooking. Consider it a gift from our bees to you!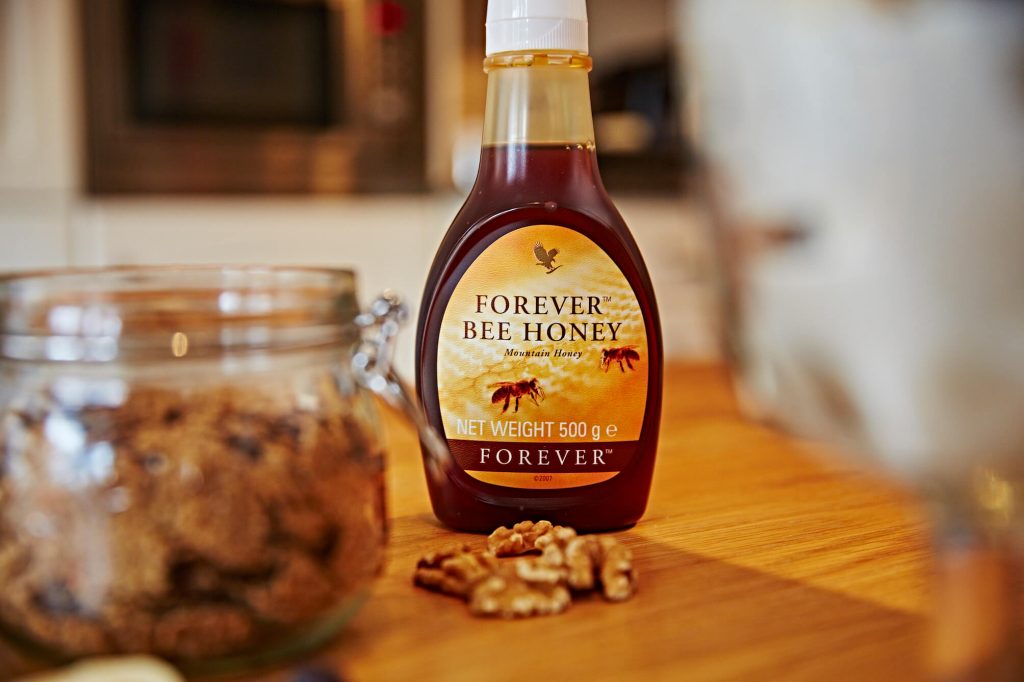 Verdict: simply delicious I have this with my gluten-free porridge every day. If you are a sweet tooth like me, this is the perfect way to give yourself a little treat without a guilty conscience.
Forever Ultra Vanilla
Shake up your diet and lifestyle with naturally-flavored, plant-powered protein. Forever Lite Ultra contains vital vitamins and minerals and is available in two flavors. This versatile product can be used if you're watching your calorie intake, or as a filling, protein shakes if you're trying to gain weight. N.B. Contains soy.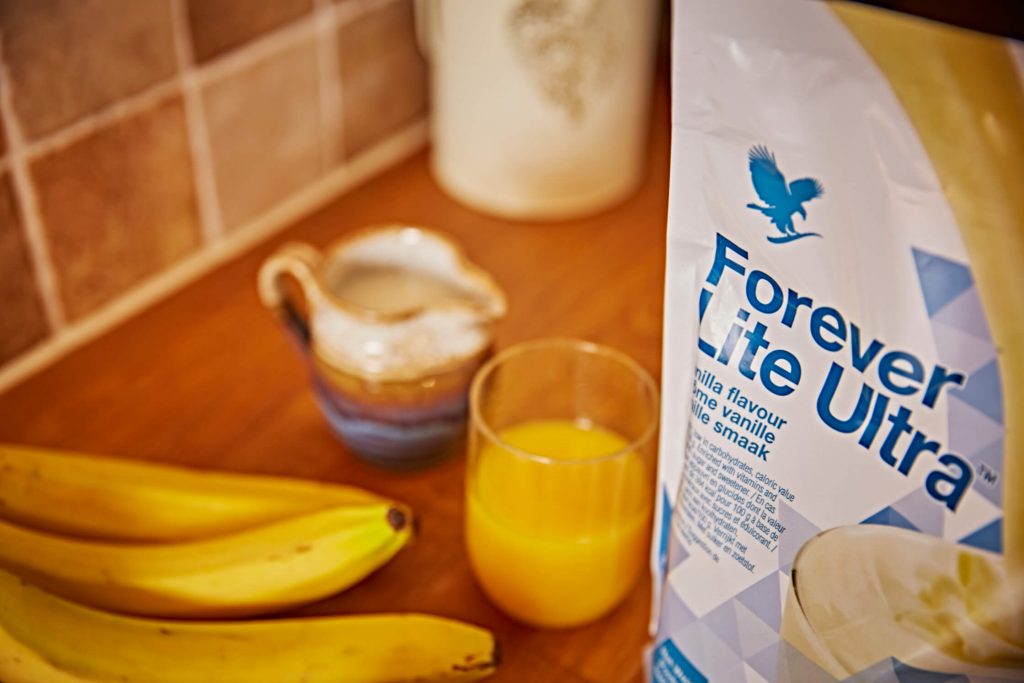 Verdict: I am always slightly skeptical about shakes do they have too much sugar or sweeteners, additives, I can honestly say these shakes were yummy I had one after a work-out and was content.
Infinite Kit
You might think you know aloe, but you've never seen it perform like this! Infinite by Forever targets aging from the inside out and the outside in with revolutionary formulas. The topical products are designed to hydrate the skin and reduce the appearance of fine lines and wrinkles while Firming Complex supplements inner skin beauty support with vitamin C to contribute to normal skin collagen formation for the normal function of the skin. These four products target the appearance of skin aging with formulas that work together for a complete daily routine.
Verdict: I have only started using this product but first impressions my face is glowing and appears smooth a must for all that want to fight the first signs of aging with a natural product award-winning brand.
What's in the box Infinite by Forever includes:
Hydrating cleanser Firming complex – Focus on nutrient skincare with Firming Complex, Forever's first exclusive beauty supplement.
Firming serum – Firming Serum targets the signs of aging with a clinically proven three-amino acid peptide that complements the natural process of skin to increase firmness that makes skin feel smooth and firm, and your complexion appears visibly younger.
Restoring creme – With over fifteen skin conditioning ingredients, Restoring Crème absorbs fast to leave skin feeling moisturized and smooth.
Make Forever Living Products part of your new year's wellbeing journey.
W: Forever Living Products