In the heart of Royal Tunbridge Wells, in a quaint corner lies Thackeray's. Walking into Thackeray's restaurant I was immediately struck by the traditional historic building, not in perfect balance, sloped ceilings slightly leaned staircase, which added to its charm. The striking building has old features with a modern flair, which makes dining at Thackeray's extra special. Thackeray's building was once owned by author William Makepeace Thackeray, so dining in this truly striking work of art offered, a perfect piece of history.
Thackeray's offer a relaxed form of fine dining free from pretension but focused on creating classic European culinary modern dishes. The team has successfully upheld their impeccable reputation and created a new menu that doesn't follow any fads or themes but will leave the diner with a memorable experience.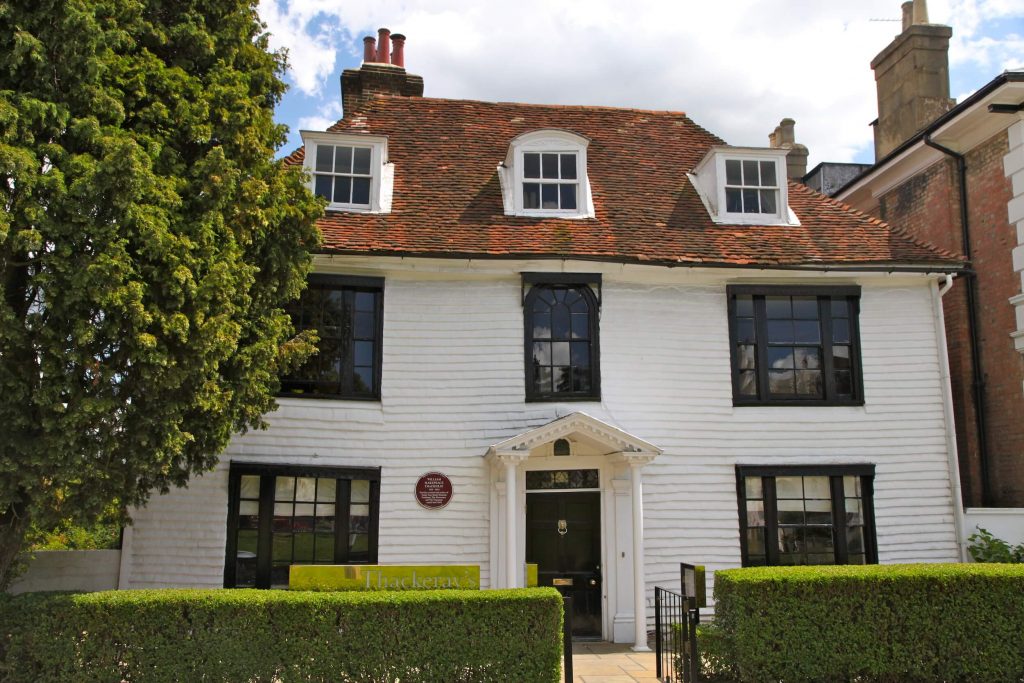 First impressions inviting, attentive and knowledgeable staff providing a warm dining atmosphere. Thackeray's is a chilled, stylish and relaxed fine-dining experience the perfect place to spend time with friends over the most exciting cocktail and wine list in Royal Turnbridge Wells. The décor traditional and modern, round and square tables with white crisp tablecloths, contemporary furniture, modern art and relaxing music with the perfect non-intrusive tea-lights.
Thackeray's is highly regarded due to 3AA Rosette Award for Culinary excellence, making it the go-to fine-dining destination in Royal Turnbridge Wells. Thackeray's are renowned for consistently creating culinary modern dishes thanks to the Head Chef Patrick Hill tick, which never takes his eye off the prize, ensuring consistency and excellence. The new and exciting Honesty Menu is without question one of the reasons why Thackeray's will continue to thrive as Kent's finest.
Thackeray's have managed to effortlessly create a restaurant that is loved by the locals as their main fine dining option for a sweet sixteen, a first date, an engagement, a milestone wedding anniversary or to impress clients.
I was greeted by a friendly host who gave me a menu marked with a red wax seal, at the moment I knew this would be a real treat. Opening the menu was like receiving an extra special invitation.
Introducing the new Honesty menu the menu was designed to allow a diner to experience the exciting produce and innovative cooking from the talented team at Thackeray's.
The Honesty menu is five courses and each one is tasty, creative and modern with suggested drinks pairing. The Honesty menu lives up to its name sourcing the highest ingredients from local and UK sources. The host then prepared my favorite cocktail to accompany my first-course Pomegranate Royale, pure bliss.
YOU MAKE MISO HAPPY
Crispy Pork Belly Bao Bun, Lemongrass and ginger Thai Broth, Loch Duart Salmon Teriyaki, with a hint of spice that opened my palette.
BURGER ME!
Aged Kentish Venison and Foie Gras Burger, Milk Bun, Worcestershire Mayonnaise, Pickled Red Cabbage, it was so tasty and the presentation fantastic.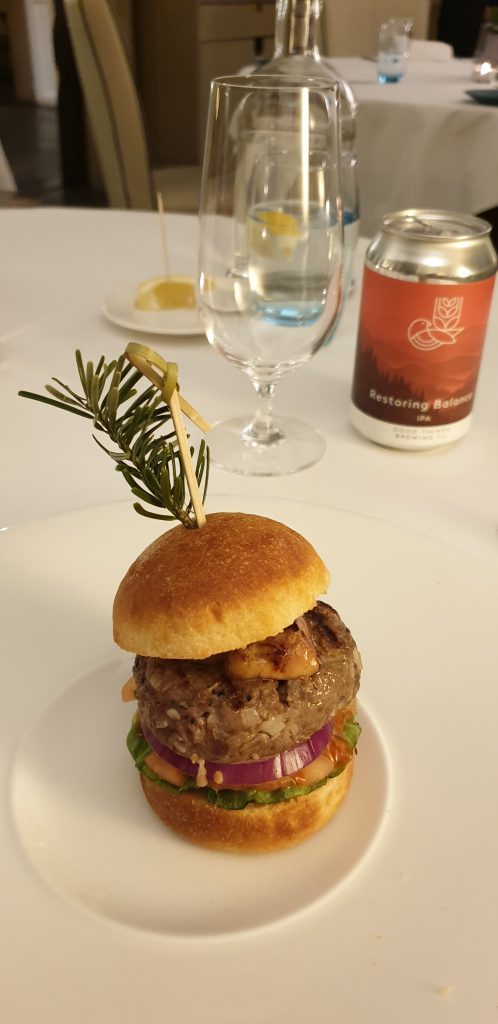 Beer pairing
Restoring Balance IPA, Good Things Brewery, Eridge brewing better for the world they love, self- sustained, crisp and dry.
'DON'T BE SHELLFISH'
Hand Dived Scallop Ceviche, Buttermilk, Dill Oil, Pickled Shallot, Horseradish, delicate and light.
Wine Pairing
Pinot Gris Reserve, New Hall Vineyards, Purleigh, Essex 2018, sustainable homegrown wine.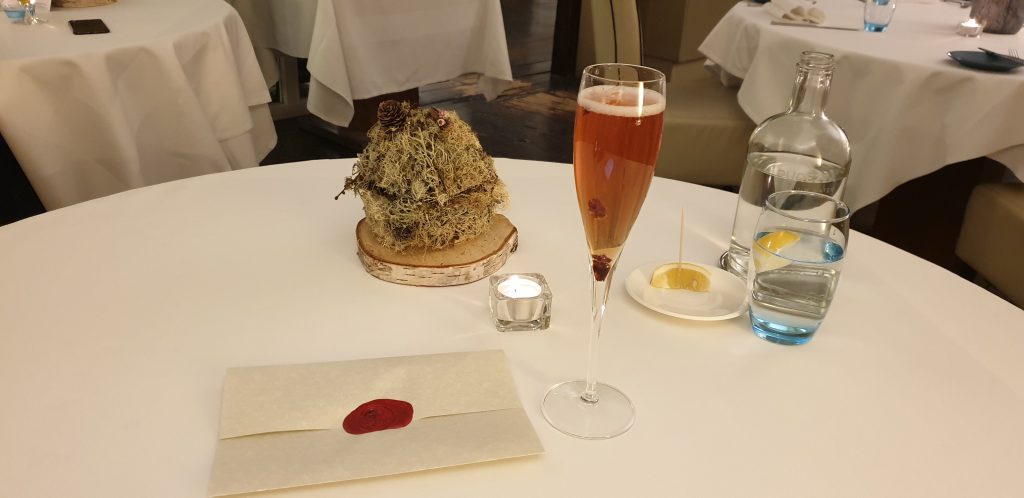 CHICKEN OF THE FOREST
Corn-Fed Chicken, King Oyster Mushroom, Fermented Garlic, Black Truffle, heavenly, delicious and filling. A great touch was a scotch egg created by the last parts of the chicken so nothing went to waste.
Wine Pairing
Pinot Noir, Joel Gott, Willamette Valley, Oregon 2017, smooth and light wine which was a perfect match with the chicken.
MONTGOMERY RAREBIT
Crumpet, Worcestershire Sauce, a tasty crumpet topped with a flavorsome cheese, there was nothing left.
Cider Pairing
Mulled Farmhouse Cider, Big Nose & Beardy, Framfield, a special touch warm and served in a Rose gold hip flask
PINK TO MAKE THE BOYS WINK!
Ruby Chocolate Pavé, Strawberry Sorbet, Thai Basil, Gariguette Strawberries, my favorite course of them all, pretty in design and tasted like heaven.
Wine Pairing
Black Muscat 'Elysium', Andrew Quady, California, U.S.A. 2016, the name of the wine is Greek for heaven and the taste is very fitting
Bar and Terrace
Thackeray's has a bar and terrace where you can join friends and family for a drink and choose from a wide and varied selection. Thackeray's are pleased to own a Coravin Wine System, which enables them to serve any of their wines by the glass without removing the cork, perfect for a wine connoisseur. The bar staff are at hand to make recommendations to create a classic and innovative cocktail or aperitif.
Thackeray's offers a peaceful and tranquil place with a beautiful terrace, the perfect spot to drink or dine during the summer months. You will not lose out if you dine on the terrace as you can order from any of the restaurant menus. The special touch is your dish being prepared on their 'Big Green Egg' smoker, which is located behind the terrace bar, such a treat for the warmer months.
The conclusion
The Thackeray's Restaurant offers a non-pretentious exquisite fine-dining experience. The Honesty menu is an exciting yet simple, innovative, beautiful presentation and very tasty. If you are looking for a relaxed, stylish restaurant to dine with friends, business associates or to treat that special person in your life, Thackeray's Restaurant will offer a truly unique and exciting experience. I have nothing but praise for the Honesty Menu a lovely treat that your guest will never forget.