Step into a world of pure indulgence and serenity with our luxury UK Spa guide review. Immerse yourself in the lap of luxury as we take you on a journey through two opulent spas across the United Kingdom. From breath-taking landscapes to exquisite treatments and impeccable service, discover the ultimate destinations for relaxation, rejuvenation, and pure bliss. Get ready to escape the ordinary and immerse yourself in the extraordinary. Welcome to the epitome of luxury spa experiences in the UK.
Embark on a Journey of Pure Relaxation at Grafton Spa and Wellness
Experience Award-Winning Luxury in Northamptonshire Countryside
Welcome to Grafton Spa and Wellness, the epitome of luxury and rejuvenation nestled in the serene Northamptonshire countryside. Prepare to embark on a transformative journey of relaxation, guided by the founder herself, the visionary Georgina East. Since its inception in 2015, Grafton Spa & Wellness has garnered accolades for its impeccable service, employing a team of ten talented and passionate staff dedicated to providing an exceptional experience.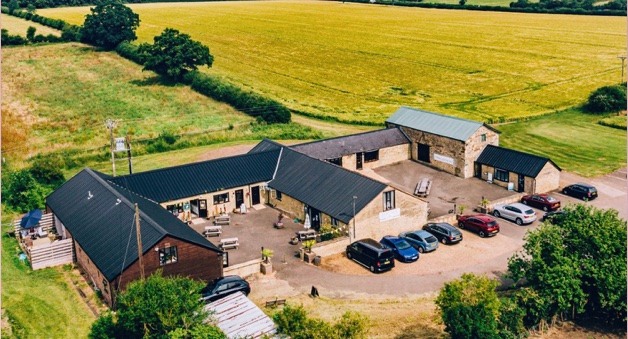 A Sanctuary for All: Perfect for Friends and Family
Grafton Spa and Wellness offers an idyllic sanctuary, perfect for enjoying precious moments with friends and family. As you step through the doors, feel the weight of the world melt away. As you step into Grafton Spa, you are greeted by Georgina and her team of talented professionals. Their warm smiles and genuine care instantly make you feel at ease, assuring you that you are in capable hands. The first stop on your spa journey is the changing room, where you can slip into a cosy purple spa robe and comfortable flip-flops, preparing yourself for the pampering that lies ahead.
Indulge in Delight: A Warm Welcome and a Culinary Delight
As the first guest to arrive, I was greeted with a steaming cup of lemon tea, instantly soothing my senses. But that was just the beginning of the culinary delights that awaited me. Picture a beautifully presented fruit platter, adorned with luscious strawberries, juicy grapes, plump blueberries, and tempting raspberries, accompanied by a freshly baked croissant with a delightful hint of strawberry. It was a true feast for the taste buds, a tantalizing prelude to the indulgence that awaited.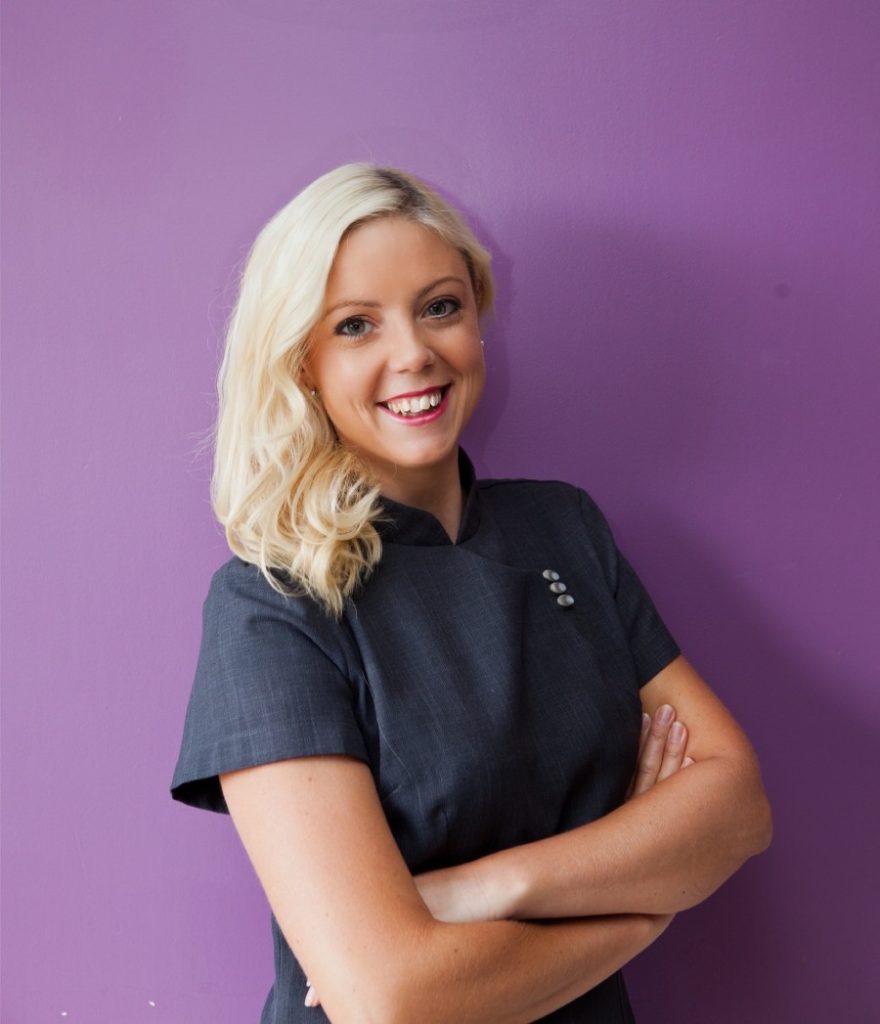 Enchanting Ambiance: A Quaint Countryside Retreat
The decor of Grafton Spa and Wellness exudes a charming blend of countryside tranquillity and cosy homeliness. Every detail has been meticulously crafted to create an ambiance that embraces you like a warm embrace, inviting you to let go and surrender to the serenity. Immerse yourself in the breath-taking views of the Northamptonshire countryside, as you embrace the peace and tranquillity that surrounds you.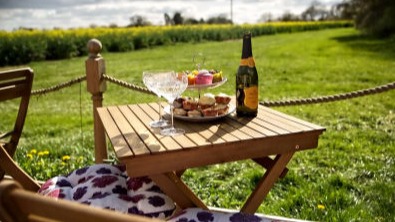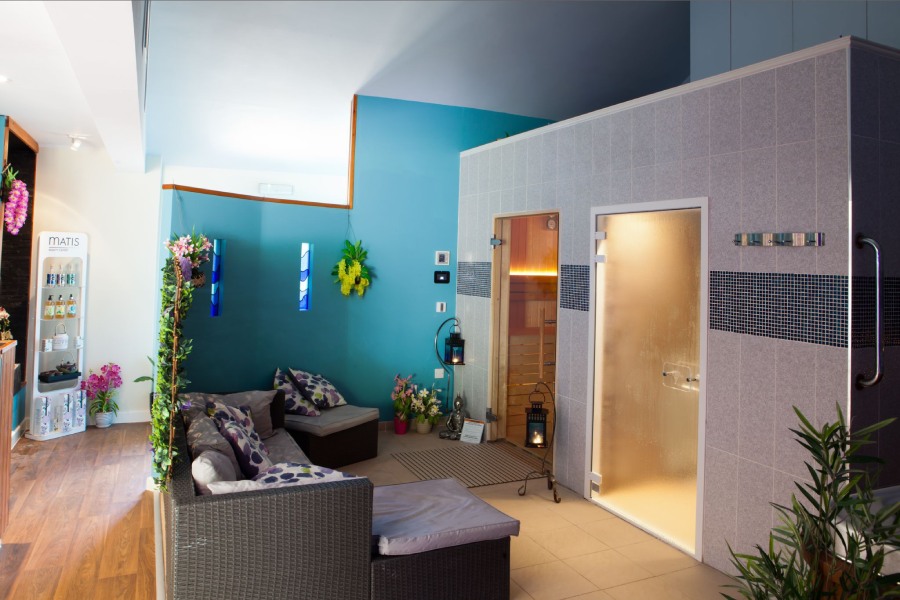 Tailored Treatments: Unveiling the Journey to Radiance
Grafton Spa and Wellness offers an array of luxurious facilities and treatments designed to pamper and rejuvenate your mind, body, and soul. Immerse yourself in the mineral-based waters of the hydrotherapy pool, where the healing properties will wash away any tension or stress. Allow the aromatic embrace of the Aromatherapy Steam Room to transport you to a state of pure bliss, as the soothing scents envelop your senses. Feel the gentle warmth of the Aspen Sauna melt away any lingering worries, leaving you refreshed and revitalized.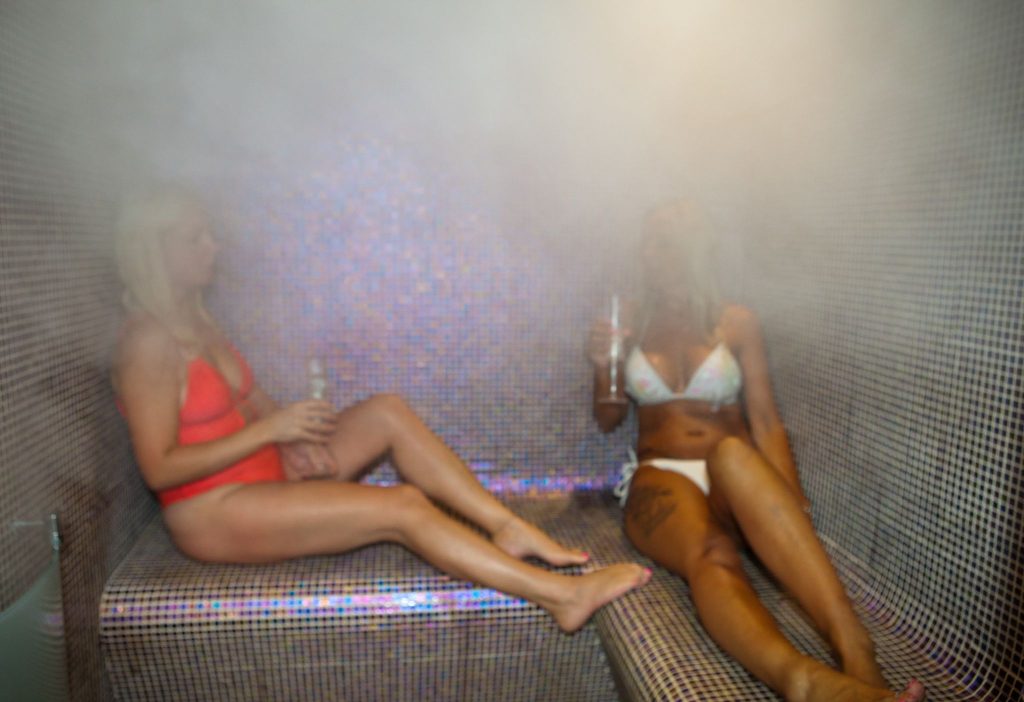 Nature's Serene Beauty
Grafton Spa not only offers a tranquil interior but also boasts an outside terrace that is perfect for basking in the warmth of the sun and soaking up some much-needed vitamin D. The breath-taking views of the surrounding countryside create a harmonious backdrop, allowing you to connect with nature and find inner peace.
My Personal Spa Itinerary: A Blissful Transformation
My spa journey began with a 30-minute full-body exfoliation hammam treatment using exquisite Matis products. To prepare my body, I delighted in a few tranquil moments in the aromatherapy steam room, allowing the soothing heat to open my pores and calm my senses. The exfoliation treatment left my skin feeling invigorated, and a warm shower afterward was pure bliss.
Next on my pampering agenda was a bespoke facial, curated by the esteemed Skn Influence brand. Georgina, in her wisdom, conducted a thorough skin analysis, delving into every aspect of my skin's health. The results guided the journey to a flawless complexion, addressing texture, pores, fine lines, sensitivity, and hyperpigmentation. The bespoke facial treatment included a deep cleanse, a diamond tip microdermabrasion session, oxygen therapy, micro-needling, a soothing massage, a rejuvenating mask, and the magical touch of LED light therapy. The transformation was remarkable.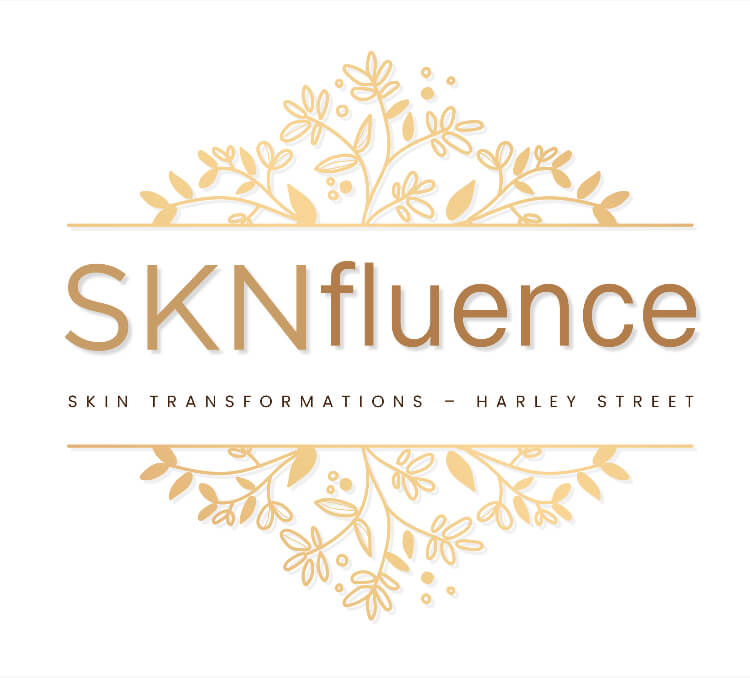 A Symphony of Relaxation
My spa experience ended with a tantalizing full-body massage, the ultimate treat for your senses. As you lay on the plush treatment bed, you can feel the cares of the world melting away with each stroke. The skilled beautician selects the perfect oils to accompany your medium-full body massage, ensuring a blissful and personalized experience. Prepare to be transported to a realm of pure relaxation, where every touch is crafted to release tension and restore harmony to your body and mind.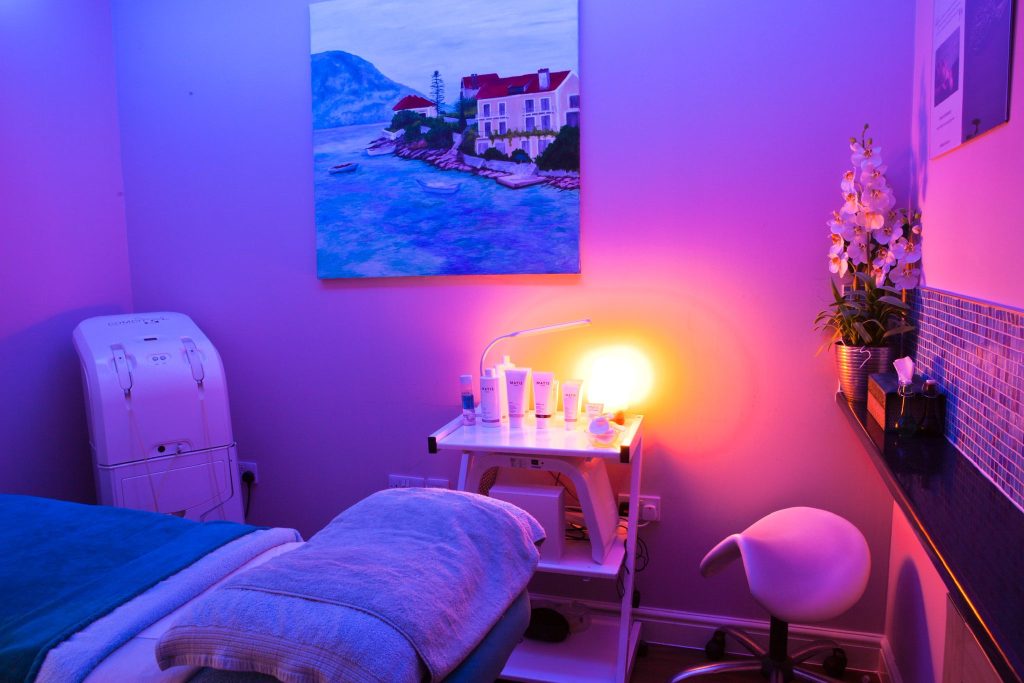 A Culinary Delight
At Grafton Spa and Wellness, pampering extends beyond treatments to tantalize your taste buds. As part of the spa relaxation package, you will savour an indulgent Afternoon Tea-style lunch, an experience that delights both the palate and the soul. Delve into a selection of mouth-watering sandwiches, delectable cakes, and a bounty of fresh fruits and crisps. And what better way to quench your thirst than with a refreshing green smoothie, bursting with vitamins and nutrients? This culinary delight is the perfect complement to your day of pampering, ensuring that every aspect of your well-being is nurtured and catered to.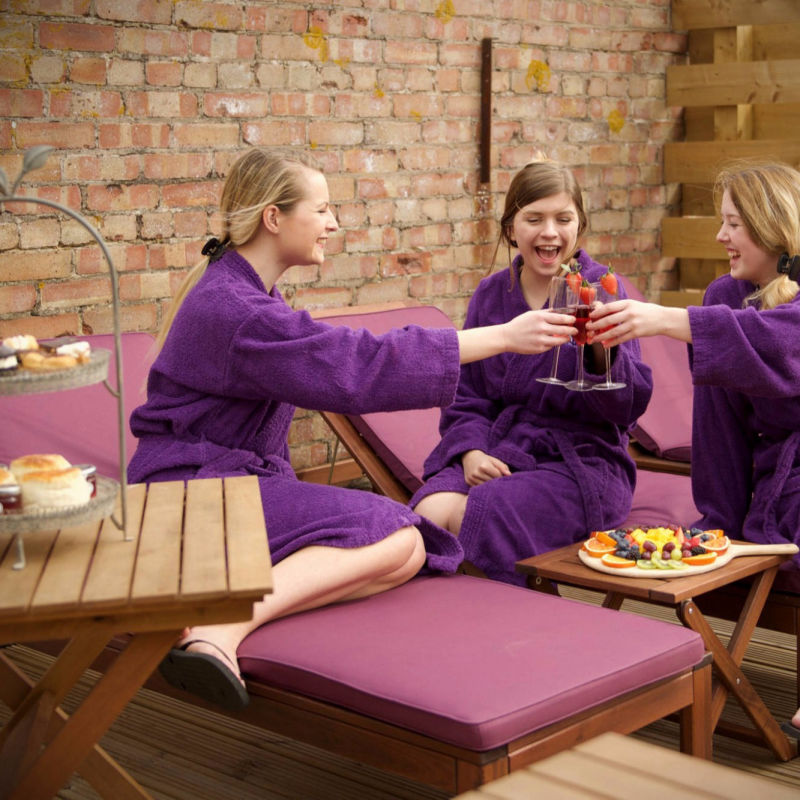 A Sanctuary of Serenity
After your sumptuous meal, immerse yourself in a world of unparalleled tranquillity. Explore the spa's exquisite facilities and let the healing powers of water and heat wash over you. Begin with the aromatic embrace of the steam room, where the gentle warmth and scented vapours create an atmosphere of pure relaxation. Feel your worries dissolve as you move on to the sauna, allowing the soothing heat to ease any tension from your body. And for the ultimate indulgence, surrender yourself to the embrace of the hydrotherapy pool, where the mineral-based waters will envelop you in a cocoon of pure serenity. Each moment spent in these luxurious surroundings is a testament to the spa's commitment to your complete rejuvenation.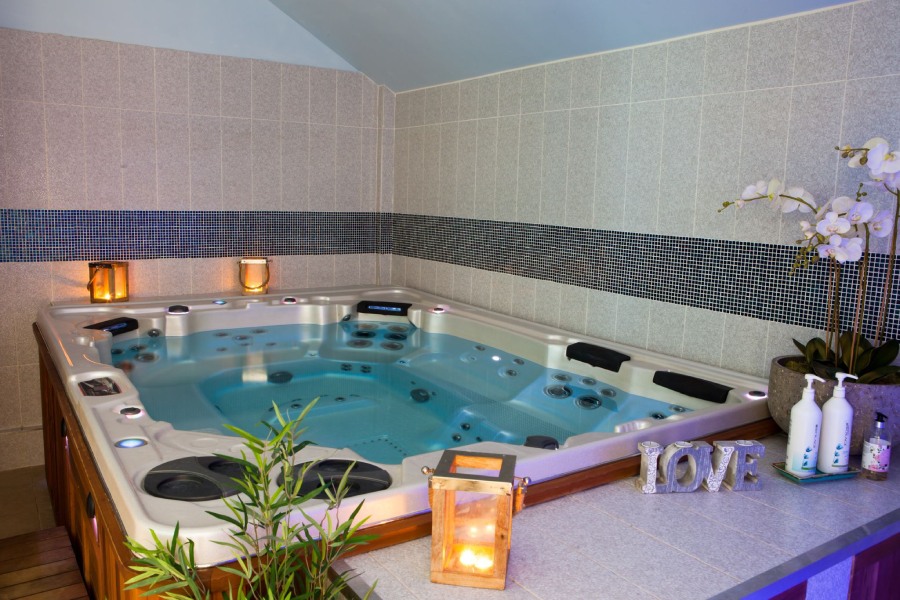 Extend Your Escape
Why let the bliss end with the closing of the day? Grafton Spa and Wellness offers the perfect solution with their Spa and Stay option. After your tranquil day at the spa, retreat to the Silverstone Hilton Garden Inn, where you can continue to luxuriate in comfort and elegance. Take advantage of their corporate special rates and exclusive spa and stay packages, allowing you to prolong your escape and revel in the serenity a little while longer. As the cares of the world fade away, you will find yourself rejuvenated and ready to face whatever lies ahead.
Explore the Possibilities
Grafton Spa and Wellness offers an array of enticing spa day packages, designed to cater to every desire and occasion. Whether you are seeking a romantic retreat with your loved one or a fun-filled spa party with friends, Grafton Spa has the perfect package for you. Indulge in the Pizza and Prosecco package, a delightful fusion of relaxation and indulgence. Or treat yourself to the ultimate indulgence package, where every moment is devoted to pampering your senses and rejuvenating your spirit. Whatever your heart desires, Grafton Spa and Wellness is dedicated to ensuring your spa experience exceeds your expectations.
Book Your Journey to Bliss
The time has come to immerse yourself in a world of relaxation and rejuvenation. Let Grafton Spa and Wellness be your sanctuary, where every moment is crafted to cater to your well-being and peace.
Embark on a Timeless Spa Journey at Thermae Bath Spa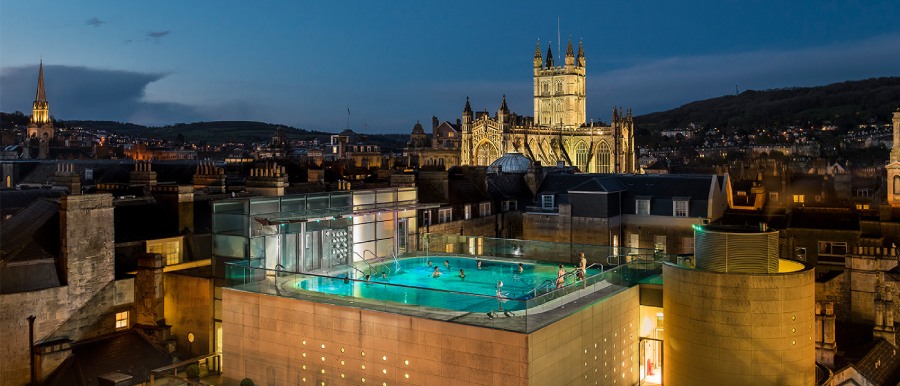 Step into a world where ancient legends blend seamlessly with modern luxury. Thermae Bath Spa, the UK's only natural thermal day spa, invites you to immerse yourself in the rejuvenating embrace of naturally warm, mineral-rich waters. As you bathe in the very same waters that have flowed through the centuries, you will discover a spa experience unlike any other. Let us entice you with the wonders that await and kindle your desire to embark on a captivating journey of relaxation and revitalization.
A Tapestry of History
The allure of Thermae Bath Spa is intertwined with the rich tapestry of Bath's history. Dating back to 874 BC, the legend of Prince Bladud sets the stage for the curative powers attributed to the city's mineral-rich waters. Bathed in the wisdom of time, the natural hot springs have witnessed the rise and fall of empires, offering solace and healing to all who seek their embrace. Inspired by this ancient legacy, the New Royal Bath stands as a testament to the city's enduring allure. Designed by renowned architect Sir Nicholas Grimshaw, this state-of-the-art spa seamlessly marries contemporary architecture with restored 18th-century buildings, creating a harmonious sanctuary for relaxation and rejuvenation.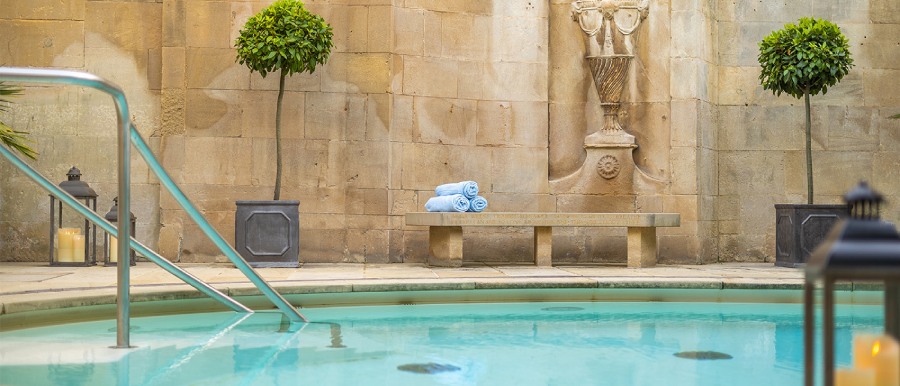 The Jewel of the Rooftop
Prepare to be captivated as you set foot in the jewel of Thermae Bath Spa—the Rooftop Pool. Elevated above the city's skyline, this magnificent open-air pool offers breath-taking panoramic views of Bath's historic landmarks and the verdant hills that embrace it. Immerse yourself in the warm embrace of the thermal waters while your gaze sweeps across a vista steeped in centuries of stories. Feel the cares of the world melt away as you surrender to the tranquillity that surrounds you, enveloped in a timeless oasis of serenity.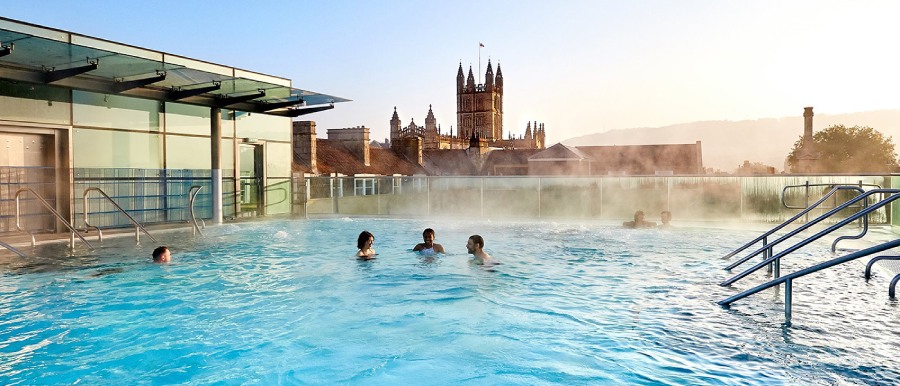 Indulge in Opulence
The Minerva Bath, named after the Roman goddess of health and wisdom, beckons you with its grandeur and elegance. Step into a realm of opulence, where flowing curves and majestic columns evoke the splendor of ancient Rome. Allow the warm waters to caress your body, revitalizing your senses and soothing your soul. Surrender to the invigorating massage jet, let the whirlpool carry you into a state of blissful tranquillity, or gently drift along the lazy river, embracing the serenity of the moment. The Minerva Bath, the largest of the thermal baths, is a sanctuary of relaxation and rejuvenation, where time holds no sway.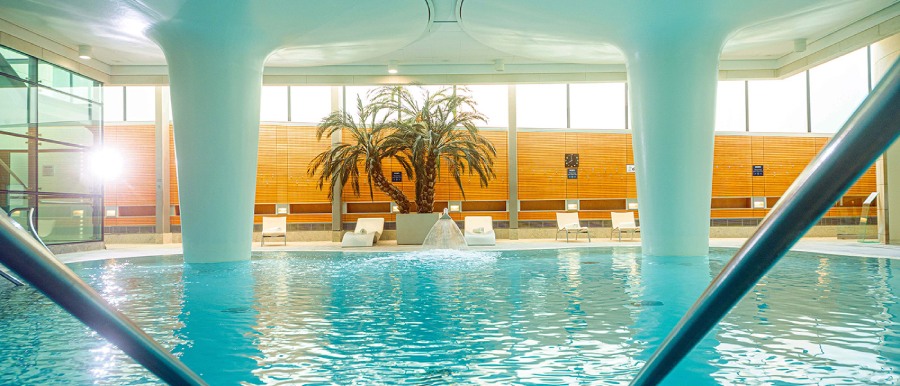 The Wellness Suite: A Symphony of Restoration
Discover a realm of restorative indulgence within the Wellness Suite, where Roman and Georgian inspirations converge. Experience the transformative power of the state-of-the-art infrared room, where warmth penetrates your very core, soothing and rejuvenating your body. Delve into celestial relaxation within the room dedicated to tranquillity, where the gentle melodies and serene ambiance transport you to a realm of inner peace. Revitalize your senses within the ice chamber, allowing the cool embrace to invigorate and awaken your spirit. And as the aromatic steam envelops you in its embrace, feel the essence of Bath's golden eras unfurl in two aroma steam rooms. Within the Wellness Suite, every moment is crafted to restore balance and harmony, leaving you refreshed and revitalized.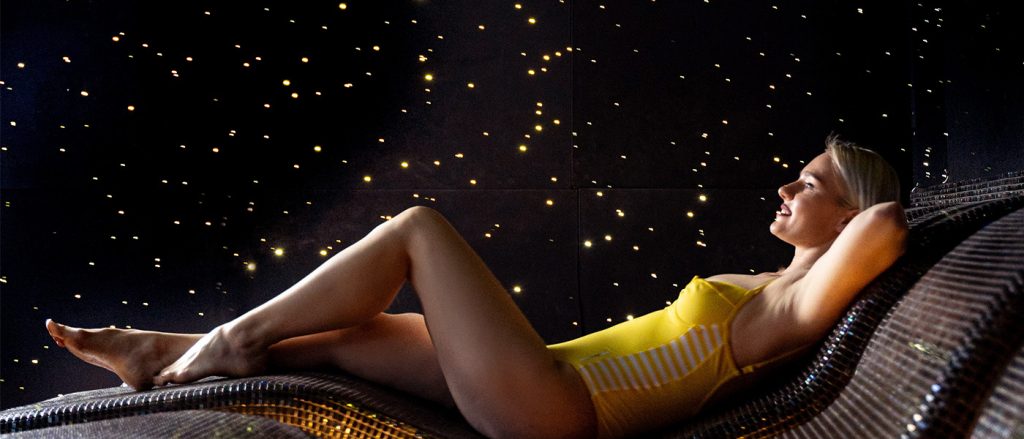 Unveiling Hidden Treasures
Thermae Bath Spa is a sanctuary that unfolds before your eyes, revealing hidden gems and sacred sites. The Grade II listed 18th-century Hot Bath invites you to immerse yourself in a central thermal bath, surrounded by 12 treatment rooms where indulgence awaits.
So why should you book Thermae Bath Spa? The answer is simple – there's nowhere else like it in the UK. From the natural thermal waters to the stunning architecture, this spa offers a unique and unforgettable experience. Whether you're looking to escape the stresses of daily life or celebrate a special occasion, Thermae Bath Spa has everything you need to relax, rejuvenate, and recharge your batteries. Don't miss out – book your visit today and discover the magic of Thermae Bath Spa for yourself.