Pimlico is a wonderful part of London, central to some of the most popular London attractions, and home to London's premier shopping and restaurants districts, vibrant, chic and stylish. Pimlico is the home of the most talked-about bar perfectly named No 11 Pimlico Road. Neighbouring Chelsea and Belgravia and a short walk from luxurious Sloane Square and Victoria Stations No 11 Pimlico Road is the perfect place to experience cocktails al fresco style while taking a break from the craziness of city life, or to be wined and dined into the evening with atmospheric low lighting. Natural light flows into the elegantly designed space with louvre blinds and a tranquil botanical feel, with pretty with plants throughout reminiscent of beautiful countryside.
The contemporary interior provides the ideal ambience for a relaxed eating and drinking experience, from day taking you through to evening. The décor is rustic elegance and modern, featuring a semi-circular marble bar with elegant cream bar stools, black metal beams, low hanging lights, shabby chic mirrors and soft pastel furnishing.
Darwin & Wallace Story
Darwin & Wallace create unique spaces, which look much like a private address, stylish, chic and elegant offering impressive all-day dining, with fabulous drinks, from morning to evening. Darwin & Wallace create spaces that feel home-from-home, genius! Darwin & Wallace were fed up with mediocre so decided to turn unwanted and underperforming sites into inviting talked about local bars. The Darwin & Wallace ethos takes inspiration from the local areas, so each bar is unique and distinctly different from each other. A taste of the bars offered by the entrepreneurs; No 11 Pimlico Road, No 1a Duke Street, No 29 Power Station West and 601 Queen's Rd and soon to open No 35 Mackenzie Walk, in Canary Wharf. Let's get to the good part! The food is cooked from scratch using only carefully sourced ingredients. The drinks whether for the start of your day or to unwind into the evening are sourced to ensure complete customer satisfaction.
A bar that looks after the planet
Darwin & Wallace have been members of the Sustainable Restaurant Association and achieved and maintained a coveted three Stars. When creating Darwin & Wallace they wanted to do everything they could to have the least amount of detrimental impact on the environment, including switching off the lights at night – every little helps! They work closely with their food suppliers to specific welfare standards; sustainable seafood policy, palm oil free products and they use ethical traders. What an amazing example!
No 11 Pimlico Road Bar & Restaurant Food and Drink
The food and drinks menu is available for breakfast, brunch, lunch, dinner and Sunday roast offering mouth-watering dishes such as breakfast favourites; House eggs Benedict, honey roast ham, avocado and spinach on sourdough with house-made hollandaise sauce, they also provide menu choices for vegans and vegetarians. If you are of a healthy persuasion – House-made Bircher, coconut yoghurt, poached peach, rotisserie pineapple, grapefruit and passion fruit, a beautiful refreshing fruit explosion of delight. They also offer small sharing plates that are perfect for couples, groups of friends or business brainstorming moments, how do you like the sound of crispy polenta squid or artichoke and roast pumpkin hummus, yummy! The cocktail menu offers classic cocktails with a twist as well as some quite unique concoctions to keep you coming back for more. Some hot picks on the menu Slow Cooked Beef Taco with pickled cucumber, blue cheese, spring onion and chilli or how about sweet potato, lime and coconut fishcake, smoked aubergine falafels with lemon and pepper tahini, the variety is just mouth-wateringly divine!
No 11 Pimlico Road Experience
Stepping into No 11 Pimlico Road transported us to the relaxing and quaint social den. This venue is an all-day place – not quite a bar and not quite a restaurant; but a diverse alliance of the two.
No 11 Pimlico Road felt very homely providing a buzzy yet chilled atmosphere so would be an ideal spot for remote working, intimate or group dining with friends, business associates, any time of the day.
The décor is beautiful, the open-plan layout, giant windows and white walls give way for the light bursting throughout the bar and restaurant. The furniture is a mix of contemporary and stylish Scandinavian-style wood, with accents of black and marble. The highlight in the room is the beautiful white Victorian winding staircase at the end of the bar, situated like a statement piece of sheer elegance. The restaurant and bar offer a space for more intimate dining with tables, chairs and comfy sofas, ideal for relaxing with your favourite people.
The newly situated seating area is beautifully decorated with all manner of floristry, allowing you to sit back and relax whilst catching up on a spot of work, socialising with friends or daydreaming about your next beach escape! The over-flowing bar with all the ingredients required to create inspired liquid showpieces is impressive indeed.
Once seated the host assisted us with the brunch menu choices, the host recommended cocktails, our choices were, Classic Bellini Prosecco perfect for the season, fruity and light, followed by a mocktail of raspberry, mint and pink grapefruit, bursting with fruit and very refreshing, creating the best vibe.
We picked our main courses ordering; Caramelised banana and ricotta pancakes with butterscotch sauce and coconut yoghurt, this was simply pancake heaven! Sweet potato, lime and coconut fishcake with coconut yoghurt, this was absolutely amazing, pretty and seasoned to perfection! The House Club Sandwich, presented with grilled marinated free-range chicken, smoked bacon, avocado, roasted tomatoes, basil, water-cress mayo and sourdough toast was really huge but extremely tasty! Our sides were Truffle Macaroni Cheese with skin-on fries and paprika aioli. Every dish was artistically presented; we feasted with our eyes as well as our taste buds! For our dessert choice, we decided to try summer berry apple crumbles with clotted cream ice cream and the rotisserie pineapple with coconut sorbet and chilli syrup, what a finale!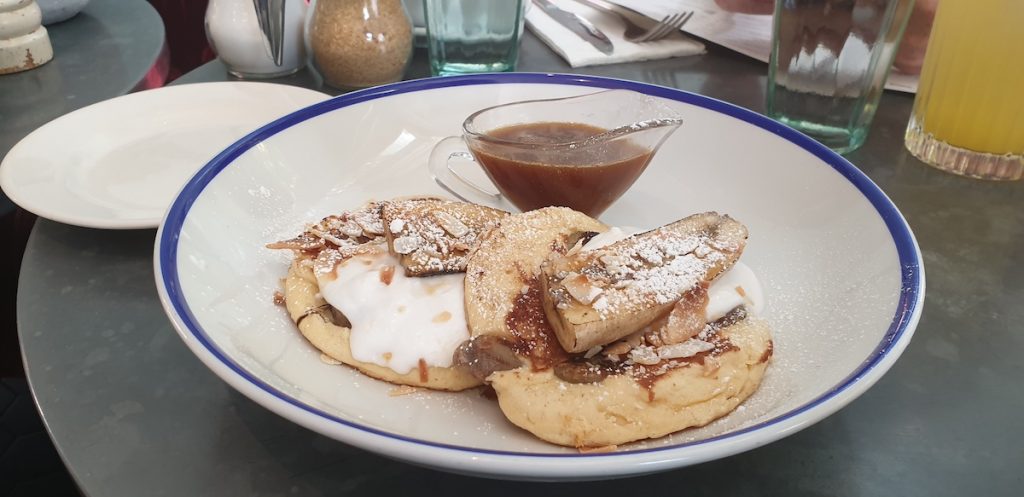 Conclusion
No 11 Pimlico Road will definitely be one of my go-to places in Pimlico for delicious food, socialising and cocktails. The venue is so inviting and has a relaxed air, a super venue for friends and family to kick back, eat, drink and engage in great conversation.
No 11 Pimlico Road offers impeccable service and a mouth-watering menu selection with dishes to suit all. The perfect end to a busy week sipping on a carefully curated cocktail, or for a relaxed Sunday brunch or lunch with loved ones.
It's a chic, elegant and contemporary bar and restaurant that will have you dining from dusk to dawn. With options for all, veggies, vegans or pescetarians you will not be disappointed, make No 11 Pimlico Road your choice for an all-day-dining experience in the heart of London.
A: 11 Pimlico Rd, Belgravia, London SW1W 8NA
T: 020 7730 6784
W: No. 11 Pimlico Road