The word Chakra relates to the centre of spiritual and healing power in the human body. The Indian philosophy believe The Chakra revitalises and balances the body's equilibrium of spiritual, mental, emotional and physical health, by drawing in positive energy from the world around us. When these Chakras are working in harmony we experience a sense of bliss and wellbeing.
Welcome to Chakra Kensington
London is indeed the place to experience a vast variety of cultural diverse restaurants. I am always on the hunt for an Indian refined dining experience. In my life I have had the pleasure of dining in some of the most amazing Indian restaurants in London. Finding Chakra hidden away on a corner of a mews was a real treat, a stones throw away from one of the most prestigious areas in prime central London, Kensington.
Chakra has managed to perfectly balance tradition with a symphony of dishes and authenticity, bursting with flavour. True to Chakras's philosophy, the dishes on the menu are beautifully presented, made with fresh produce and will leave a lasting impression that will bring you back time and time again.
Chakra is in the safe hands of the newly appointed Executive Chef Satyabrat Jena, and he has created legendary restaurants such as Tamarind, Dishoom and Jamavar. The food at Chakra offers traditional dishes, which are made using time-honoured techniques, which are synonymous with the customs of the North West of India. That part of the region is known for its melting-pot cuisine, strongly influenced by the Mughal period with the key ingredients, spices and techniques from Central Asia. Which forms a strong element to the cuisine.
Stepping into Chakra's restaurant it exudes exotic charm and grace. The decor in Chakra Kensington is cosy, romantic and inviting. The outside space is the perfect place to dine with friends on a summers day or night and to allure loved ones under the stars. The interior reflects its heritage, with a rich palette of comforting yet understated charm. Chakra is a place to discover the finest Indian cuisine that will indulge in all the senses and leave you wanting more. The fusion of flavours excites your taste buds and the beauty is in the presentation of the dishes, they are truly a visual delight.
Hot picks from the Chakra Menu
Kid Goat Kheema Naan, melts with every bite, a perfect opening for the palette. Karate Soft Shell Crab (Pritong Pusit), your taste buds will love you! Bhati Ka Chicken Wings from the Tandoor and super tasty. Gilafi Lamb Seekh the most mouth-watering minced lamb. Hariyala Chicken Tikka, a green herb and pistachio-coated chicken dish with cherry tomato chutney…heavenly. Tandoori Gobi, marinated chargrilled cauliflower with mango ginger raita, vegetarian speciality. Sadghi Ka Lamb Korma, Hampshire Lamb simmered in a coconut and almond broth with Iranian saffron, a taste bud delight. Something for the sweet tooth's Mangalorian Prawn, roasted spice, caramelised onion and tamarind. Chakra offers dishes for vegetarians who want to savour Chakra's wonder Baingan Bartha, smoked aubergine with burnt garlic, chilli and tomato. Chakra Channa, Darjeeling tea and spice-infused chickpeas, a perfect spice infusion. Dal Makhani a firm favourite seasoned to perfection and truly representative of the Chakra offering. A dining experience is never complete without the taste buds being treated to Chakra sense enhancing desserts. Warm Gulab Jamun Dumplings with Madagascan vanilla ice-cream a taste of heaven. Calling all chocolate lovers you have to try Valrhona Chocolate Mousse. This is a small sample of what's on offer a visual treat, bursting with flavour and culinary delight.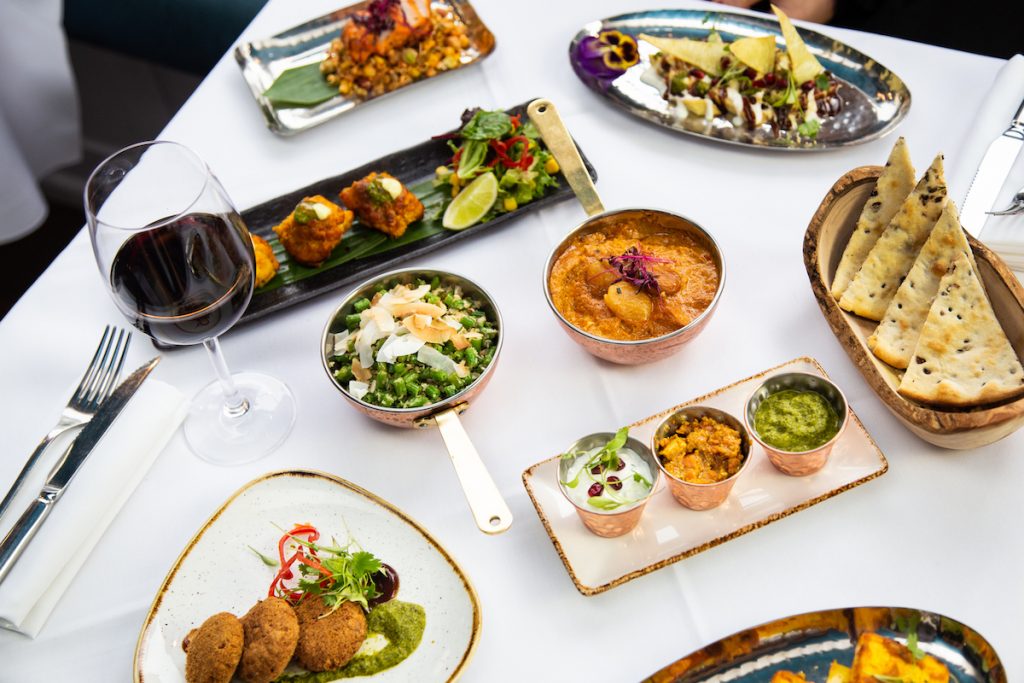 My Chakra experience
The weekend of my visit had been busier than usual; I was staying in the heart of Kensington and wanted to dine at a truly authentic yet stylish Indian restaurant. The restaurant on the tip of everyone's lips was Chakra, curious a reservation was made. Set in a prime location Kensington, it was easy to find a short walk from High Street Kensington station on a corner of a stylish mews. Chakra is a cute, elegant restaurant set over two floors, with soft decor authentic in design yet stylish. Chakra Kensington has a beautiful outside terrace perfect for summer days and nights and for a romantic night under the stars and it is perfect whether you are out celebrating with friends or family.
Upon arrival it felt cosy, relaxing, elegant and inviting. The restaurant is authentic with a traditional atmosphere. Mirrors and lighting perfectly positioned to create space, but yet managed to still keep a warming atmosphere. The host was welcoming and offered us the wine and cocktail list. The choices for the night Porn Star Martini, speaks for itself, Strawberry Bellini, signature favourite, strawberry with Prosecco and lastly, Planters Punch non alcoholic, pineapple with orange and passion fruit juice, combined with pomegranate and coconut cream.
The host assisted me with the choices on the menu and explained them all in detail. Our choices were; Truffle Nann, exotic mushroom stuffed naan served with fennel infused burnt garlic raita infused with flavour amazing! Bhati Ka Chicken Wings, Spiced grilled chicken wings served with young coriander and Granny Smith chutney, heavenly. Samosa Ghugni Chaat Samosa and spiced yellow peas, topped with, mint, tamarind and nylon sev, didn't want it to end. Main; Kundpur Chicken, Southern spiced chicken curry with chilli, tamarind, curry leaf, such a wonderful flavour. Sunhari King Prawn, Chargrilled, carom seed and spiced yoghurt marinated king prawn, a treat given to us to try by the host. Dal Makhani, Slow cooked black lentils & kidney beans with burnt garlic tomatoes, browned onion, vegetarian classic. The side choices were; Puloa Rice, Iranian Saffron, whole spice infused braised long grain basmati rice, delicate and fluffy. Peshawari Naan, Dried fruits and nuts stuffed bread my favourite Naan bread. The Chakra experience was like no other, we stepped into the world of Indian food heaven.
After such a delicious and sophisticated meal I really was struggling to find room for dessert! I didn't need any persuasion …Valrhona Chocolate Mousse, Chocolate mousse infused with orange zest. Mango Kulfi, Alphonso mango flavoured Indian a true taste of the exotic.
Conclusion
Chakra is definitely high up on the list of sophisticated, authentic Indian cuisine. The menu is modern and tasty and positioned in Kensington to cater for the locals and guests that want to experience something extra special. The staff are professional and welcoming and the atmosphere relaxing and true to the Chakra philosophy of peace and wellbeing. The menu will suit many different tastes and even offers some exciting vegan options. The menu also offers exciting, traditional and sharing plates style options. Dishes to suit vegetarians, meat and fish lovers. I am impressed by the price point especially as located in the heart of the most affluent part of London. Chakra will leave you completely full and satisfied, set on two floors a perfect place to celebrate an engagement, graduation or business in an informal setting. Chakra will be the perfect escape after a long day, but you will feel right at home.
A: 33C Holland St, Kensington, London W8 4LX
T:  020 7229 2115
W: Chakra Restaurant