2020 was the year which shock us to our core, Covid came silently to disrupt our lives. 2021 continues to be a tough year for women on the quest for motherhood. Many fertility clinics were forced to close and women who had planned to travel abroad for fertility treatments were unable to leave due to travel restrictions.
The stress has severely impacted women and sent there once normal cycles in a spin. There has been light as many couples have been busy making babies under Covid, and new parents announcing the arrivals of their new bundles of joy via zoom or cute social posts, due to the lockdown restrictions. I have faith things will get better, people on their fertility to parenthood journeys will get their heart desires.
I have put together a gift guide round up showing some exciting brands; to manage your menstrual cycle, to prepare your body for fertility, supplements whilst pregnant, or gifts to help expectant mothers before and after they meet their little angels.
Fertility, Conception, Pregnancy and Baby
Tips on how to manage fertility issues in a pandemic from Zita West
"I have always been a big believer in mindset when trying to conceive naturally or through IVF. Learning to manage your thoughts and emotions and dealing with uncertainty are key to dealing with stressors.
1. Focus your mind and set your thoughts and emotions. Become aware of the patterns, the frequency and the feelings you are experiencing that dominate your world.
2. Become aware through guided visualisation. The effects and connections to the mind and body via the autonomic nervous system will switch your body through breathing into a relaxation mode.

3. Create daily ritual routines. This is becoming increasingly important during this time – stillness, mediation, movement, cooking…finding some form of creativity is important. Limit your use of digital media to certain times of the day, so try not to reach for your mobile as soon as you wake up. Sit and centre yourself for the day – the first thought you wake up with determines your day and sets the mood. Doing this will help centre you, although it can be difficult to break this habit. I find the best way is to leave your devices out of the bedroom.

4. Build your energy reserves. Get enough sleep, go to bed early and get out in nature to balance your serotonin levels. Be disciplined! Movement and exercise are really important.

5. Take supplements. At the moment, Vitamin D is especially important – it's the powerhouse of the immune system. But you also need a good multivitamin with Folate as well as an Omega 3 supplement.

Zita West says, "Your body has great wisdom if you listen to it, you just have to know how to start the conversation. Yes, the science and evidence are important, but when it comes to trying to conceive, IVF and pregnancy, it's all about mindset and mental and emotional blocks. By showing women how to connect with their bodies, they can transform their mindset and everything else falls into place. When the mind learns how to listen to the body's wisdom, magic happens."
*tips from Zita West courtesy of Frank Media.
Supplements
Zita West
Zita West is an incredible lady and has been a midwife for nearly 40 years with her focus on fertility 25 years ago and has helped thousands get started on their incredible journey. Zita West created her own range of vitamin and mineral supplements for male and female fertility, pregnancy and the postnatal period.
Vitamen Fertility Supplement for Men
Vitamen is specially formulated to help support male fertility and to help prepare a man's body for conception. Just take one easy to remember capsule a day, with or after food and vegan friendly.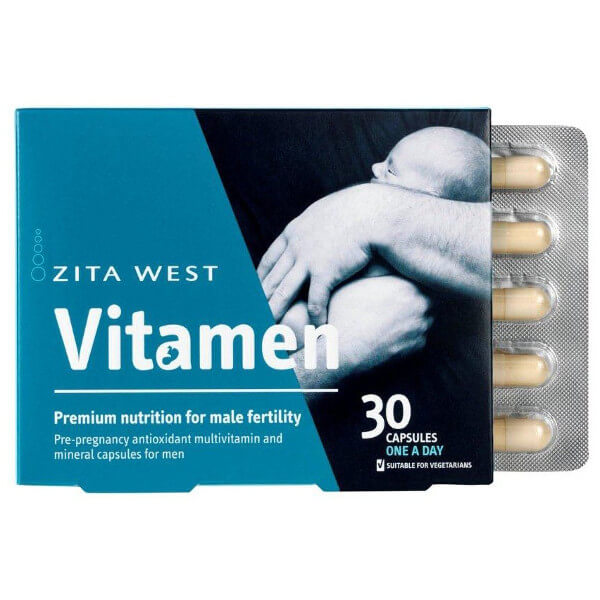 Vitafem premium multi-vitamin and multi-mineral women's fertility supplement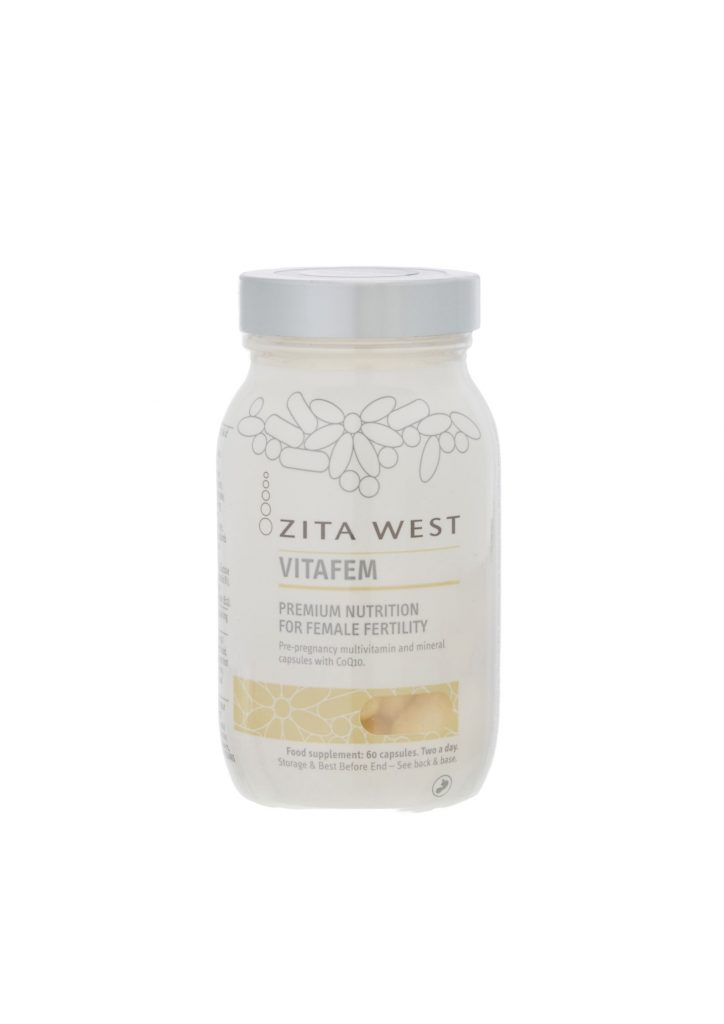 Vitafem is a premium multi-vitamin and multi-mineral women's fertility supplement specially developed to help support female fertility, redress nutritional imbalances and prepare the body for conception. It's a simple and effective way for women to ensure they are getting the essential nutrients they need while preparing for pregnancy and vegan friendly.
Vital Essence
Vital Essence 1 has been formulated to meet the specific needs of your body during weeks 0 – 12 of pregnancy. New source ingredients increase bioavailability and absorption, and each capsule is packed with specific vitamins and minerals which are particularly important for this phase of your pregnancy's development. Now with more Vitamin C and Choline and Vegan Friendly.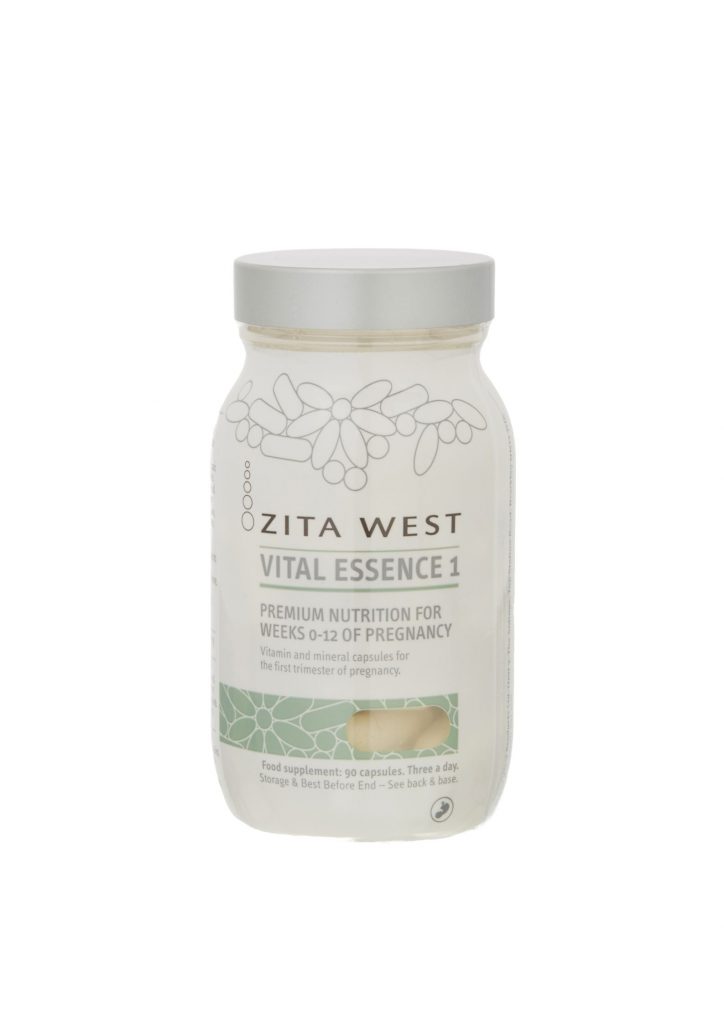 Revital Essence, Postnatal & Breastfeeding Supplement
After you have given birth and started breast-feeding, your body has another set of nutritional requirements. Revital Essence includes important nutrients such as Calcium, which is important for the development of bones and teeth, and Vitamin D which helps support continuing cellular growth.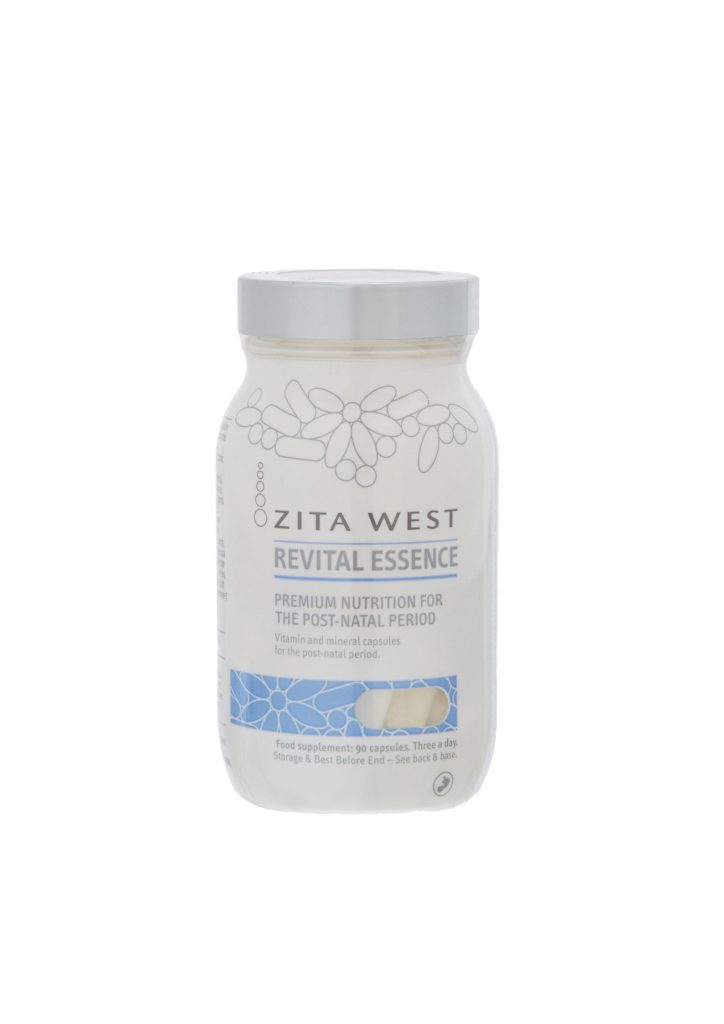 We've added Choline too, an essential nutrient necessary for the development of healthy cell membranes as well as a broader and more effective range of valuable anti-oxidants to help support the immune system. Our new formulation also includes improved bio-availability of Vitamin B6, Calcium, Magnesium and Chromium to enable the body to absorb these faster.
W: Zita West.
Baba West
Leonora Bamford, mother of three and publisher of leading parenting website My Baba has joined forces with top fertility expert and midwife Zita West to create a range of supplements to support your baby, toddler and child's growth and development. Laying down the foundations to help strengthen their body's natural resilience's, Baba West ensures science and nutrition work hand-in-hand to help shape your child's future health.
Baba West – Multibiotic Powder for Breastfed Babies
It's never been easier to give your baba a friendly bacteria boost – simply apply to your nipple before feeding or on your finger. Developed specifically for breastfed babies from new-born to 12 months, Baba West Multibiotics for Breastfed Babies helps support the healthy development of the microbiota right from birth, containing four types of good bacteria, which naturally form part of the microbiota of infants.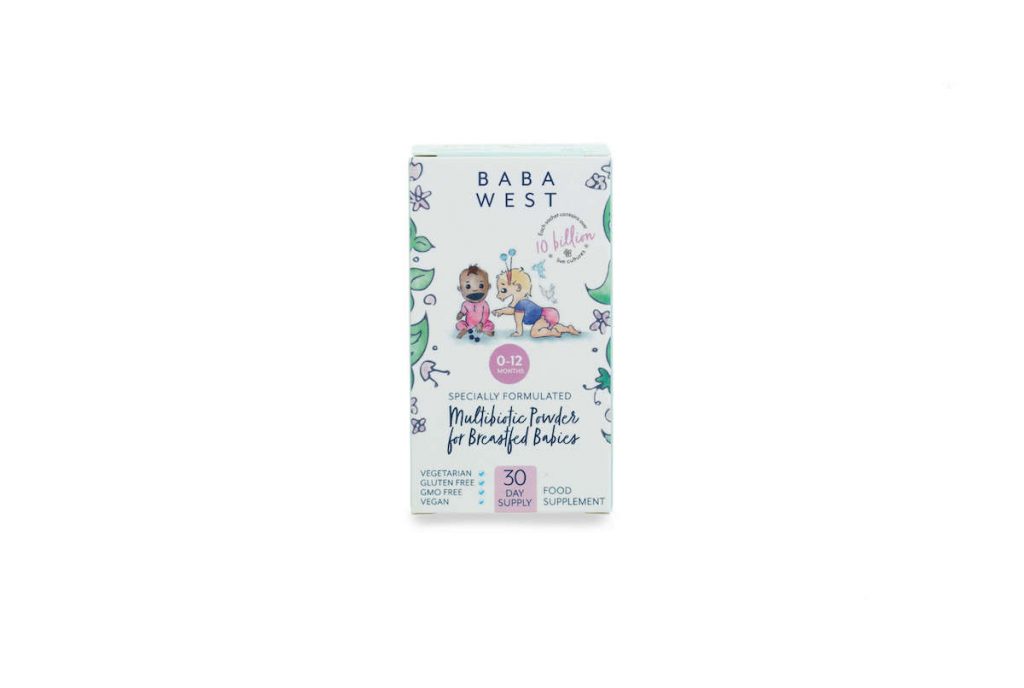 W: Baba West – Multibiotic Powder for Breastfed Babies.
Baba West – Multibiotic Powder for Formula-Fed Babies
It's never been easier to give your baba a friendly bacteria boost – simply pop a sachet of powder in their bottle just before feeding. Developed specifically for formula-fed babies from new-born to 12 months, Baba West Multibiotics for Formula-Fed Babies helps support the healthy development of the microbiota right from birth, containing the four types of good bacteria, which naturally form part of the microbiota of infants.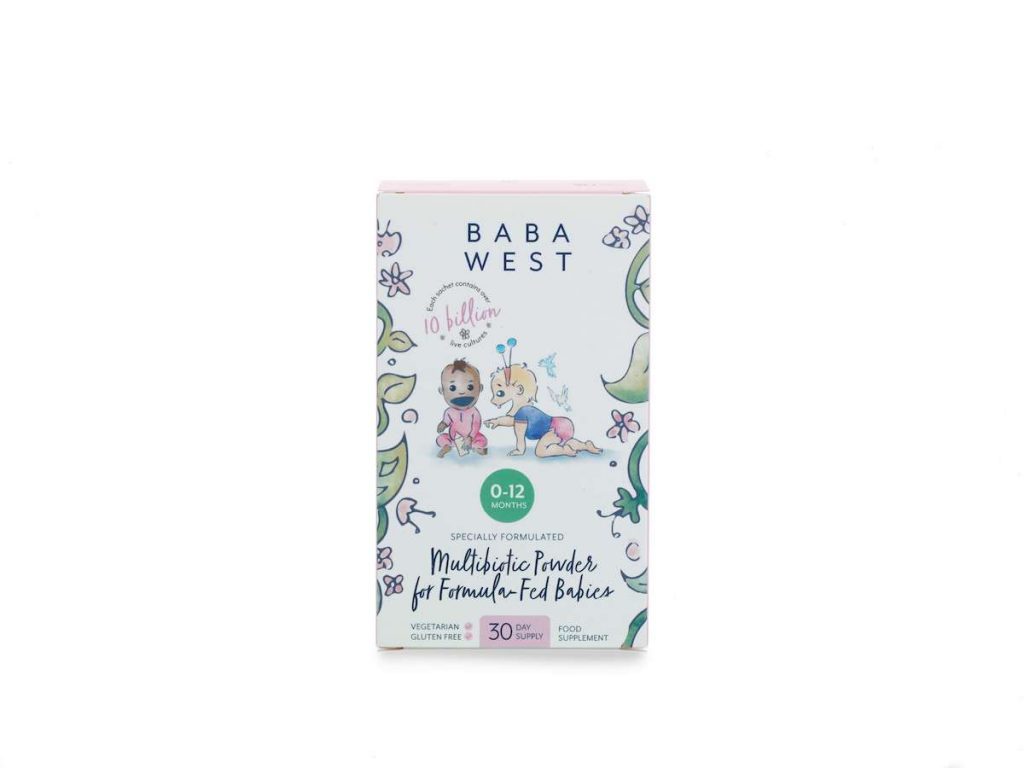 W: Baba West – Multibiotic Powder for Formula-Fed Babies.
Baba West – Infant Vitamin D Daily Oral Drops
It's amazing how clear the importance of having sufficient Vitamin D has become in all sectors of health now. Your baby is born with approximately 300 bones which are the foundation of the musculoskeletal system, and during the first year of life will start to fuse together. This process is called ossification and needs Vitamin D to help with bone density. But it's not just important for bone health, Vitamin D also plays a crucial role in developing a healthy respiratory system as well as gut and immune health in your growing baby.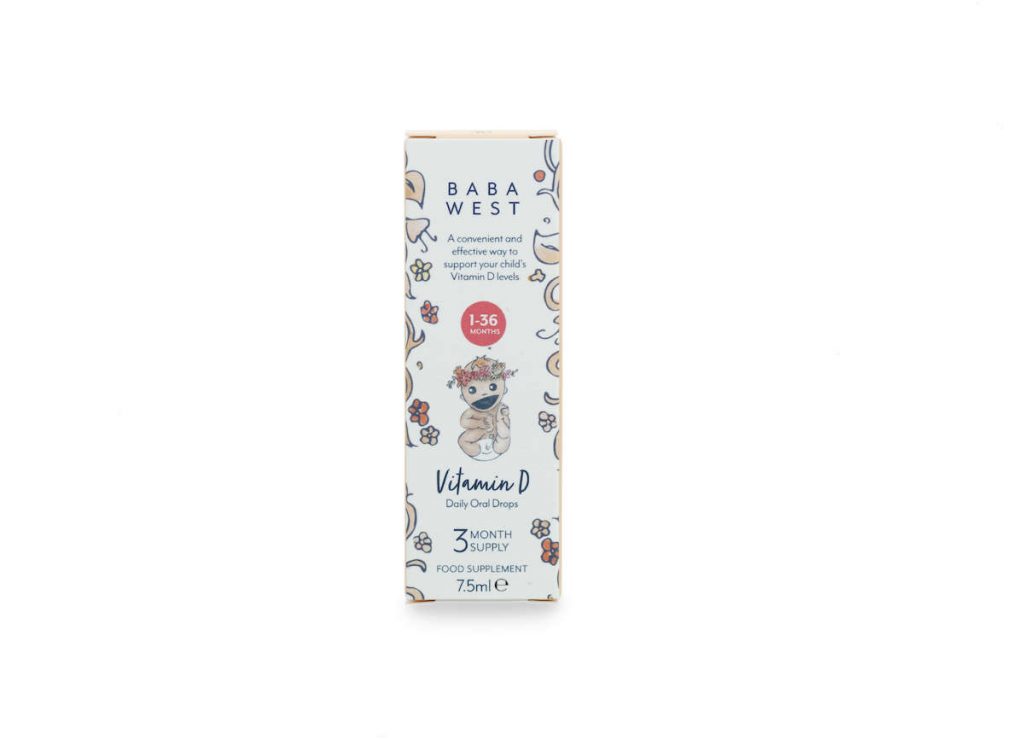 W: Baba West – Infant Vitamin D Daily Oral Drops.
Baba West – Junior Vitamin D Daily Oral Spray
Children from age 3 to their school years go through a tremendous amount of change developmentally and cognitively. Racing around building strong bones and muscles, while learning many new skills means the importance of Vitamin D still prevails. Vitamin D is associated with immune and gut health which is never more important than in these early years of building their immunity.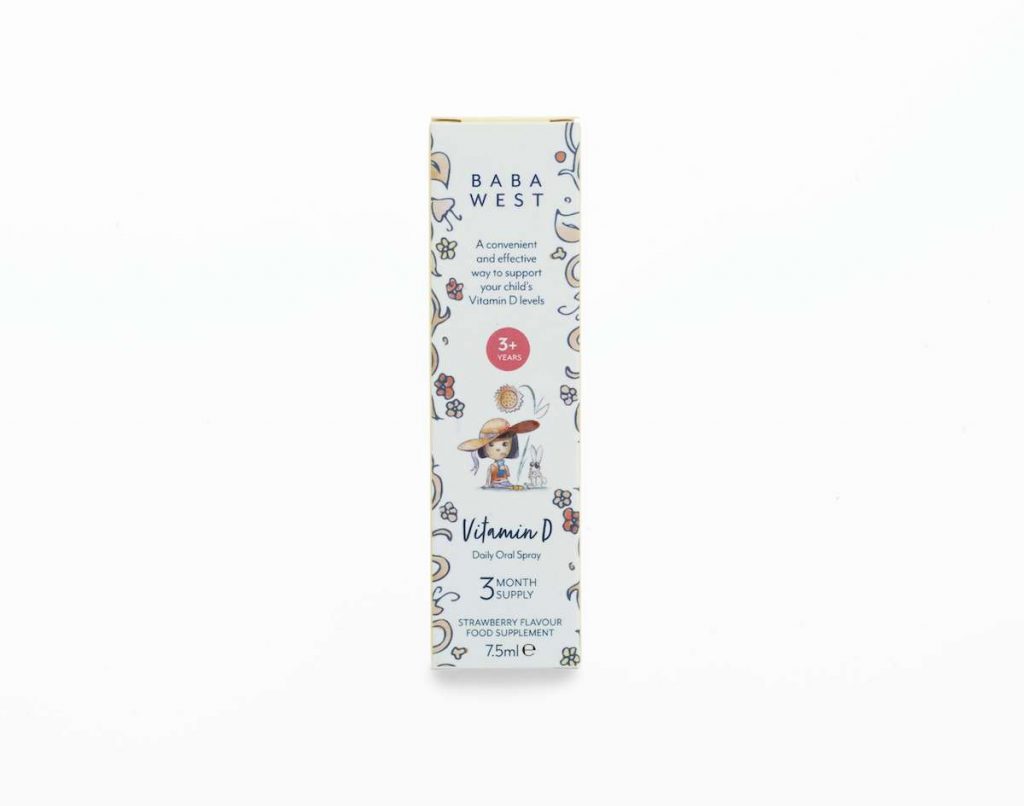 W: Baba West – Junior Vitamin D Daily Oral Drops.
W: Baba West.
Solgar
Solgar is the result of over 70 years of commitment to quality, health and well-being. Our mission throughout the decades has remained the same: to create the finest nutritional supplements in small batches, made possible through tireless research, using only the finest raw materials. When it comes to quality, Solgar is The Gold Standard.
Solgar Prenatal Nutrients
Gold standard to support pregnant and lactating women. Especially formulated for the needs of pregnant and lactating women. Rich in 20 pregnancy supportive nutrients. Provides 400 mcg folic acid, plus calcium, iron and B vitamins. Includes potent antioxidant vitamins C and E to protect against oxidative stress. Vegan, Vegetarian, Kosher, Halal.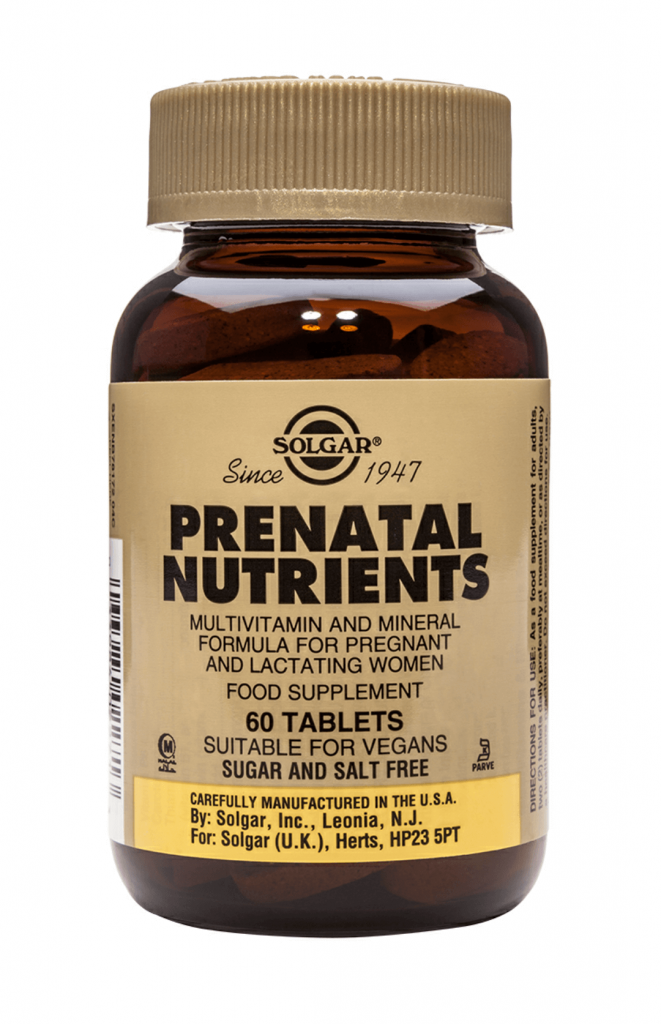 Mum and Baby Skincare Products
Lyonsleaf
Lyonsleaf grows its organic herbs on its family farm in gorgeous Somerset, and Lyonsleaf's 100% natural skincare products are made with plant oils, beeswax, mineral ingredients, homegrown herbs, and nothing else. Great for mums who are steering clear of too many chemicals!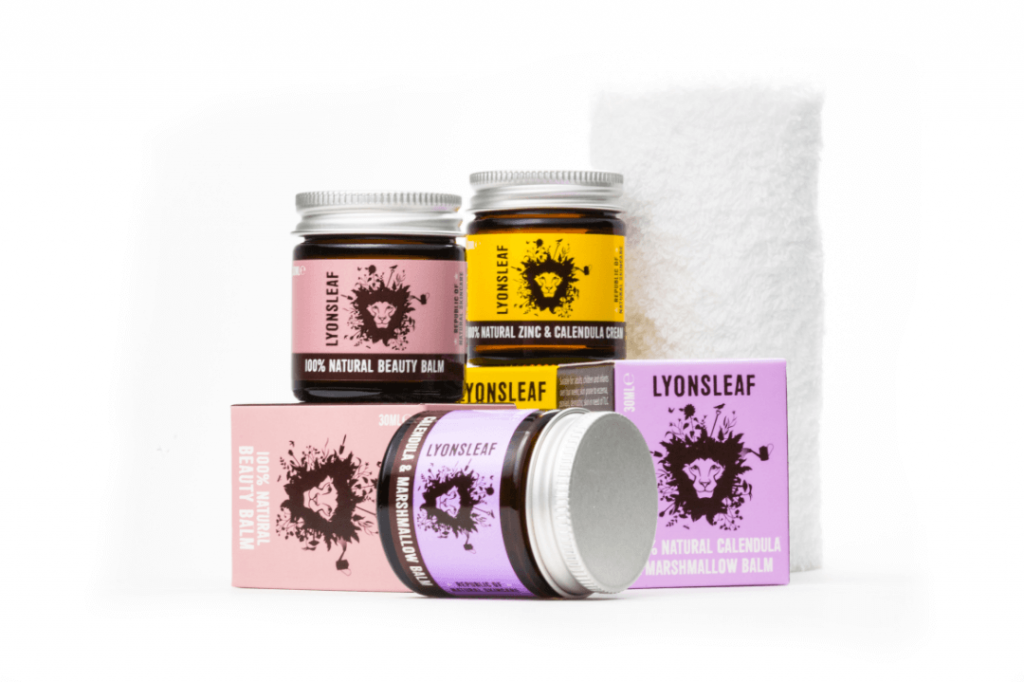 The Mum & Baby Skincare Survival Kit includes:
Zinc & Calendula Cream: soothes and repels moisture. Perfect for baby's bottom. Protects working hands. Suitable for skin affected by rashes, insect bites and skin prone to acne, rosacea or perioral dermatitis. Lyonsleaf Zinc and Calendula Cream has an SPF of 10.
Calendula and Marshmallow Balm: prevents stretch marks and soothes sore nipples (no need to wash off before feeding). Improves dry, chapped skin, hard skin and softens working hands. Suitable for skin prone to eczema, psoriasis, dermatitis. Safe for baby skincare.
Beauty Balm: is a lovely pamper product for Mum. Dramatically improves dry skin and rebalances oily skin, reducing oily shine and often settling skin prone to breakouts. Oil cleansing is great for youthful, plumped skin. A boon for busy Mums who don't have time for fussy skincare. Set also includes a face flannel for oil cleansing.
W: Lyonsleaf.
Nereus London
Nereus London has created two new stunning luxurious body washes, both are formulated with a blend of amino acids, optimally blended to hydrate the skin and boost hyaluronic acid production. Nereus is perfect for a new mothers and fathers when they finally get a chance to have a bit of R&R time, indulge in a spa experience at home with Nereus London, both products are vegan, paraben free, sulphate free and silicone-free.
Madagascan Pink Pepper Body Wash
Uplifts and revitalises with Fresh Ginger Extract, produced via a specialist carbon dioxide extraction process that capture the aroma of freshly cut ginger, versus the usual oil base process, which cannot capture this freshness. Slightly more masculine.
Madagascan Ylang Ylang Body Wash
Combines warm and smoky Patchouli Essential Oil blended with Himalayan Cedarwood and Roman Chamomile for a calming, sophisticated treat. Slightly more feminine.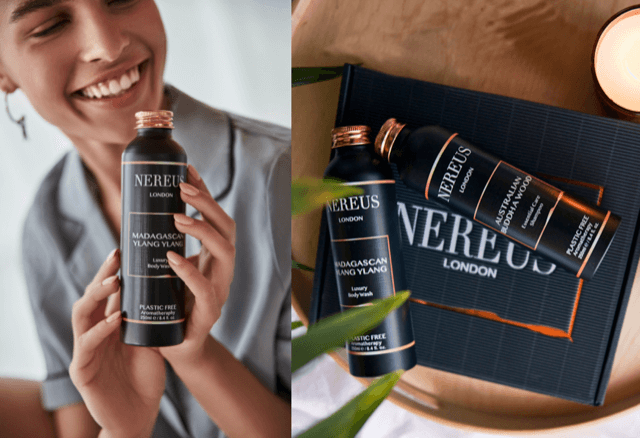 Nereus London gives back for every bottle sold, Nereus will recover 1kg of ocean-bound plastic through its partnership with Plastic Bank, an organisation revolutionising the world's recycling systems to create a circular plastic economy.
W: Nereus London.
Natural Birthing Company
Developed by midwives, aromatherapists, and chemists, Natural Birthing Company is an award-winning product range for pregnancy and beyond. Each one of their products is carefully made with premium naturally derived ingredients to ensure safe use when relieving common pregnancy and postpartum symptoms.
The packaging has also been carefully created, featuring the famous colour pallet of the midwifery uniform which is recognised around the world – a sign of care and trust, and a badge of approval. Launched in 2013 Natural Birthing Company was founded by experienced midwife Jane Mason.
Jane noticed a gap in the market for pregnancy products that treated real issues childbirth can bring, such as torn or swollen perineum, sore nipples, stretch marks and lack of sleep. Her vision was to make Natural Birthing Company products accessible to the consumer.
Mama's Moments Maternity Kit
This beautiful gift set contains all of the essentials you will need for pregnancy, birth, and life as a new mum. All four of our full-sized products together with 2 luxurious organic cotton flannels are presented in a beautiful gift box making this the perfect present for any mummy to be. All of our products have been developed by midwives and aromatherapists to safely support women through the journey from bump to baby.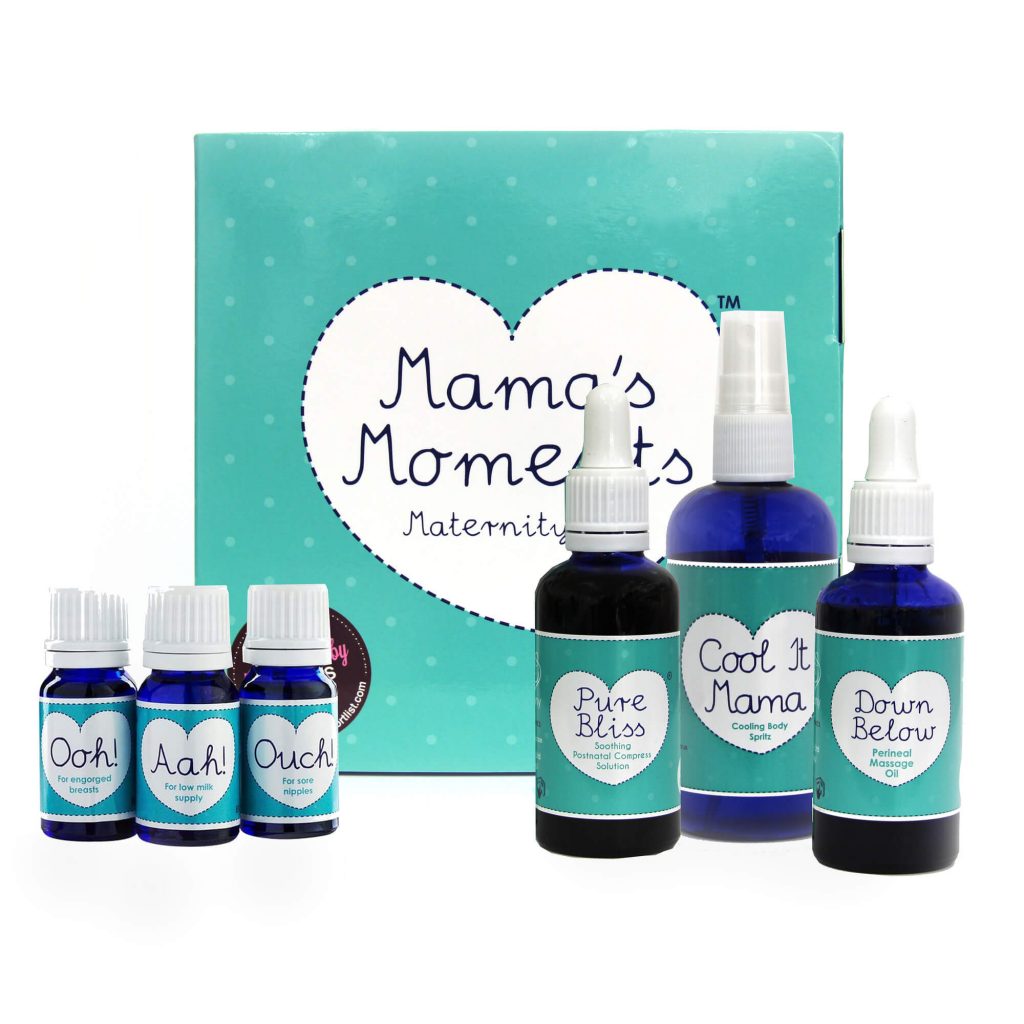 W: Mama's Moments Maternity Kit.
Down Below Perineal Massage Oil
Down Below Perineal Massage Oil has been specially formulated for the intimate area of the perineum and its fragrance-free blend ensures it is safe use in pregnancy.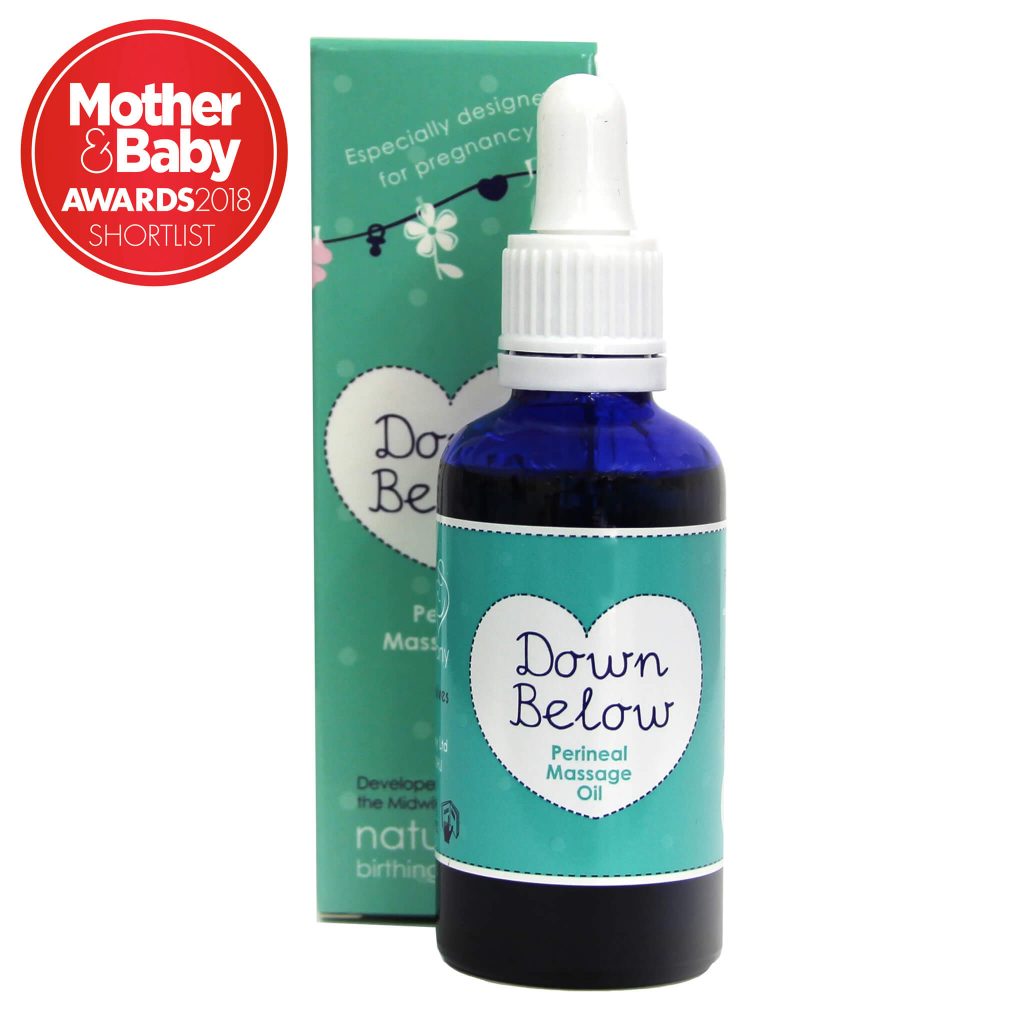 Down Below is safe to use (it is purposefully made for the job!), approved by the Vegan Society, natural, fragrance free, nut-free, allergen-free and it is also multi-purpose.
W: Down Below Perineal Massage Oil.
Bottoms Up Soothing Bottom Spray
Bottoms Up is an essential product to keep in your hospital bag for use following childbirth. Giving birth is amazing but it can be tough on your body due to stretching, bruising and swelling of the perineum. Bottoms Up provides instant relief to your sore vulva and perineal area following childbirth by soothing, cooling and calming the area.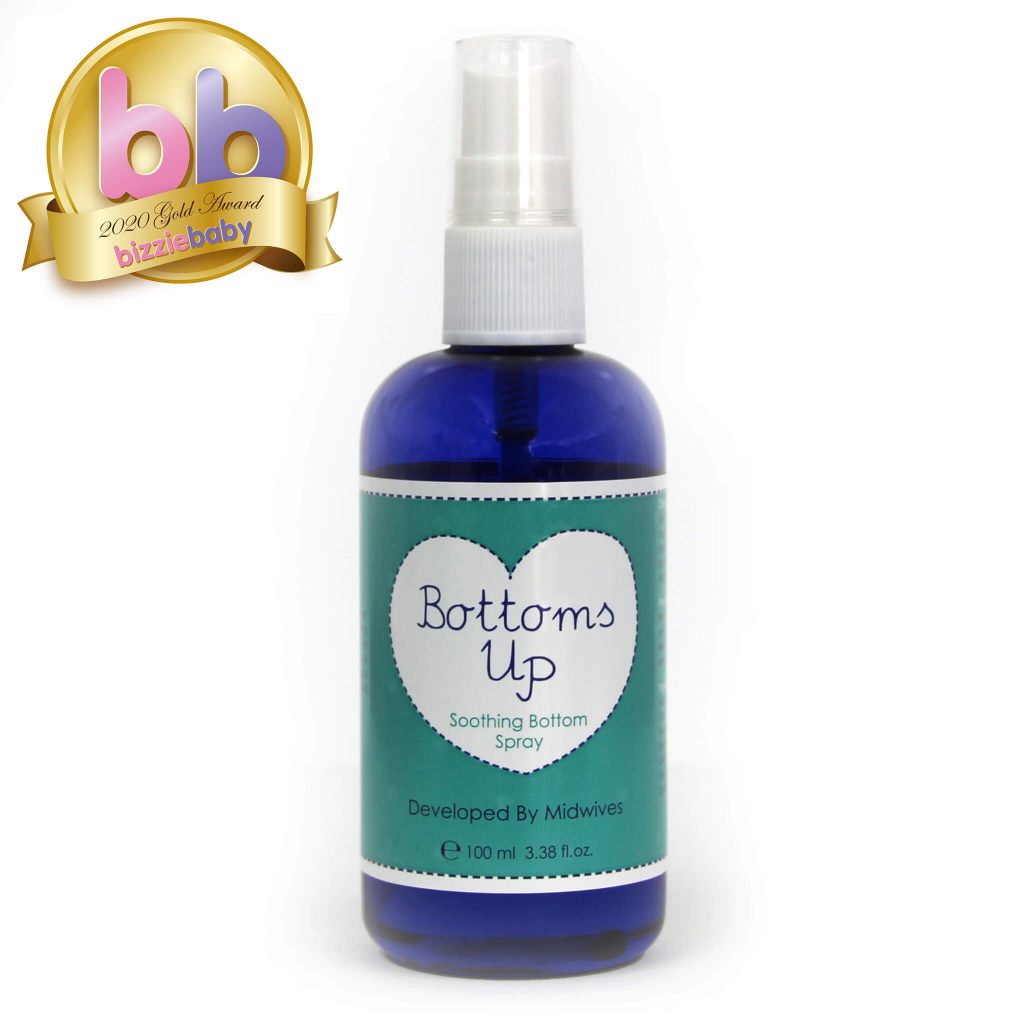 W: Bottoms Up Soothing Bottom Spray.
Pure Bliss Soothing Postnatal Compress Solution
Pure Bliss Soothing Compress Solution soothes and calms your delicate intimate area after birth, bringing immediate relief to a tender perineum, reducing the feeling of swelling and supporting the tissues to heal (including a Caesarean Section wound).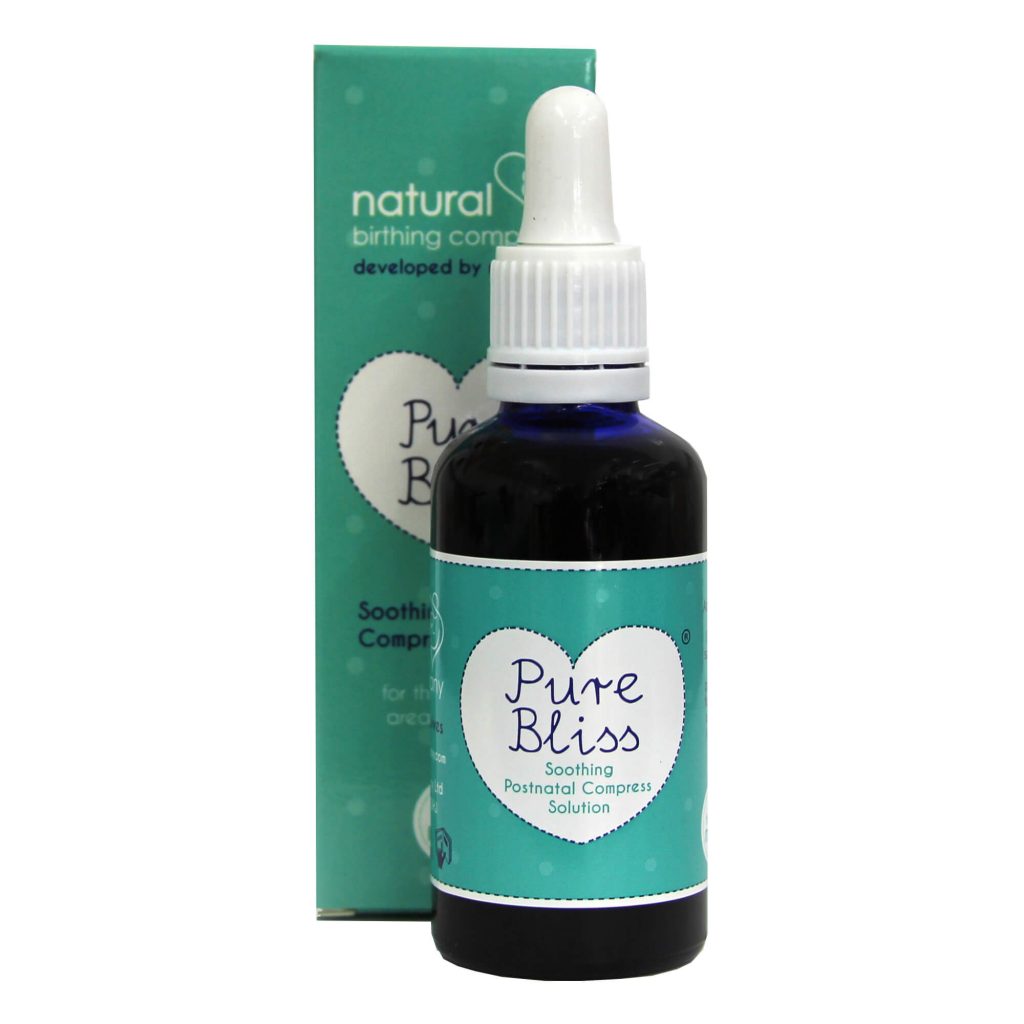 There's so much to read about preparing for labour and what to pack in your hospital bag but not much is spoken about when it comes to the aftermath of giving birth. You finally have your beautiful baby but in reality, you may also feel battered and bruised, tired and like parts of body don't even belong to you. No one told you it could be like this! Pure Bliss provides the perfect TLC; soothing and supporting your lady parts to get back to normal whilst calming any soreness in that process.
W: Pure Bliss Soothing Postnatal Compress Solution.
Nourish & Relieve Massage and Stretch Mark Oil
Developed with a natural blend of oils and butters, this oil soothes and hydrates skin locking in the moisture and helping to maintain its elasticity. This helps in reducing the appearance of stretch marks. Nourish & Relieve supports throughout pregnancy, as well as in labour, and postnatal.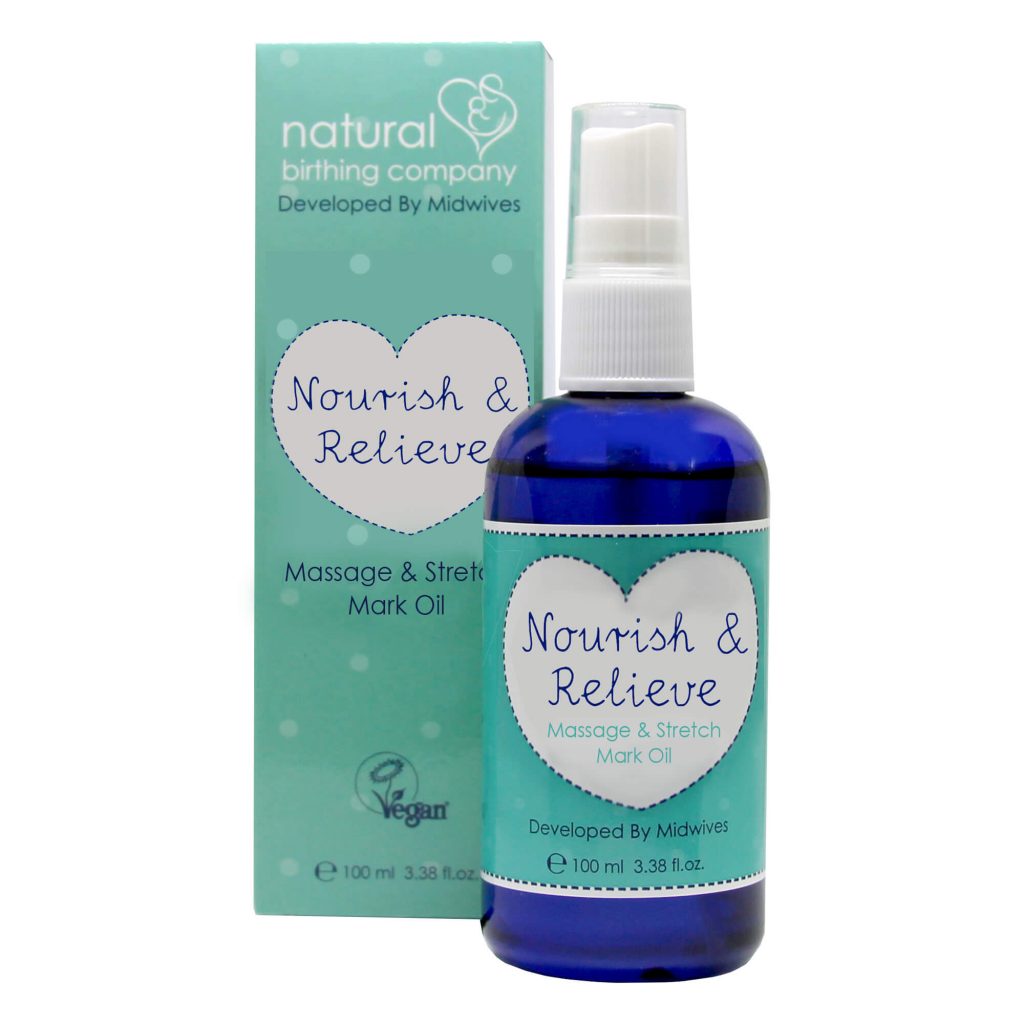 W: Nourish & Relieve Massage and Stretch Mark Oil.
Best Washes Uplifting Body Wash
Best Washes uses the refreshing, delicate aroma of spearmint to soothe and calm icky tummies, together with black pepper to tackle the tired fuzzy mind, whilst aloe vera and natural foaming agents are soothing for sensitive skin.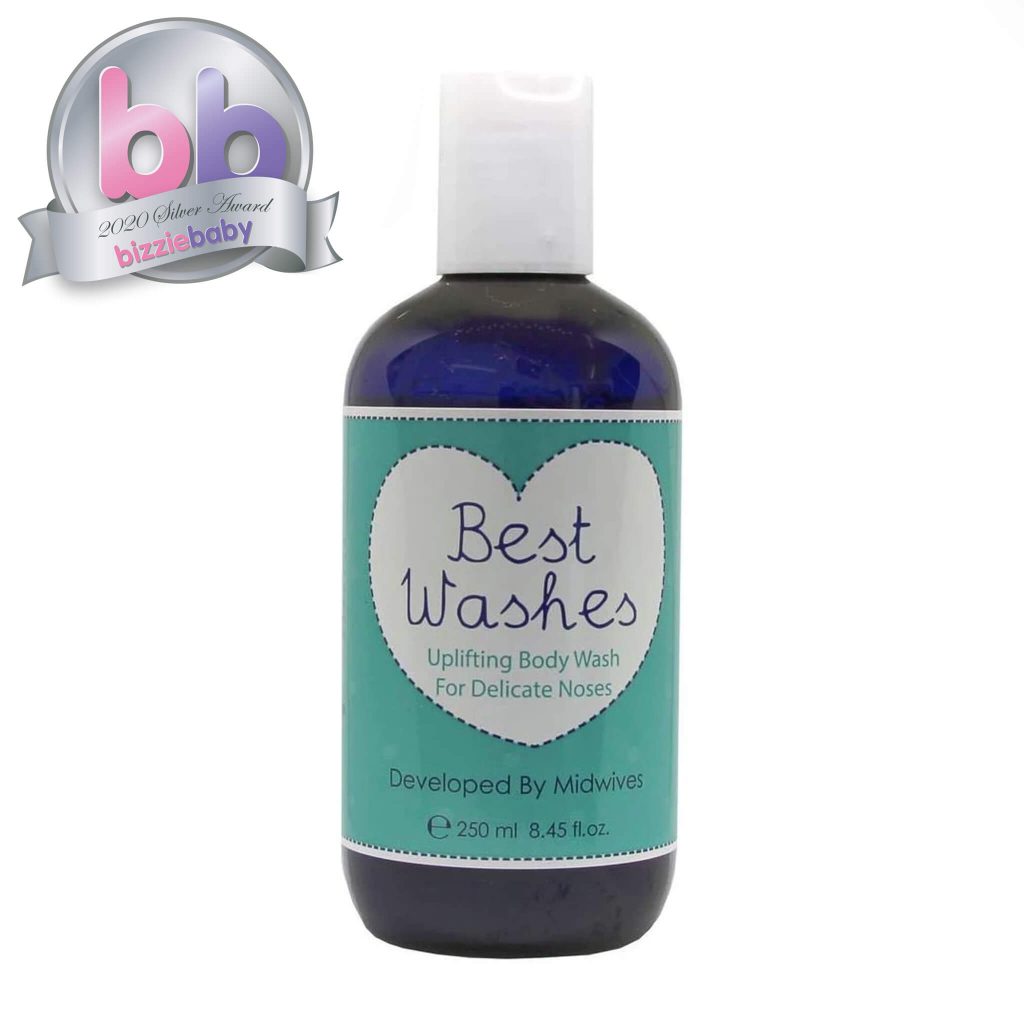 W: Best Washes Uplifting Body Wash.
Cool it Mama Cooling Body Spray
Pregnancy can be an emotional roller coaster whilst your body can succumb to nausea, headaches, restless legs and swollen ankles. Cool it Mama is the perfect friend to carry with you for that quick spritz pick-me-up just when you need it.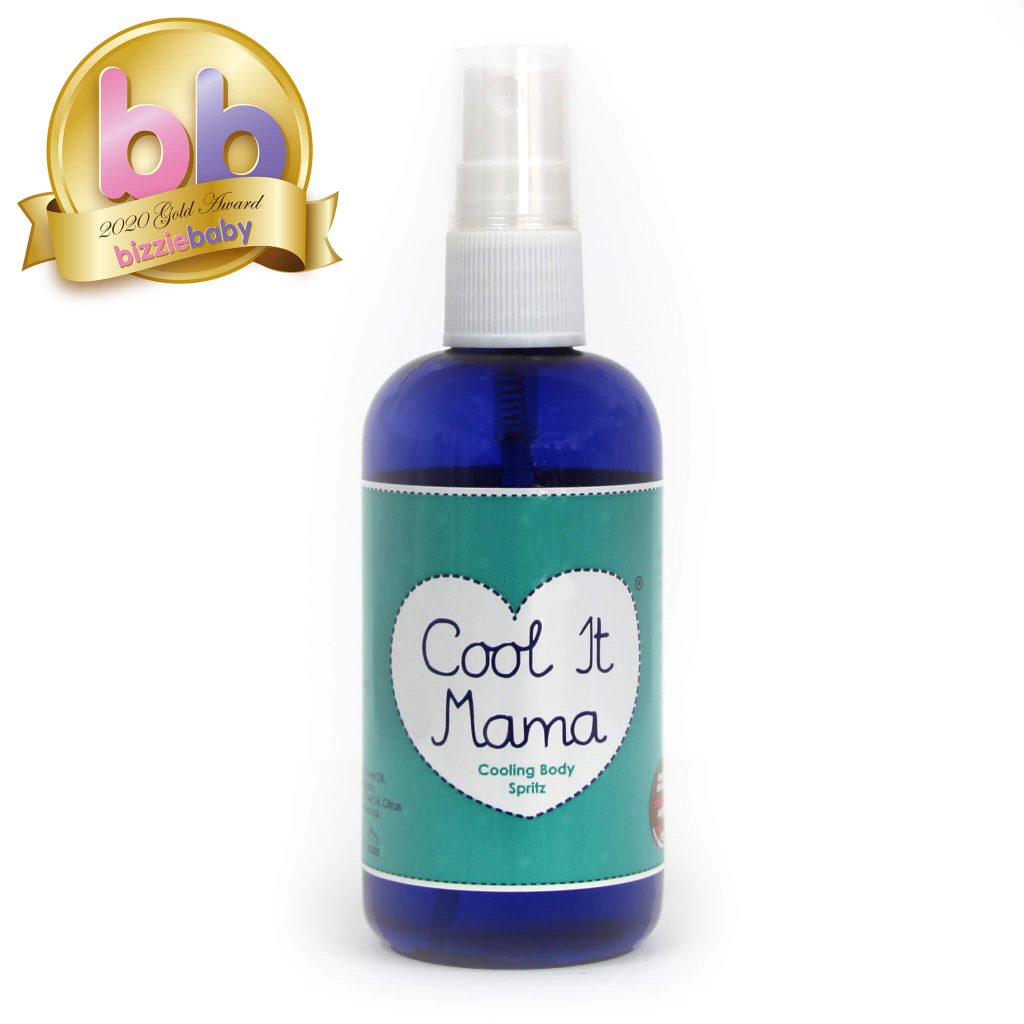 Cool it Mama can be used throughout pregnancy, during labour and beyond.
W: Cool it Mama Cooling Body Spray.
Bosom Buddies Breastfeeding Oils
Breastfeeding may be the most natural thing in the world, but realistically for many it is not without its difficulties. The calming Bosom Buddies support, and provide you with instant comfort so you can continue on your breastfeeding journey. Each oil helps with a different breastfeeding issue – engorged breasts, low milk supply, and sore nipples.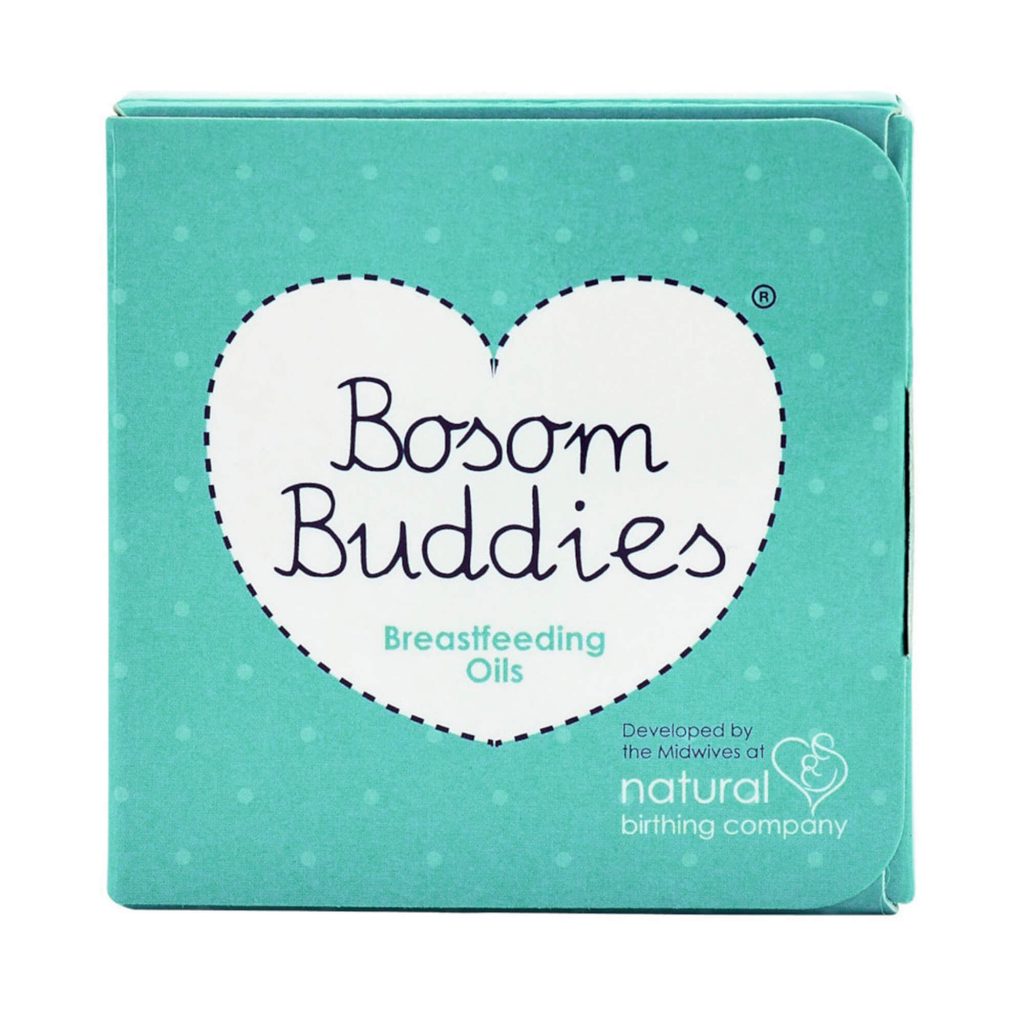 W: Bosom Buddies Breastfeeding Oils.
Sleepy Mama Relaxing Pillow Mist
Sleepy Mama (Relaxing Pillow Mist) brings the feeling of relaxation to both body and mind when you need it the most!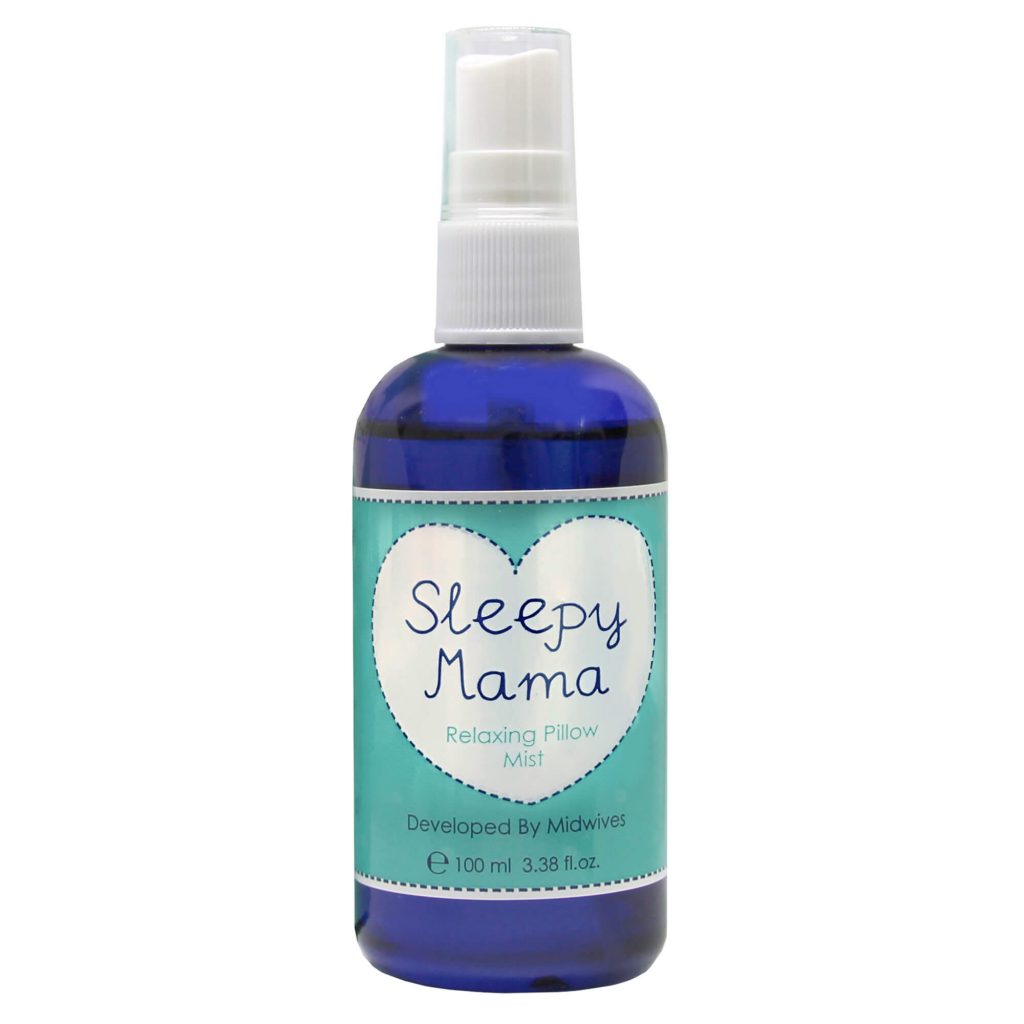 Being pregnant or a new mum can leave you feeling tired during the day, but when it comes to bedtime those pesky hormones, night-time trips to the bathroom or baby's body clock can make it much harder to switch off. 'Sleepy Mama's' relaxing aromas of Bergamot, Lavender and Chamomile will help you feel relaxed in both body and mind. Sleep tight Mama!
W: Sleepy Mama Relaxing Pillow Mist.
Nuture
Nuture is a new plant-based skincare brand offering products, to care for you and your skin concerns, including scars, stretch marks and post blemish marks. Nuture can help with fertility skin breakouts, your bump and breast stretch and scar recovery after a caesarean section.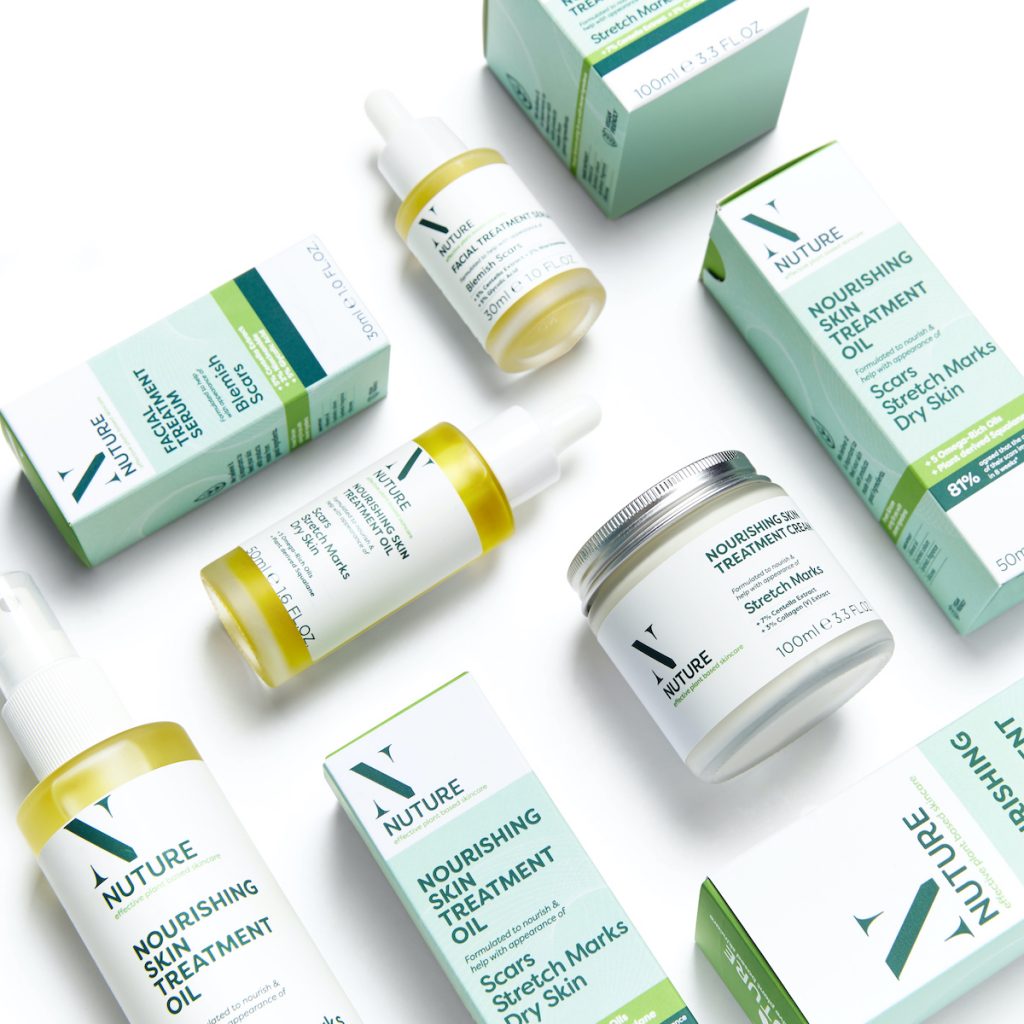 Nourishing Skin Treatment Cream
Formulated to help with Stretch Marks and expertly crafted with skin loving plant-based actives like Squalane, Centella Extract and Collagen(V). This luxurious cream hydrates the skin and helps improve the appearance of both old & new stretchmarks. Our rich textured cream is crafted with ultra-nourishing Shea Butter & Coconut Oil, along with Omega-Rich Oils, it works to provide intense moisturisation and elasticity, while also helping to improve tone and texture.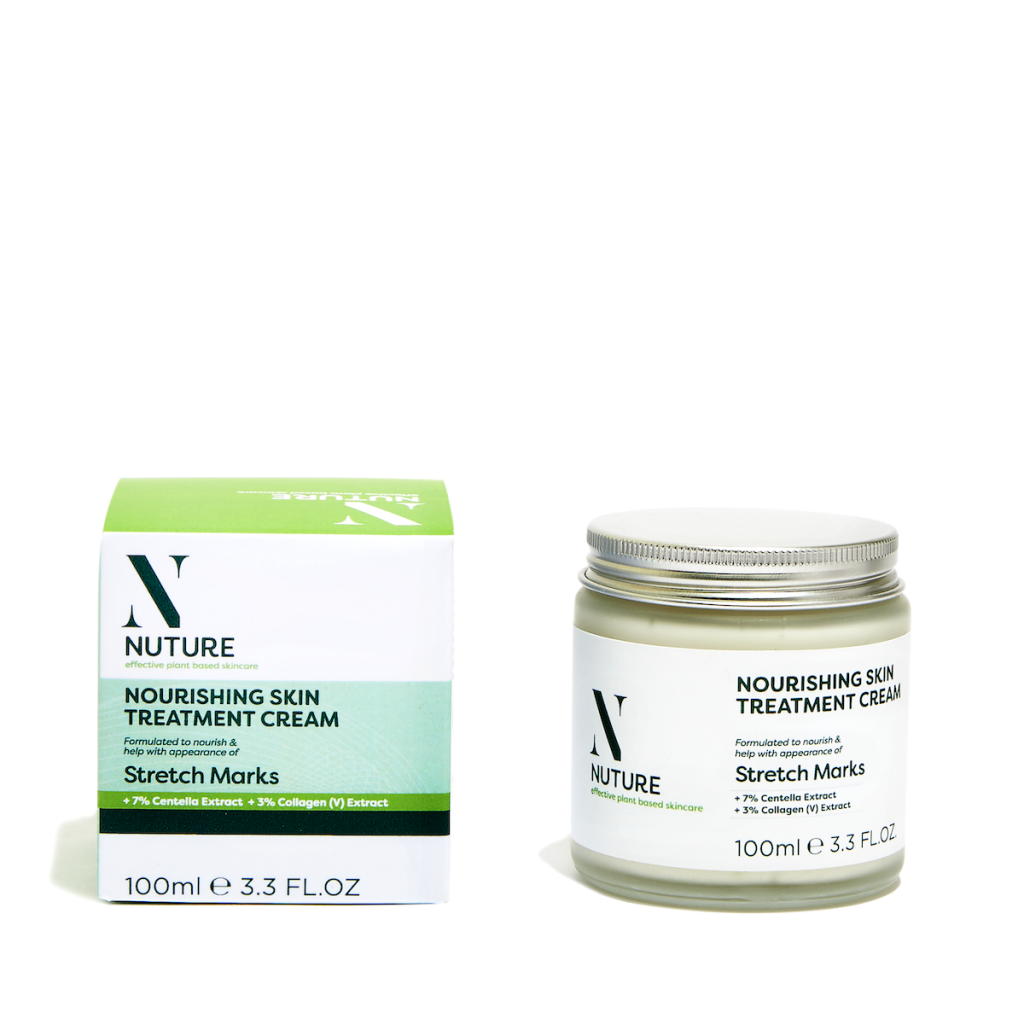 W: Nourishing Skin Treatment Cream.
Recovery Cream
Take care of your family's skin with our multi-purpose skincare remedy whenever you need a little helping hand. This highly effective cream works to gently soothe and protect upset & very dry skin to help restore its natural moisture level. Formulated with multi-beneficial ingredients like Panthenol (Pro Vitamin B5) which is recognised for helping with skin recovery. It is also infused with skin loving plant-based actives Centella and Arnica, to help soothe and calm distressed skin. For a deeply soft & nourishing feel, we have added our unique blend of Omega-Rich Oils & Shea Butter.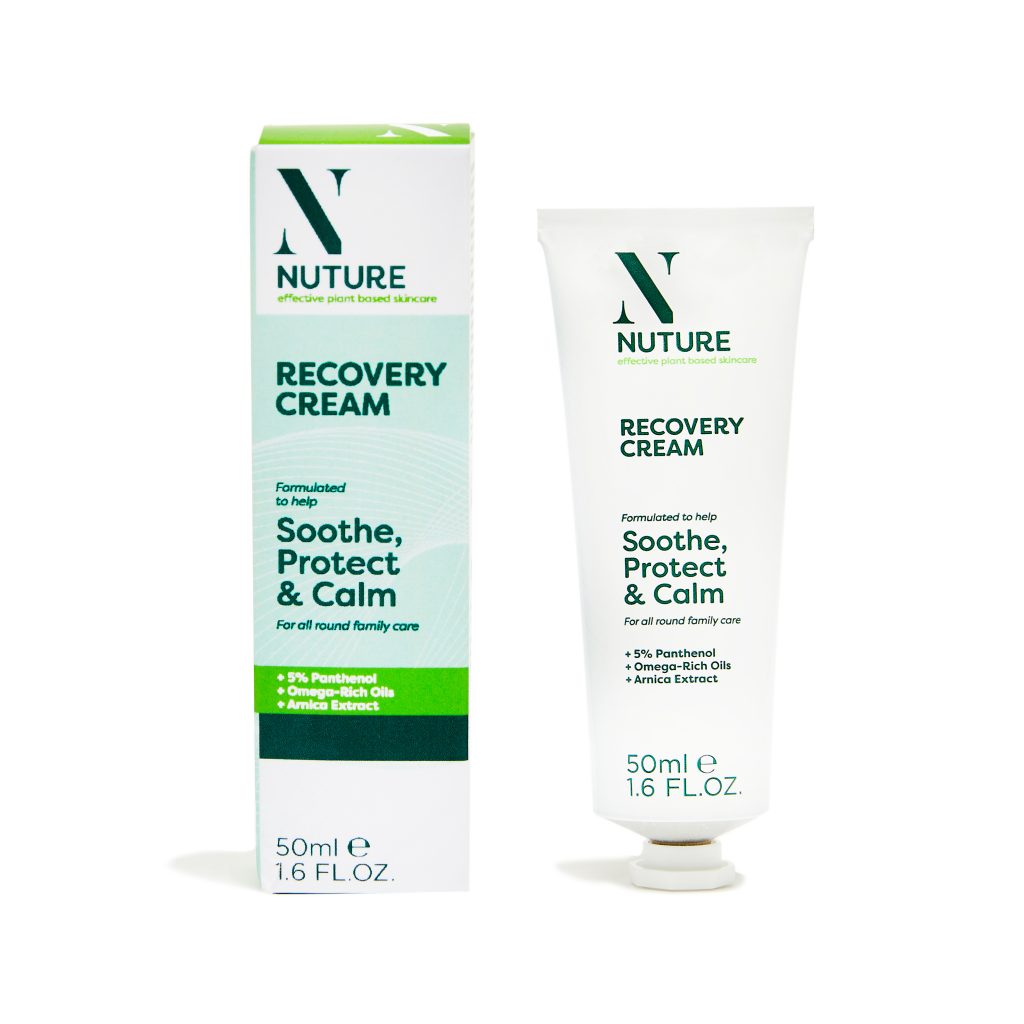 W: Recovery Cream.
Facial Treatment Serum
This efficacious facial serum with a unique ingredient blend, helps to brighten complexion and visibly reduce the appearance of dark spots for a more even tone. Using the power of the exfoliating miracle ingredient Glycolic Acid, it accelerates the removal of dead skin cells whilst the formulation also helps to reduce post-blemish marks and hyper-pigmentation. We have also added skin calming ingredients like Niacianimide, which has wonderful soothing properties, nourishes the skin and evens out skin tone while also helping with the appearance of oily skin.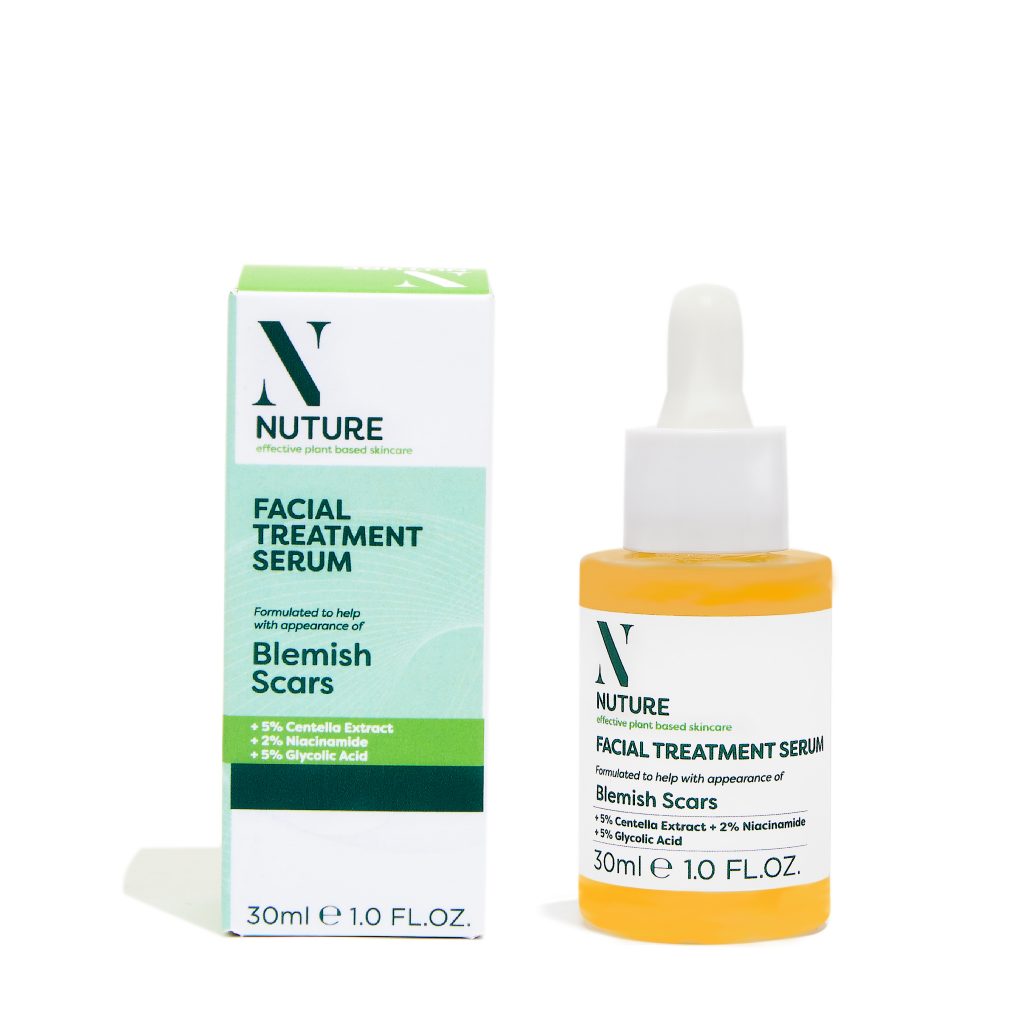 Nourishing Skin Treatment Oil
This nutrient-dense moisturising formula is enriched with 5 Omega-Rich Oils like Rosehip, Sweet Almond, Grapeseed and Chia along with replenishing Vitamin E & hydrating Squalane. A deeply nourishing, moisturising and restorative oil, it is rich in essential fatty acids and antioxidants and helps to assist the skin in becoming more supple to improve the appearance of scars & stretch marks in just 8 weeks.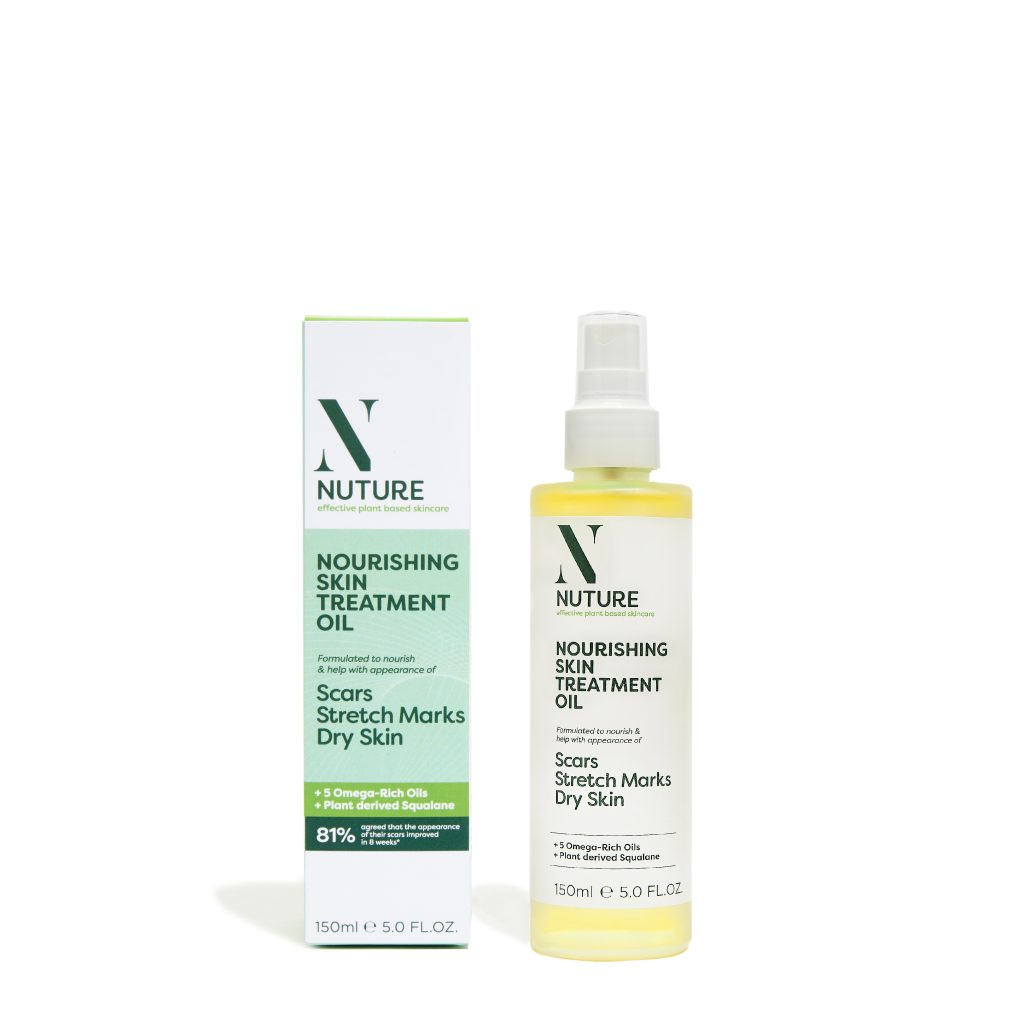 W: Nourishing Skin Treatment Oil.
Menstrual Cycle
Saalt Menstrual Cup
Using a Saalt Menstrual Cup is a great way to start using period products again after the birth of your child, as it's better for your wallet, the environment, and importantly, your body. Many women have even reported that their periods were shortened after using a cup!
Switching out pads and tampons for a Saalt Menstrual Cup The cup is worn inside the vagina like a tampon, but collects your period rather than absorbing it. The Saalt Cup launched into the UK with two sizes and can be worn for up to 12 hours, providing a healthy and sustainable alternative to single-use period products.
Saalt Cups are hypoallergenic, chemical-free, naturally non-toxic & odour free. You can wear them for up to 12 hours, and the cups are made with soft medical grade silicone for ultimate comfort, so you can live your best life free of leaks, dangling strings, or bulky pads.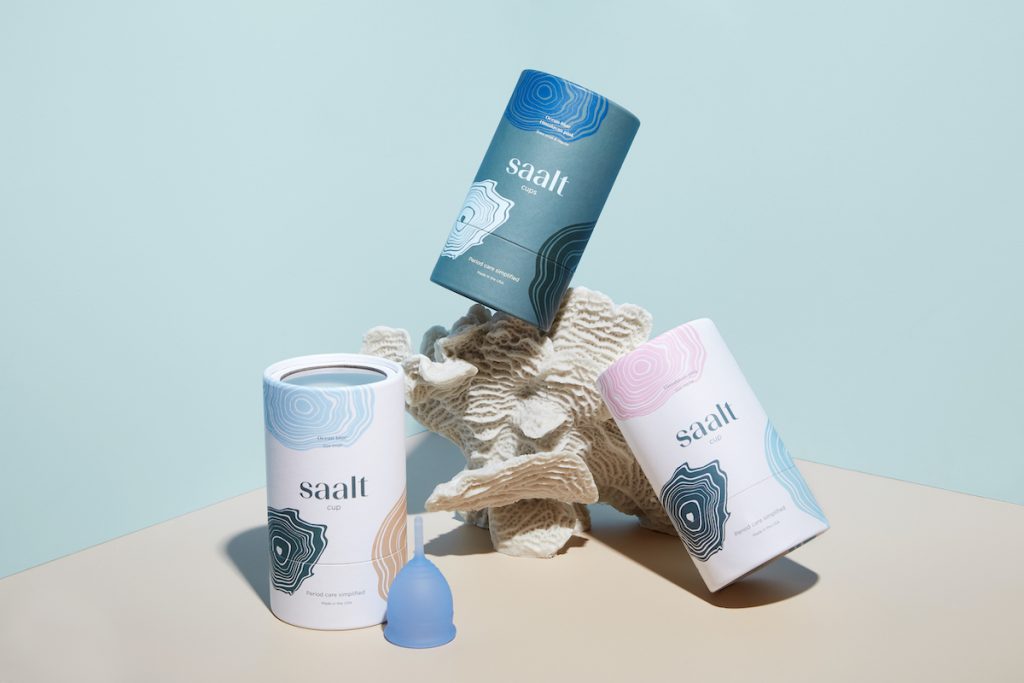 Saalt Cups last for up to 10 years, negating the need for thousands of plastic-filled tampons and pads, which clog up our oceans and landfills. They can be emptied, rinsed, and re-inserted, not thrown away after one use.
In 2019 Saalt solidified their mission by becoming a certified B Corporation, and committing 2% of their revenue to donate period care to regions with the most need, and helping fund initiatives in menstrual health, education, and sustainability.
Many girls in developing and developed countries don't have period care. Each month during their period they are often forced to miss school and work. With every Saalt menstrual cup purchased, Saalt donates to Her and Period.org to put girls back in school so when their period starts, their world doesn't have to stop.
W: Saaltco.uk
Wrap Your Baby in Silk
SILKBEBE Fitted Cot Sheet
The innovative SILKBEBE fitted cot sheet uses the science of silk to bring the benefits of silk pillowcases to babies, safely. The top half of the cot sheet is made from pure silk to banish the classic 'baby bald spot', nourish skin and regulate temperature. The bottom half is made from 100% cotton to keep baby warm. The result is a better sleep (for everyone).
The 'baby bald spot' is caused by the constant friction of cotton sheets against the back of babies' heads as they lay on their backs for long periods of time. While cotton feels smooth, on a cellular level it is actually very abrasive and snags at delicate skin and hair. SILKBEBE's award-winning 100% 22 momme, Grade 6A mulberry silk prevents friction and breakage of tiny new hairs and soothes their sensitive skin.
Silk is recommended by dermatologists and trichologists as being best for babies' skin and hair. The amino acids in silk actively soothe and nourish skin, greatly improving sensitive skin, allergies and eczema. Silk is also anti-microbial, hypoallergenic, repels dust mites and regulates body temperature; keeping babies warn in the winter and cool in the summer.
Pregnancy and Beyond Nutrition
DR Harriet Holme
Are you pregnant and confused about what to eat? With so much conflicting information available online about pregnancy nutrition, it can also be difficult to sift the fact from fiction.
In a recent study, 90% of women in early pregnancy (less than 12 weeks) were found to have incorrect knowledge about nutrition during pregnancy. If you are searching for reliable information, as Dr Harriet Holme's best-selling book is just for you. The information is based on the latest guidance and scientific evidence with forewords by renowned board certified OBGYN Dr Christine Sterling and @theOBGYNmum Dr Brooke Vandermolen.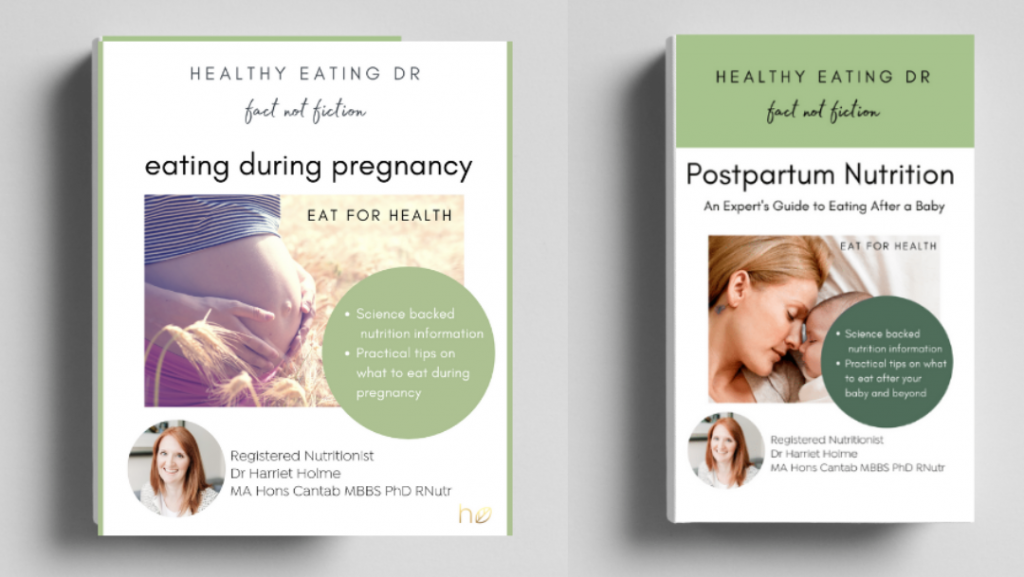 "Knowing what is safe to eat and drink in pregnancy can be a complete minefield. Women are often given such over-cautious advice from well-meaning health professionals that it can be difficult to understand what you can actually enjoy whilst you are pregnant.
Dr Harriet Holme has written a fantastic, and extremely comprehensive guide for anyone navigating pregnancy. She covers topics that often get confused, by giving up-to-date evidence to clear up myths around nutrition.
I would love all my patients to get a chance to read this guide, which can empower parents-to-be to feel able to make positive choices rather than feeling restricted and misunderstood." Dr Brooke Vandermolen @theOBGYNmum
Or perhaps you are a new mum, and unsure how to support your own nutrition while breastfeeding and beyond?
As a mother herself, who breastfeed and had babies with cow's milk protein allergy, Harriet wrote her second book to help other mums-to-be to have easy access to all the information they need, without endless searching on the internet.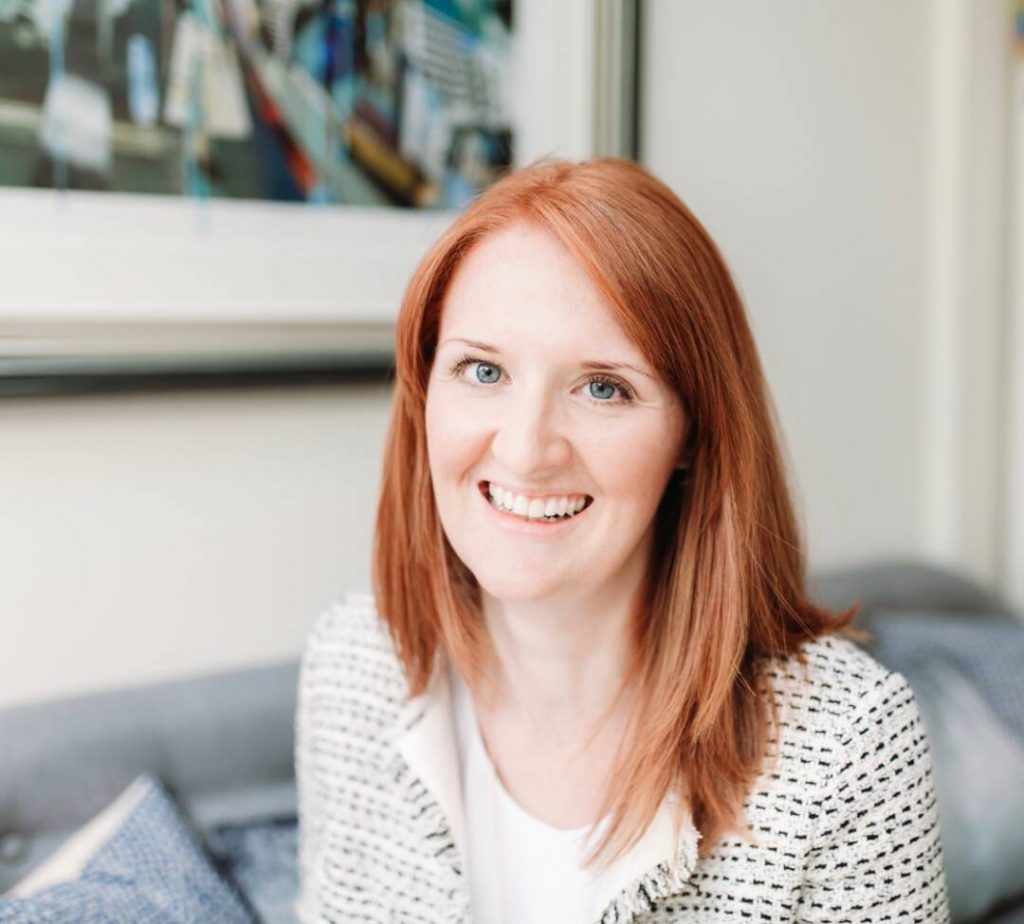 "Harriet has beautifully broken down what the body (both mum and baby's) needs in the postpartum period. She gives you the nuts and bolts so that you can make informed choices when it comes to diet and food choices. This is a really helpful guide for mothers – I just wish I had read it sooner!" General Practitioner, Dr Preeya Alexander @thewholesomedoctor
Dr Harriet Holme, the Healthy Eating Dr, studied medicine at the University of Cambridge and has over a decade of experience as a paediatric doctor in the NHS. Additionally, she has a PhD in genetics and is a Registered Nutritionist with the Association for Nutrition. Harriet lectures in nutrition and was commissioned to write the first degree of its kind combining culinary, nutrition and health.
Harriet now uses these uniquely developed skills for the benefit of her clients and students, consulting as a Registered Nutritionist focusing on science backed nutrition and long-term health.
Follow Harriet on @healthyeatingdr or see www.healthyeatingdr.com for more science backed nutrition information. Both books are available via Harriet's website or Amazon.
New Baby Gifts
Élhée Natural Rounded Baby Bottle Blanc Milk
A soft bottle that is "squeezed" like the maternal breast.

Created with delicate materials and rounded shapes, this bottle is designed to make the breastfeeding experience as natural as possible. Ergonomic to touch, gives a sensation similar to that of a mother's skin, helping baby to get used to the bottle.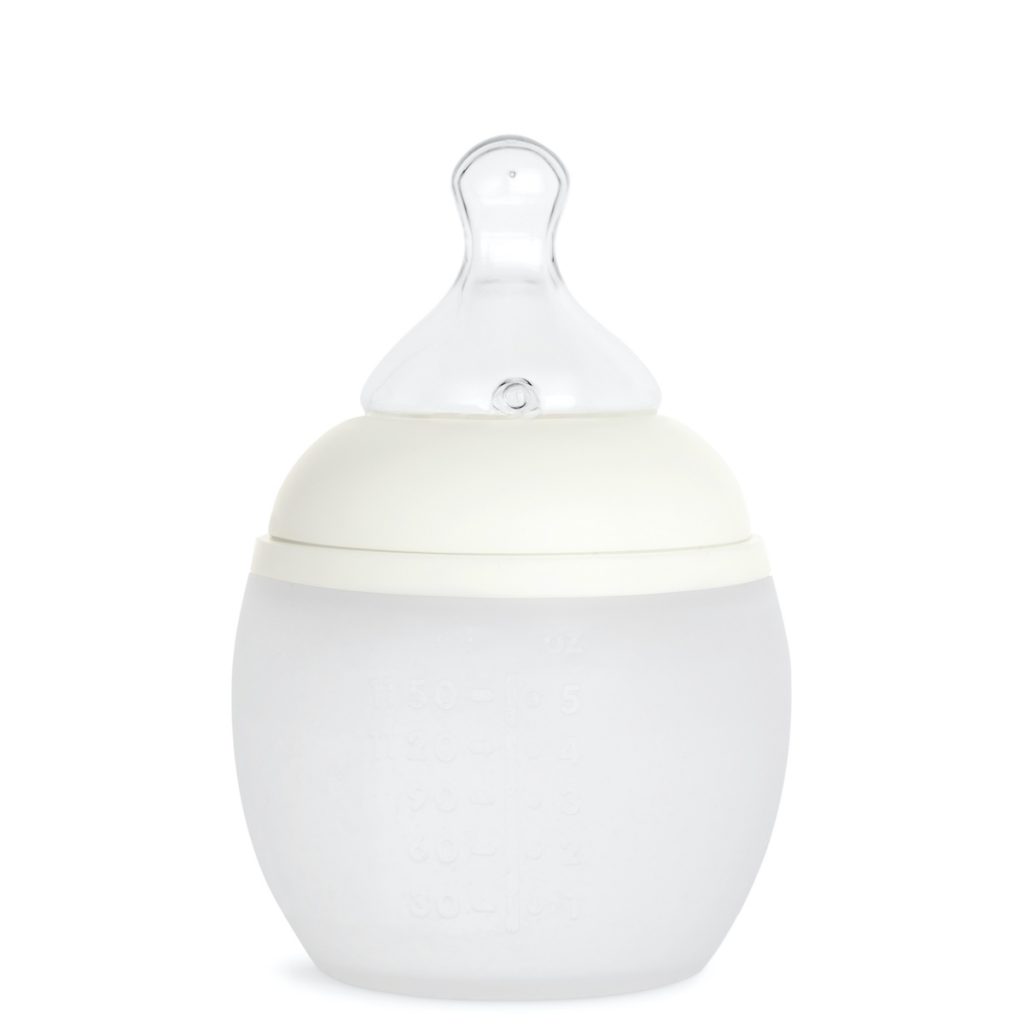 W: Élhée Natural Rounded Baby Bottle Blanc Milk.
Baby Nest Fly Me to The Moon Nude French Lavender
The BEST NEST cocoon is a product created so that the child always has its own separate, friendly place to play, sleep and rest under the watchful eye of the parent.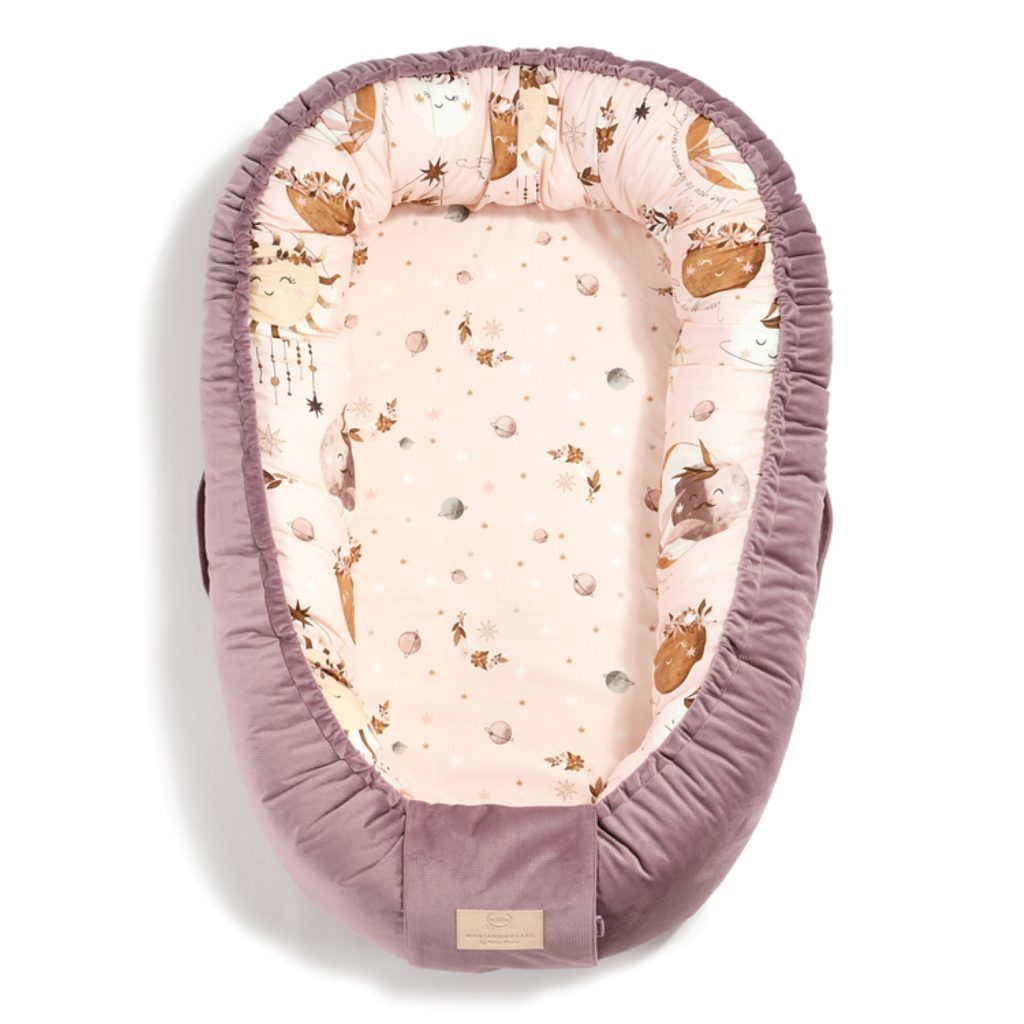 In such a safe place, lying on a mattress of adequate softness and air permeability, the baby can spend time with the parent accompanying him during various activities such as work, rest on the couch, bath and even during outdoor activities.
W: Baby Nest Fly Me to The Moon Nude French Lavender.
Annabel James
Baby Bamboo Dinnerware Set
A gorgeous three-piece baby dinnerware set made from natural, renewable and sustainable bamboo. Includes a divided plate, spoon and sippy cup (with silicone insert).